Click Here for the Shaw Brothers Release Schedule from Celestial 2005
---
16/12/04 - Next Vengeance Edition!!!
VENGEANCE GETS ELEKTRAFIED!

The latest edition of the world's favourite martial arts and action movie magazine is back with a Horror special for those dark, cold, winter nights! Featuring all your favourite maniacal monsters and much more including an awesome, exclusive 'Elektra' competition in association with 20th Century Fox! The last issue of Vengeance completely sold out, so if you don't want to miss this essential blend of Martial Arts, International Action, Cult Exploitation, Anime and Horror visit the official website now at Vengeance Magazineand be sure to grab your copy of Vengeance before it's too late!
More:
2046 Official Site is now available - www.2046.co.uk
(Released by Tartan Films on January 14th 2005)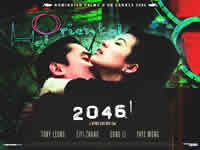 Calling all Zhang Ziyi fans:
Check out the Fansite http://www.helloziyi.us
---
14/12/04 - The one we have been waiting for!!!!
Jet Li, Tony Leung and Maggie Cheung provide a compelling performance in Zhang Yimou's 2002 classic Hero - read more

Update - Eight Diagram Pole Fighter review has been update after the Celestial Release earlier this year - read more
---
12/12/04 - Xmas shopping for Hong Kong titles:
Once Upon a Time in China Trilogy (HKL) - £14.99 - Play.com
Dr Wai / Shaolin Chastity Kung Fu (Eastern Heroes / Hollywood East) - £5.99 - Sendit.com
Manga Titles - £4.99 - Sendit.com
World Cinema (Hard Boiled / In the Mood for Love) - Tartan - from £7.99 - Sendit.com
Knockabout (R0) for £3.99 or Heart of Dragon (HKL R2) for £5.99 - CD-wow
HKflix Martial Arts DVDs under $10 - HKflix.com
---
11/12/04 - Shaw Brothers Release Schedule - Jan - March 2005 - click here
Not to Miss:
Christopher Doyle Exhibition (cinematographer behind Hero / Days of Being Wild / 2046)
4th - 18th December, 2004
Tuesday - Saturday, 12 - 5pm
Scout Gallery
1-3 Mundy Street
off Hoxton Square
London
N1 6QT
---
29/10/04 - Twins Effect Trailer from Universal Pictures - click here
---
28/10/04 - Twins Effect review (released 01 Nov 2004)
The biggest HK film of summer 2003 - Mixing the likes of Donnie Yen and Jackie Chan with the latest string of canto-pop heroes. Any good? read more.....
Competition:
To celebrate the long anticipated UK DVD release of The Twins Effect, The Official Donnie Yen UK Fan Club in association with Vengeance magazine and New Media Maze are running an exclusive online competition to win a copy of this awesome release from Universal Pictures.
Don't miss out on this chance to own the coolest Hong Kong vampire flick ever made. For further information visit The Official Donnie Yen Uk Fan Club online at www.donnieyen.co.uk
---
27/10/04 - DUBBED & DANGEROUS TRILOGY SPECIAL EDITION DVD
Starring Ara Paiaya, from Paiaya Films
Now available to own, plus trailer online: http://www.ara.me.uk
---
---
07/10/04 - New Vengeance magazine released! + Black Society Trailers available
Vol 2, No. 1 is now on the shelves, with a new design and packed with top quality content:
Kill Bill feature
Gordon Liu career profile
Interviews with Grayce Wey and Loren Avedon
Previews for Enter the Dragon, Left for Dead, Displaced, Tiger on the Beat
Jet Li and Donnie Yen feature
and much much more......
Plus I wrote some of the articles but you can find out which for yourself!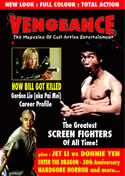 Artsmagic Trailers:
If you want to know more about the Takashi Miike Black Society triology, here are the Artsmagic links for trailers and movie info:
Shinjuku Triad Society - 1995 - click here
Rainy Dog - 1997 - click here
Ley Lines - 1999 - click here
---
06/10/04 - Exciting new release: The Twins Effect (review to follow soon)
The Twins Effect. A spectacular action packed Vampire film with something for everyone, incredible action choreography, romance & comedy. This must own film is available to rent and own on DVD from 1st November 2004 (Courtesy of Universal Pictures Video)
DVD Release
Price - £17.99
Certificate – 15
Running Time – 1hr 42min
Over 1 hour of extras including:
"Behind-The-Scenes" Featurette
Interviews with Cast & Crew
Trailers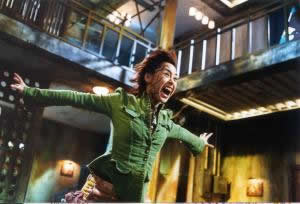 ---------
---
05/10/04 - Full Black Society trilogy reviewed + Artsmagic release schedule

- Rainy Dog (1997) - Rain swept action in the slums of Taipei

- Ley Lines (1999) - Can three youths escape to Brazil
- Artsmagic Release Schedule (UK + US)
September 25th:
Kichiku Dai Enkai
A.L.I.C.E (US only)
Zatoichi Box Set #2 (UK only)
October 30th:
Young Thugs: Innocent Blood
The Samurai Trilogy Box Set
November:
Young Thugs: Nostalgia (October 26th for US)
Bird People In China (US only)
Blue Remains (US only)
January:
Nine Souls
February:
Bullet Ballet (Jan in US)
Angel Guts The Complete Nikatsu Series (US only)
---
23/09/04 - The first instalment of Miike's Black Society Trilogy was unleashed in 1995, but did it deliver?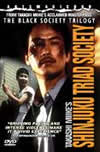 - Shinjuku Triad Society (1995) - starring Kippei Shiina
---
17/09/04 - New review - The best Hong Kong action film of the last decade?
- Andy Lau and Tony Leung star in 2002's Infernal Affairs
---
30/08/04 - New review - Optimum Asia's Azumi:
- A female assassin who kills for peace! - Azumi (2003)
---
05/08/04 - 4 New DVD titles
Artsmagic DVD: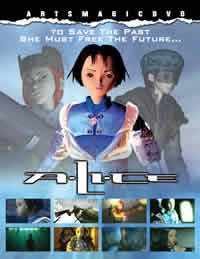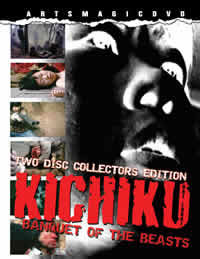 Alice - September 28th 2004 - more info
SPECIAL DVD FEATURES NEW ENGLISH & ORIGINAL JAPANESE LANGUAGE VERSIONS 5.1 DOLBY DIGITAL SURROUND SOUND 'FINAL FANTASIES' - A HISTORY OF CGI ANIMATION FILMED AT ' LONDON SCI-FI 2003' ORIGINAL INTERVIEW with DIRECTOR TRAILERS FILMOGRAPHIES & BIOGRAPHIES IMAGE GALLERY SCENE SELECTION & INTERACTIVE MENUS
Kichiku Dai Enkai - September 28th 2004 - more info
DISC ONE - THE FILM Kichiku 4:3 full frame presentation Scene selection
DISC TWO - THE EXTRAS Introduction By Tom Mes, Acclaimed Writer On Japanese Cinema The Making Of Kichiku Reaction To Kichiku - Kichiku At The Awards Original Interviews With: Director: Kazuyoshi Kumakiri Cameraman: Kiyoaki Hashimoto Lead Actors: Tomohiro Zaizen, Shunsuke Sawada, Shigeru Bokuda & Kentaro Ogiso Original Trailer Biographies & Filmographies
Optimum Asia: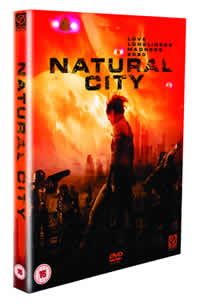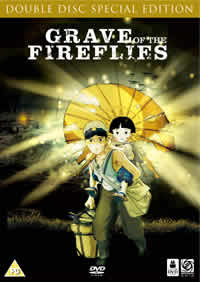 Natural City - August 23rd
Special features:
Making Of Natural City

Location tour with director Byung-Chun Min
Deleted Scenes
Trailer
Grave of the Flies - August 23rd
Disc 1 · Feature · Language options, English or Japanese with subtitles · Full Storyboards of feature
Disc 2 · Interview with Director Isao Takahata · Japanese Release Promo - featuring interview with Director Isao Takahata and writer Akiyuki Nosaka · Isao Takahata Biography · Akiyuki Nosaka Biography · Bonus Storyboards · DVNR Featurette - Video Restoration featurette · Art Gallery · US Trailer · Japanese Trailer · Interview with film critic Roger Ebert · Historical Perspective documentary
---
20/07/04 - *** NOT TO BE MISSED *** Infernal Affairs II - UK Cinematic Release
Tartan Films are proud to announce the theatrical release of seminal Hong Kong police thriller Infernal Affairs II on August 6th. Considered the most commercially successful film series ever to come out of Hong Kong, Infernal Affairs has garnered many coveted film awards and record-breaking box-office returns to date.
Infernal Affairs II continues the fatal tug-of-war between Yan, an undercover cop in the Triads, and Ming, a Triads' mole in the police force, introduces two of the most memorable tragic heroes in contemporary world cinema, as well as characters like Wong, Yan's mentor in the police force, and Sam, Ming's clandestine boss in the Triads.
Set between the years 1991 and 1997, Infernal Affairs II supplies the missing link as to how and why these two young innocent men will ultimately become a callous mole and an undercover cop.
Official UK website: www.infernalaffairs.co.uk
Running time: 119 mins
Cert: 15
Release Date: 06 August
QUICKTIME TRAILER - WINDOWS MEDIA TRAILER - REAL PLAYER TRAILER
---
19/07/04 - Two new reviews
- Toshiaki Toyoda's classic tale of violence and alienation at a Japanese High School in Blue Spring
Trailer - http://www.artsmagicdvd.com/bluespring

- Jackie Chan once again pulls on his gloves, and his charms in Gorgeous
---
17/07/04 - Updated DVD Releases and News:
DVD releases for July / August / September are now on the site: click here
HKL have announced early 2005 releases for Ong Bak, Dragons Forever and Warriors Two. Their sister company, Premier Asia, have just picked up the following titles: Taegukgi, Once upon a Time in High School, The Grudge 2
---
06/07/04 - VENGEANCE - SHAW BROTHERS SUMMER SPECIAL!

The World's latest and greatest cult action movie magazine presents a Shaw Brothers Summer special, featuring an awesome career retro on legendary director Chang Cheh, plus Celestial pictures CEO, William Pfeiffer discusses the company's fifty film deal with Miramax and the imminent arrival of Celestial Movies, (the 24 hour Chinese TV channel) in the West! Starring Wang Yu, Fu Sheng, Gordon 'Kill Bill' Liu and the Venoms...the Shaw Brothers Summer Special is a must have for all classic Kung Fu movie collectors!

Plus, in an exclusive Vengeance interview; Loren Avedon - The King Of The Kickboxers on Seasonal Films, Cynthia Rothrock, Keith Vitali, Lorenzo Lamas and all his latest action packed adventures in
Hollywood...

In yet another exclusive, Vengeance raps with Martial Arts Master, Mark Strange regarding his work on the latest Batman movie, his on-screen battles opposite Jackie Chan in Twins Effect and The Medallion and the forthcoming independent Sci-Fi/Action movie, Displaced!

Resident Horror specialist, 'The Dark Angel' checks out the latest bloodthirsty batch of 'Hardgore' cult classics, U.S. indie slashers and revamped video nasties...if it don't scare you, you're already dead!

Vengeance Vault - The Ultimate Guide To Cult Action Home Entertainment delivers a motherload of Martial Arts, Ballistic Action and edge of the seat Horror from around the World and finally the Vengeance Summer Special comes complete with 100% official columns for two of the greatest high octane movie stars of all time : JetPower - The Official Jet Li GFN UK Column and Uncaged - The Official Donnie Yen UK Column!

Exciting articles, exclusive interviews, massive competitions and so much more...full color, total action and on sale now!

Due to public demand Vengeance is now available in selected Comic Book and Magazine stores across the USA and the UK through Diamond Comic Distributors Inc. Ask your local store for details or alternatively order the magazine online today at www.vengeancemagazine.co.uk
---
21/06/04 - Full Metal Yakuza
Enjoyed our review of Takeshi Miike's Full Metal Yakuza?
We now have links to the trailers - Full Metal Yakuza - US Trailer - UK Trailer
---
14/06/04 - Two new film reviews!

- 1985 brought us the second Lucky Star installment with My Lucky Stars

- Takeshi Miike's 1997 budget take on Robocop - Full Metal Yakuza
---
11/06/04 - Major Update!
Shaw Brothers release schedule 04 - bad news as 31 more films have fallen off the schedule, including Clan of the White Lotus, Dirty Ho and Heroes of the East - see Schedule
Martial Arts Movie Sales:
Bensonsworld - £9.49 for Hong Kong Legends titles
CD-Wow - inc. Police Story (R2) and The One (R3) for £5.99
Send-it - Asia Extreme for £9.99 or two for £17.99
---
28/04/03 - Updates
We have two new websites added to the links section
HongKongCinema (TK) - Fan Site
ArtsMagicDVD - Distributor (US)
ArtsMagicDVD - Distributor (UK)
And new entries in the Top10 Section - Click Here
---
20/04/04 - VENGEANCE MAGAZINE - ISSUE 2 NOW AVAILABLE
Issue 2 includes my article on Shaw Brothers restoration work and features Heroes Two, Duel of Fists and Na Cha the Great - Look out for Issue 3 soon!!
Vengeance - The Magazine Of Cult Action Entertainment is back with a Jackie Chan Special!

As the legendary Jackie Chan celebrates his 50th Birthday, Vengeance takes a look at his latest project, New Police Story plus recent UK DVD releases, Shanghai Knights and The Accidental Spy. There is also a flashback to the set of The Medallion as Jackie discusses his projects; past, present and future... In addition, the magazine presents an exclusive interview with Australian Martial Arts Master and Actor, David No star of Jackie Chan's Mr. Nice Guy, Matrix : Reloaded and co-founder of independent production company, Furious Films!

Editor, Dean Meadows goes on location and gets more than he bargained for during a report on forthcoming fight flick, Dubbed And Dangerous 3 and Vengeance continues it's in-depth exploration of Celestial Pictures and their ongoing efforts to restore the Shaw Brothers classics to their former glory... All this plus 100% official columns for both Jet Li's GFN and Donnie Yen, two of the biggest high octane stars in the World today !!
Vengeance is the only action movie magazine you'll ever need and is on sale now, check out the website for further details : www.vengeancemagazine.co.uk

---
01/04/03 - Updates:
Top 10 Section is now updated and redesigned - Click Here
Upcoming Releases Section updated - Click Here
US buyers - look out for Fox releases on May 25th, several titles from HKL including Prodigal Son and Young Master
UK buyers can look forward to Winners and Sinners, Bullet in the Head and Moon Warriors (all HKL). Be wary of the Hollywood East, DVD.COM and Film 200 titles - bargain prices, basement quality