FILM:
In case you hadn't already guessed, the whole plot is geared towards Yu Shu and his Uncle taking on the Scorpion King. It is here where the best and the worst of the film are interlocked together. The major plus of the movie is the intensity and stylishness of Lau Kar Leung's Hung Gar technique, featuring his 'shadowless kick'. His acting is superb throughout, but when the action starts he manages to steals the show with an unrivalled display with the three section staff.
The only character in the Scorpion King who can hold a torch to Lau Kar Leung, is the King himself. Won Jin is absolutely fantastic and a great deal of praise must be given to the choreographers. There are some movies that define, rather than feature a style of martial arts. This is in the same way that Drunken Master defined Drunken Boxing and Mad Monkey Kung Fu did Monkey Style, this movie gives a definitive and exhilarating version of Scorpion Kung Fu. It seems like a silly idea on paper and looks absurd for the first five seconds, but then your jaws hits the floor. Won Jin's performance is at the heart of every classic kung fu movie, it is innovative, unpredictable and completely unforgettable.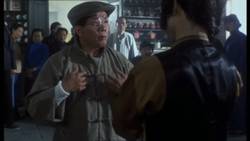 However, this movie has one very big downside, that is Chin Kar Lok. His Yu Shu is a completely forgettable rip-off of the late 70's Jackie Chan. He plays the self-absorbed, mischievous clown that we all grew to love back then. I actually spent most of the final encounter hoping that the Scorpion King would kick Chin Kar Lok's ass! I did not even register one drop of empathy, interest or respect for his character throughout. I actually ended up despising the 'hero' of the movie! The most frustrating moment in Scorpion King must be during Lau Kar Leung and Won Jin's final fight. It looks like a classic moment in kung fu cinema is brewing, then all of a sudden Lau Kar Leung is shot in the leg and it is Yu Shu to the rescue!!!
Fortunately, Lau Kar Leung teamed up with Jackie two years later and Jackie showed once again how it is meant to be done. The premise behind Drunken Master 2 is extremely similar to Scorpion King. Both feature a young rogue who cannot keep out of trouble and repeatedly bring strife upon their own family. Then the final scene serves as a coming of age battle against a flash-kicking opponent. The difference is that Jackie is a considerably better comical actor and also knows how to make the audience give a damn. He also had the advantage of using Drunken Boxing, whereas Chin Kar Lok uses his Eel Kung Fu (yes it is as bad as it sounds!).