Made: 2003
Box Office: HK $2.56m (# 20)
Aka: Police Tactical Unit
Format: DVD – Single Disc
Region: Reg 2 PAL
Release Date: 23 Jul 07
Company: Third Window Films
Length: 84 mins
Picture: 2.35:1 Anamorphic Widescreen
Sound: DD5.1 Stereo
Language: Cantonese Language w/ Subs
Extras: Interview (Johnnie To), Theatrical trailers, Trailers
Classification: 15
Director:

Johnnie To Kei-Fung

Cast:

Lam Suet, Simon Yam, Ruby Wong, Raymond Wong, Maggie Siu, Lo Hoi Pang, Eddy Ko, Kenneth Cheung, Wong Tin-Lam, Lo Hoi-Pang
PTU (Police Tactical Unit) - was released in 2003 following the unprecedented success of the Infernal Affairs trilogy. Hong Kong cinema audiences had rediscovered their love of a good cop yarn. Among the releases in that year PTU was much anticipated due to Johnnie To sitting in the director's chair. After a few years concentrating on mainstream romance / feel-good comedies this was his return to more serious affairs. PTU features many of his 'Mission' cast, from his breakthrough 1999 feature including; Simon Yam, Lam Suet, Raymond Wong and Eddy Ko.
PTU did not fare particularly well at the box office, only taking HK $2.5m, when Infernal Affairs 3 (the poorest of the lot) managed to take in excess of $30m in the same year. However, Johnnie did taste success in the same year with Running on Karma, which managed to come second in the box office with $26m. In contrast to the box office, PTU was received well at the awards ceremonies, garnering numerous nominations and securing a best director victory for Johnnie To at both the Hong Kong Film Awards and Film Critics Society Awards, with a Best Original Screenplay win for Yau Nai-Hoi and Au Kin-Yee.

Plot:
Cop Lo (Lam Suet) is a deadbeat cop who works the streets in the less desirable parts of Hong Kong. After an altercation with Ponytail's gang he is found by Simon Yam's PTU (which includes Raymond Wong and Maggie Siu). After patching him up they realise his gun has gone missing, a particularly embarrassing admission for any officer. Mike (Simon Yam) offers the help of the PTU in tracing down the gun until dawn, otherwise he must report it. As you may have guessed, one small lie only leads to larger ones, and both Mike and Lo are increasingly scrutinised by their peers and the CID (Ruby Wong) as they bend the rules and cut a few corners. As with many Johnnie To works, all these events lead to one apocalyptic confrontation at the end.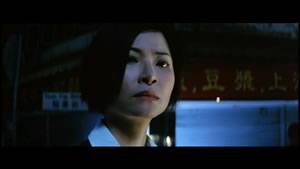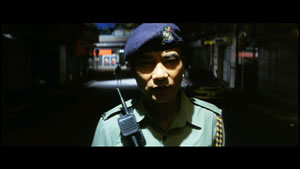 Film:
Johnnie To's world is a compelling vision of Hong Kong policing. He focuses on the eerily quiet streets away from the normal hustle and bustle associated with the Hong Kong night. The various police factions and criminal bosses seem to swim around each other like sharks, with Officer Lo sitting precariously at the centre. At points it feels like a moralistic tale on 'how you should always tell the truth or look what happens', but in a flash it switches to the importance of honour and righteousness against the unwieldy processes of the law-enforcer. Rather than finish with a decisive view on the matter, the ending tries to reconcile the virtue of playing by the rules, with the instinct of the opportunist, plus a healthy amount of blood and bullets!
It is worth mentioning the action, or rather lack of it, as the Hong Kong staple diet normally includes a healthy serving of violence – in particular cops flying sideways with twin revolvers blazing. However, this is not John Woo, this is Johnnie To. Johnnie deals in suspense and character rather than blood and bullets. The blend of eerily lit streets and the loneliness of the city at night makes for a fantastical setting as the night unravels. Lam Suet is particularly effective as the bumbling cop, whose night just keeps getting worse and worse. This is one of his strongest leads and arguably his most compelling performance in recent memory. He relishes his time on screen and is the most likeable character throughout. Simon Yam is at his smouldering best in PTU, he has always had a tendency to blow hot or cold, but he is right on form here. Beyond that, there is a decent cameo from the kung fu legend Eddy Ko but many of the support roles (particularly female) are played with a very straight bat. The performances may not captivate the viewer, but this low key approach allows the scenery and ambience to play a much greater role, plus the obligatory catchy riffs.

Disc:
This is a well presented 2.35:1 anamorphic widescreen transfer, which does particularly well at capturing the night-time landscape. The subtitles are clear and error free and the Cantonese soundtrack is offered in DD5.1. The extras are an ok bunch, with some interview footage from Johnnie To and Simon Yam plus a theatrical trailers and trailers for other Third Window titles. The PTU disc is a decent package, which hits the required standard for a modern HK release in the UK .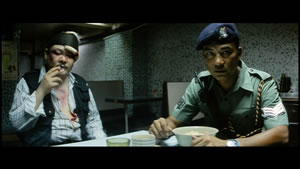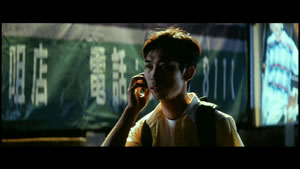 Overall:
PTU is a triumph of style over gratuitous action. Where others would have forced in a few more shoot ups and car chases, Johnnie To shows the composure required to maintain the suspense throughout a movie. In some corners, PTU, has been critcised for being too surreal or detached from reality, but this is hardly a crime! I can't remember ever shouting at a John Woo or Ringo Lam movie going "surely he's run out of bullets by now, this is plain ridiculous!". PTU may not be gritty, uber-reality film-making, but I challenge you not to be captivated by his vision. This work serves as an excellent example of how to deliver a production with limited budget and pyrotechnics; directors of the world take note – this is Johnnie To!
Paul