My Wife is a Gangster - Korea has been a hotbed of edgy stylish actions films since the late nineties and the likes of Premier Asia, Tartan and Optimum have been quick to realise this. Korean cinema is such a reliable import at the moment that many films are not just securing a Western DVD release, but they are also getting limited cinema releases and double-disc editions (see Old Boy, Lady Vengeance, Fighter in the Wind, Brotherhood). My Wife is a Gangster actually precedes many more illustrious titles from this emerging nation and it serves as a good reminder as to why Korean movies fare so well both domestically and internationally. This blend of action and off-beat comedy makes the film accessible to mainstream audiences whilst still providing enough fisticuffs for the action junkie. It reached number four in the all-time Korean box-office with 5.7m admissions during 2001, and has since spawned two sequels. It will also be remade in the US after Miramax bought the rights for $1.1m (what a surprise!), with vicious rumours circulating that Queen Latifah may be the lead. We can only hope that the commercial car-crash that was Taxi (US) will have put the skids on that idea.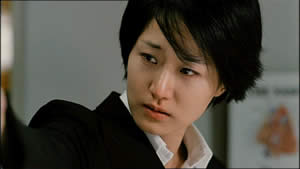 Plot:
Shin Eun-kyung plays Eun-jin, a female gangster boss who is known for her ruthlessness rather than her femininity. She tracks down her long lost sister, who is dying of cancer. Her sister wishes for her to get married and have children. This proves more than a challenge for someone more familiar with beating up men rather than romancing them! Enter Soo-il (Park Sang-myun), a bumbling civil servant who is selected to be groom in Eun-jin's marriage of convenience. The question is whether she can keep her gangster lifestyle concealed from her unwitting husband whilst dealing with the threatening behaviour of rival White Tiger.

Film:
My Wife is a Gangster begins by making humour out of Eun-jin's attempts to be feminine, with the assistance of a tacky beautician. This is a tried and tested source of laughs as many films have centred on the lead comically playing their opposite (particularly gender or class). Indeed, although it pains me to say it, there are shades of Miss Congeniality in this film! Shin Eun-kyung handles this comedy element well and she is ably supported by Park Sang-myun. Their odd-couple relationship forms the basis for the plot as Soo-il incompetently tries to consummate the marriage, without being beaten up. When Eun-jin decides she needs to have a child her mixture of rabid determination and inexperience provide amusing results.
If My Wife is a Gangster succeeds when focusing on the couple, it probably struggles when looking into the wider criminal world. The thread featuring rival gangster White Tiger comes across as a plot device more than anything else. I rarely say this but the action is largely superfluous in this film. Visually, it is an acceptable blend of wire-assisted action executed by an inexperienced cast, but for what purpose does it serve? The viewer is ultimately interested in how the leads resolve their 'differences' and whether they will actually fall for each other. For a comedy, the melodramatic themes manage to lend weight to the film rather than the action. It rubs off on the support cast as well, with an emotional performance by henchman Romeo in the final stages.
If you read a lot of reviews for My Wife is a Gangster you will notice that the denouement is a bit like Marmite - people either love it or hate it. It did make me chuckle and I thought it finished on a very good note, but many were left irritated that the ending had been packaged so neatly. Although I sympathise with those left feeling short-changed I don't think it is worth spitting the dummy out over this conclusion. The film has enough redeeming factors in credit to overcome any minor gripes.

Disc:
There's the good news and the bad news on this one. The good news is that it is presented in a superb anamorphic widescreen print with DD5.1 audio options in both Korean (with English subs) and English. There is also a Bey Logan audio commentary thrown into the mix.
Unfortunately, Premier Asia has released a very limited disc. The Bey Logan commentary would have been done a couple of years ago (he no longer does work for them) and normally a Premier Asia title contains a second disc of extras. Either, Premier Asia has dropped all the other extras they acquired from the Korean version, or they are going to release a double-disc edition to coincide with the US remake being released at cinemas (this was done with The Grudge). If the latter is the case, it will no doubt irritate those who already paid out for the single disc version.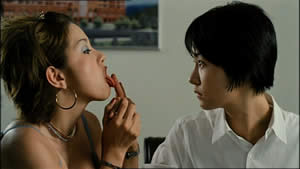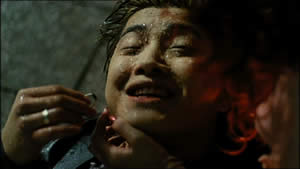 Overall:
I really enjoyed the pace and direction of the movie, it made me laugh and it made me cry (well, it made my partner cry). For me the performances of the two leads are strong enough to make this a worthwhile title and it effectively showcases the emerging pedigree of Korean cinema.
Paul