Fearless - Is this to be Jet Li's last 'action' movie, his last 'martial arts' movie, his last 'martial arts epic' or his last 'Wushu' movie? We are not really sure, either way Jet Li will not be doing another film like Fearless for a long time. This may cause many loyal fans to wince at the prospect of more films like Romeo Must Die rather than Once Upon a Time in China, but surely we can forgive the guy. He has been a screen legend for over two decades and is personally responsible for several chapters in the history of martial arts cinema.
Well... This is how I tried to rationalise things on the way to the cinema. However, once there the apprehension crept in. Would this be an embarrassing and desperate lunge to return to Jet's former glory, or similar to watching Maradona play in a celebrity football match, would we witness one more glimpse of true class? Fortunately, I can report to all fans of Hong Kong action that form is temporary, but class is permanent.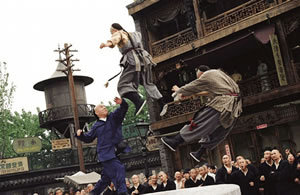 Plot:
Before delving too deeply into the plot, it is worth explaining to the reader that there is a lot of fighting in Fearless. In fact, there is action by the bucket load! Like a proper old school movie, the action actually develops the plot and characters, rather than supporting them. Jet depicts Huo Yuanjia (Fok Yuen Gap), the legendary founder of Jing Wu school, and master of Chen Zhen (Bruce Lee in Fist of Fury). After a spoilt childhood of mischief and womanising he is brought crashing down to earth when his family is murdered. After rediscovering himself in the wilderness, he returns to his hometown to discover it overrun by foreigners. In a noble display of patriotism, he defends 'the sick men of Asia ' in a series of martial arts tournaments against foreign opponents.

Film:
The first big plus for Fearless is having Yuen Woo Ping choreographing the action after previous success with Jet on films like Once Upon a Time in China 2 and Fist of Legend. The regular bouts of action are well paced and entertaining. A number of fights stand out including the climactic end fight against the Japanese challenger Tanaka (Shidou Nakamura) and also the Hung Gar platform fight. The action uses wires and some degree of editing, but as a spectacle it is a strong offering. There are a number of lengthy single shot exchanges and Jet manages to show flair that has been lacking in recent years. There is also a welcome return for Jet with a three-section-staff, which harks back to his Shaolin Temple series.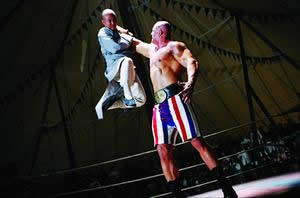 There is the added bonus that this is a very accessible film which will appeal to a wider group than just adrenaline junkies. Like Once Upon a Time in China, there is a simple and clear thread of selfless patriotism. Ronny Yu manages to paint with bold strokes as Huo Yuanjia realises his destiny. I was particularly impressed by Jet playing the spoilt womaniser in the early part of the movie. I was expecting to see him as the stoic Wong Fei Hung character for most of Fearless. This changeing persona makes Fearless Jet's most emotionally involving movie for some time. The only frustration is the meandering 'lost in the wilderness' sequence where he is revitalised in a rural community by a caring blind girl (Betty Sun).
This international edit runs at 104 mins. However, the full length cut is rumoured to be nearer 150 mins. In terms of what was left out, there was an encounter with a Thai boxer (Somluck Kamsing) and also a sequence with action star Michelle Yeoh. The Thai Boxer scene has remained for the Thai market.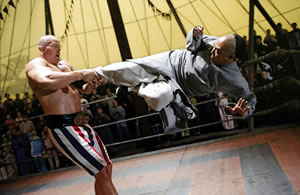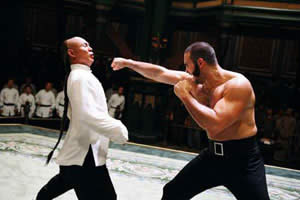 Overall:
Fearless could have been a terrible let-down, but I am delighted to report that Jet has bowed out on a high. Ronny Yu has managed to deliver a polished epic production that is engaging without being overly complex or tedious. At the heart of Fearless is well executed action and an involving dramatic performance from Jet Li. It was largely inconceivable that this would ever top his classic works in the early nineties, but to the credit of cast and crew, it can be credibly mentioned in the same breath. For one final time Mr Li, we salute you.
Paul