Exiled – After reinvigorating the triad movie with Election 1 and 2 by bringing us stories that emphasised the corruptive influence of power, rather than the ability to fling oneself around whilst wielding two pistols, Johnny To then returned with the ultra-stylish Exiled in an attempt to outclass the showy Heroic Bloodshed movies of the 80s and 90s.

Plot
After a botched assassination attempt on Boss Fay (Simon Yam), Wo (Nick Cheung) was exiled from Macau, but has now returned with his wife and baby, and old friends Blaze (Athony Wong) and Fat (Lam Suet) have been sent to kill him. Tai (Francis Ng) and Cat (Roy Cheung) are the last of their old gang, and have decided to keep Wo alive. After reconciling, they decide to go to local fixer Jeff (Lam Ka Tung) to take on one big job and get out of Fay's clutches. They are tasked with eliminating Blackie, the head of the largest local gang, but at the restaurant where the hit is planned Fay arrives and everything goes to hell, involving numerous shoot-outs, an underground doctor, a crack-shot armoured car guard and Simon Yam being shot in the balls.

Film:
From the start the tone of Exiled is set with the location, which Johnny To uses effectively throughout the film. In an old, deserted square, heavily reminiscent of the early 20th century Mediterranean style, determined men in trenchcoats loiter in the square before Wo's return, positively reeking of old westerns. After a quick, showy shootout in Wo's flat, Tai, Wo and Blaze reach a stand-off and so everyone decides to help Wo move in to his house, and then they all cook and eat together. Even this conceit of enduring friendship is given a special touch, as the cooking is lit by the light of the kitchen fire, whilst the meal is lit by candlelight and emphasises To's ability to give any scene something special, be it intense gunplay or wordless character interaction.
Even in the gun battle sequences, whilst using plenty of slo-mo and CGI enhanced feats of ballistic skill, To deviates from the stereotypical HK action flick in that the characters all work as a team, providing cover with military precision whenever they withdraw from a firefight, and besides supporting the idea of these people surviving for so long as gunfighters, it cements the fact that this band of friends has grown up together. Along with the brilliant photography and choreography there is an excellent score by Dave Klotz and Guy Zerafa full of sparse guitars that once again evokes the western genre, avoiding the usual pounding techno or rock that the action genre defaults to.
If all this weren't enough, there are also some wonderful supporting characters with regular To favourite Simon Yam used to the full as a skewed character full of excess; the odd movement and delivery of sharkskin-jacketed Jeff by Lam Ka Tung could easily have come from a David Lynch film; the armoured-car guard Sergeant Chan (played by Richie Ren) oozes cool with his dead-eye shots and for once there is a decent female character in Josie Ho's Jing, Wo's wife and mother of his child, who shows a strength and fierce determination to protect her family that becomes shared by the gang of friends.
Even though Exiled is a stylised action film, To recognises the importance of a change of pace. Whilst many action films tend toward the bright, loud and flashy as a mark of 'style', Exiled acknowledges that half the excitement of an action sequence is cultivated in the lead-up, the tension created beforehand. Exiled even reinvents the bloodshed in Heroic Bloodshed, using red powder in the squibs rather than a liquid, which creates a great looking blood-mist effect. Finally, Exiled probably has the best use of product placement, as the chaotic, climatic face-off takes place in the time it takes for a can of Red Bull to be thrown in the air and land again.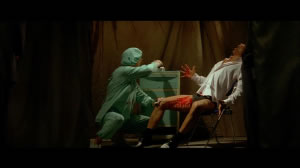 Disc:
The twelve minute 'making of' is mostly a fluff piece made up of quickly-edited interview snippets, film clips and behind the scenes footage, though there are a few choice morsels offered up, with Johnny To explaining that there was no script as the aim was for all the actions and reactions to be natural. There are no other extras included.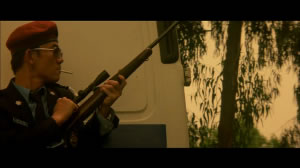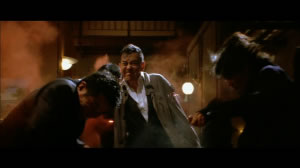 Overall:
A celebration of the Heroic Bloodshed movies, Exiled can be seen as a glorious resurrection of the genre, fully evolved into the possibilities those movies held and a successful melding of action and arthouse. If you like your HK cinema to stray from the formula, Exiled deserves to be seen.
Ross