Dreadnaught is the story of two Yuens. It stars the prodigiously talented Yuen Biao with support cast and direction from leading members of the Yuen clan. For those who do not know what I am talking about, I mean the family of Yuen Siu Tin (Sam Seed from Drunken Master) whose numbers include action director extraordinaire Yuen Woo Ping. Yuen is joined by fellow brothers Sunny Yuen Shun-Yee, Yuen Cheung-Yan and Brandy Yuen in this kung fu romp. There is also another famous outing for the legendary Kwan Tak-Hing, who featured in this and Magnificent Butcher in a reprisal of his role as Wong Fei Hung. There are several familiar faces in this Raymond Chow production including Fung Hark On, Philip Ko, Lily Li and the always enjoyable Leung Kar Yan.
Dreadnaught performed well at the box office, taking HK $5.6m (#6 in 1981). This return exceeded performance of much more prestigious titles including Magnificent Butcher and Warriors Two. This has all the hallmarks of a Sammo Hung production apart from him being in it. There are plenty of misleading versions of this movie that mention Sammo starring in the film or it being Prodigal Son 2 - both are very wrong.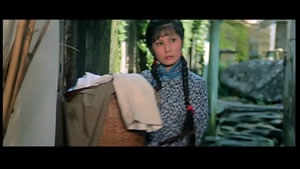 Plot:
Similar to most stories of that era, there is a young hooligan who needs to learn kung fu from an excellent master so he can defeat the main bad guy. Although Dreadnaught tries hard to mask this premise it remains there in all its glory. Yuen Biao plays Mousey, who is stalked by the much feared White Tiger (Sunny Yuen). His skills as a cleaner do not prepare him for a number of hairy pursuits. After enlisting the help of Wong Fei Hung as his master, they eventually confront this deadly foe. Amongst all of this, there are plenty of slapstick incidents, numerous fights and kung fu tomfoolery.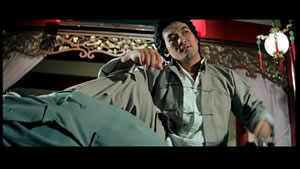 Film:
Dreadnaught boasts memorable sequences including a dragon fight to rival Young Master and Martial Club. It is also great to see Kwan Tak-Hing defeat a number of rivals without even acknowledging that they are having a fight. With part of Dreadnaught being set at an opera theatre, there are lavish costumes on display and Sunny Yuen exhibits exquisite face paint whilst playing the mute White Tiger. Complete anoraks like me will also notice sets that were used in later Golden Harvest films including the bamboo clearing (Sammo training in Magnificent Butcher) and the narrow streets (Project A bike chase)!
Yuen Biao is undoubtedly one of the most talented martial arts screen-stars of all-time but this is another example of how he struggled away from Sammo and Jackie. Even with the presence of Kwan Tak-Hing, Yuen Biao seems to wilt in the limelight. By the end, I had little time for the plight of his character. My satisfaction was further hampered by the lack of jaw-dropping action throughout the movie. There are polished moments, including Fung Hark On's Demon Barber sequence, but there is too much running around and kids play. Even in the finale, Yuen Biao is still playing a character that cannot fight properly, which I found frustrating. What this film needs is a full-on ten minute training sequence, which would have been amazing in its own right (see Knockabout) and then a 'no holds barred' end fight. Maybe I'm on my own here, but it is hard to watch someone performing at only 70%.

Disc:
Like all Hong Kong Legends discs, this looks and sounds spectacular. The original print is in decent condition and the restored anamorphic presentation is as good as it gets. The audio offers both Cantonese and English DD5.1 tracks and the removable English subs are good quality. The extras are lean but interesting. There is an interactive 'Who is Wong Fei Hung' storyboard (featuring some Jackie Chan, Jet Li clips), an interview with Lily Li and the normal trailer, scene selection options.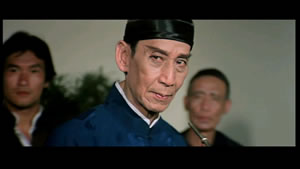 Overall:
Dreadnaught will always suffer in comparison to similar films of the era; Warriors Two, The Victim, Magnificent Butcher, Buddhist Fist, but it does have some charm of its own. The Yuen clan put in a fine performance on both sides of the camera. However, the lack of a 'coming of age' training sequence and a spectacular end fight will forever destine Dreadnaught to be an also ran rather than a pedigree champion.
Paul