Made: 2006
Aka: Lung fu moon
Format: DVD - Two Disc
Region: Reg 2 PAL
Release Date: 25 Jun 07
Company: Showbox Entertainment
Length: 86 / 92 mins
Picture: Anamorphic 16:9 widescreen
Sound: DD5.1 / DTS Stereo
Language: Cantonese w / English subs
Extras: Interviews, Featurettes x3, Trailers, Deleted Scenes, Diaries
Classification: 18
Director:

Wilson Yip

Cast:

Donnie Yen, Nicholas Tse, Shawn Yue, Chen Kwan Tai, Yuen Wah, Vincent Sze, Charleine Choi
Dragon Tiger Gate – Francis Yip was hardly an international name following his opening decade in the directing game, but that soon changed once he directed the Donnie Yen smash hit Sha Po Lang (2005). It came as little surprise that they went for a second collaboration one year later with Dragon Tiger Gate. Along with Donnie Yen as actor and action choreographer, several of the modern stars of HK action were drafted in, including Nicholas Tse (Man Called Hero, New Police Story), Daniel Wu (One Night in Mongkok, Cop on a Mission) and Shawn Yu (Infernal Affairs, Jiang Hu).
DTG's reception was not emphatic with only two nominations at the HK film awards for action choreography and visual effects. The box office takings were a domestic improvement on SPL with HK $12.1m in 2006, but still well behind releases by the old guard of HK movies; Jet Li's Fearless and Jackie Chan's Rob-B-Hood.
Plot:
Based on the popular Manga series Oriental Heroes by Wong Yuk-Long, Dragon Tiger Gate takes the viewer to a caricatured modern martial arts world, with fearsome bosses and photo-friendly heroes. Donnie (Dragon) and Tse (Tiger) play the sons of the two masters at the Dragon Tiger Gate, a martial arts school. Whilst Tiger grew up at the Dragon Tiger Gate, Dragon left when young and ended up working for local boss Ma Kwun (played by Shaw Brother veteran Chen Kwan Tai). Tiger manages to get his hands on the 'Lousha Plaque', which sets Ma Kwun on his tail. During the inevitable pursuit Donnie decides to switch over to the good guys, and nunchaku wielding Turbo Shek (Shawn Yu) soon arrives into the fray. During this maelstrom a mysterious fighter called Shibumi announces his devasting presence - cue plenty of action. Perhaps all that can save the Gate is the combined forces of Dragon, Tiger and Turbo and the wise words of Master Wong Jianglong (Yuen Wah – Kung Fu Hustle)...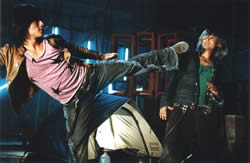 Film:
As with SPL, a good serving of action greets the viewer from the offset. Two restaurant fight sequences dominate the early exchanges, involving the expected ingredients of cannon-fodder henchmen, wire-assisted kicks and flimsy chairs / tables. I was genuinely impressed by the opening moments with some imaginative camera angles and a frantic pace. However, after the initial storm, there is quite a lull before things get too interesting again. I failed to engage with much of the story or characters, as the focus rests much more on the visual requirements of the manga adaptation. However, Yuen Wah manages once again to provide a compelling screen presence as the master during the Indian summer of his career.
The climax fails to pack the punch of earlier as it is inevitably dragged into the CGI infested hero world that plagued Hong Kong martial arts in the late nineties (see Stormriders, Man Called Hero). There are few martial arts moments that aren't overplayed by special effects or obvious support. This is a shame as the results lack the excitement or gravity of Sha Po Lang, or a big Sammo throwing his weight around!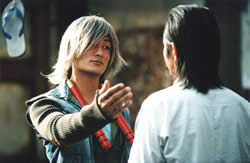 Disc:
Being a modern movie, you can expect a good quality release from Showbox Home Entertainment, including an anamorphic transfer and Cantonese language options (D2.0 and DD5.1 - although the HK release had DD6.1). There seems to be some confusion on the runtime for this movie. The packaging says 86 mins, but the BBFC accepted a 92 min cut. Either way, it's about that long! The two disc package will also include a 'Making of', 'Pre-production' and 'Location' featurettes, diaries, deleted scenes, interviews and trailers. Top marks to Showbox - They definitely have stolen a march on Hong Kong Legends by securing this title.
Overall:
Let's get the big point out the way first, this is not as good as Sha Po Lang and regardless its merits this film will always be defined as failing to emerge beyond its predecessor's large shadow. The results are at times exciting, amusing and well delivered, but it is ultimately a good looking film, without a lot else to offer. This I can tolerate from many of the young leads in DTG, but from Donnie we expect and deserve a lot more.
Paul