Tiger on the Beat - Lau Kar Leung's directorial career became a sporadic pastime in the late eighties after his enduring success in the previous decade. Tiger on the Beat stands apart from many of Leung's other post-Shaw Brothers works because it was quite successful! Leung's work has always attracted critical acclaim, but he has also bombed at the box office with the likes of Drunken Master 3, Operation Scorpio and Drunken Monkey. Tiger on the Beat performed exceptionally well, taking HK $27m and spawning a sequel two years later. It was fifth in the box office ranking in 1988, being outperformed by action heavyweights; Police Story 2, Dragons Forever. The film's leads were Chow Yun Fat and Conan Lee. Chow was working in the purple patch of his career, delivering a number of classics under the helm of John Woo and Ringo Lam. The opposite can be said for Conan Lee who had done little since working on Corey Yuen's Ninja in the Dragon's Den (1982). Conan also did little of note after this film, but he did appear in the sequel alongside Danny Lee. The cast include plenty of old school talent, including favourites such as Gordon Liu, Ti Lung and David Chiang.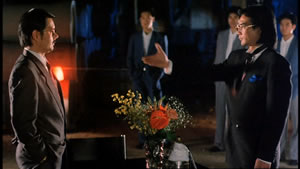 Plot:
Chow plays Francis, a cocky, lazy cop who likes to spend his time on the beat chatting up the ladies. Michael (Conan Lee) is an excitable rookie who is trying to take on the criminal world single-handedly. Seeing as this is an action movie with cops involved, you may have guessed that these two divergent characters get paired together to solve the big-triad-drug-smuggling-ring. They also manage to pick up Marydonna (Nina Li Chi), who is also in trouble with the triads for selling on dodgy merchandise. The blend of action and canto-comedy keep this vehicle rolling along until the final showdown with the infamous 'chain-saw' fight!

Film:
As with most Lau Kar Leung movies, the comedy never really hits the right buttons. It is not terrible, but just lacks the cutting edge. Chow Yun Fat tries to play a playboy style cop but the pretence never succeeds and by half-way through the movie he has moved back into his typecast hard-boiled character. Conan Lee tries his best and does quite well, but it is impossible to look at the guy without thinking 'poor man's Jackie Chan'. I mean he looks just like him, tries to act like him, and 'tries' to fight like him!
The action is the strongest part of Tiger on the Beat. Gordon Liu ensures that the standard remains at a high level. Most of the fighting is done by Conan as Chow prefers to remain in his 'blazing revolvers' safety net. One scene of note is in the ladies changing room where Conan squares up against Gordon in a narrow corridor. This was lifted from the Shaw Bros classic Martial Club (Gordon Liu vs Wang Lung Wei). The fight is pretty impressive, but if you squint it really really looks like Jackie Chan fighting Dick Wei!
The finale involves Chow and Conan trying to rescue Chow's sister (Shirley Ng). Chow shoots the place up with a shotgun whilst Conan takes on Gordon Liu with a chain-saw. In his interview, Gordon mentions that the chain-saws were not on for the fight, but actually had incense inside them to make them look like they were smoking! The new weapon gives the end scene an additional edge at a time where virtually every encounter had been explored by the likes of Jackie and Sammo. This push to make the action more extreme was an increasing trend in the late eighties, especially in terms of violence against women. Jackie had fought amazons in Armour of God, Sammo was cutting his ex-wife's hand off in Eastern Condors and Lau Kar Leung subjects Nina Li to a torrent of abuse in this movie before letting her get peppered in the finale. Tiger on the Beat seems to be following trends rather than setting them. This is a significant departure for Lau Kar Leung, who was a leading force in late seventies cinema, in giving women credible and prominent roles.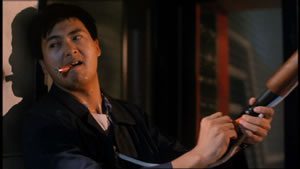 Disc:
Superb disc from Hong Kong Legends, I tire of repeatedly singing their praises! Why can't they release a terrible disc so I can have a good moan! You get the expected restored anamorphic widescreen print with DD5.1 and soundtracks in both Cantonese and English. The extras include trailers, interviews, chapters and an audio commentary. The disc highlight is a brilliant interview with Gordon Liu, discussing his relationship with Master Lau Kar Leung, Tiger on the Beat and his roles in Kill Bill.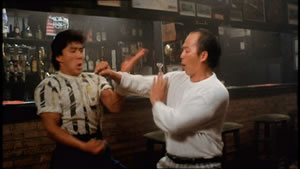 Overall:
Lau Kar Leung has always been associated with progressive cinema, but Tiger on the Beat arrived during a maelstrom of violent action movies in the late eighties. There is little to distinguish this from the pack, therefore is it somewhat ironic that this is one of Lau's most successful releases. The film is plagued with a disinterested plot and inconsistent characters. The quality of the action goes some way to salvage this movie and ensure that it will be a worthwhile viewing, if not a seminal entry in Leung's glittering filmography.
Paul