Snuff Bottle Connection - By 1977 the Hong Kong movie scene was becoming a sea of change. It was a case of out with the old and in with the new. Shaw Brothers productions were starting to struggle at the box office and alternative studios were making a mark. Among the emerging players were Sammo Hung, who scored a hit with his directorial debut, Iron Fisted Monk. Ng See Yuen was also growing in stature as producer and director after scoring hits with Secret Rivals 1 & 2 and Invincible Armour. Snuff Bottle Connection came from the same stable and starred two of the all-time great super-kickers; Hwang Jang Lee and John Liu.
By way of warning - this Soulblade release is being marketed as a film directed by Yuen Woo Ping and starring Yuen Biao among others. Both of these statements are inaccurate. Snuff Bottle Connection was directed by Lui Le Le and Tung Kan Wu during their short and unproductive film careers. Yuen Woo Ping was action choreographer, along with Hsu Hsia. Yuen Biao also has no 'acting' in this film. He crops up several times as a henchman and does a few doubling scenes, but nothing of any substance.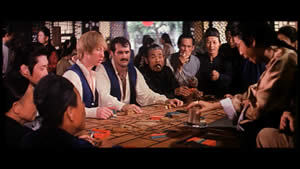 Plot:
Snuff Bottle Connection (SBC) involves those pecky Russians and some Manchu traitors who are selling secrets to a soon to invade Russian army in trade for favourable positions in a Russian occupied China. The snuff bottle is the means by which the traitors identify themselves as they are particularly rare gifts from the emperor. Roy Horan leads the Russians who collaborate with Hwang Jang Lee and his henchmen. John Liu plays the court official who is trying to prevent the corruption. He is aided by an annoying little kid from Thundering Mantis and Sleeping Fist (Wong Yat Lung) and a light-hearted rogue (Yip Fei Yan). These honest troopers face a horde of henchmen before the climactic sequence against the Silver Fox!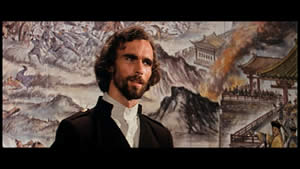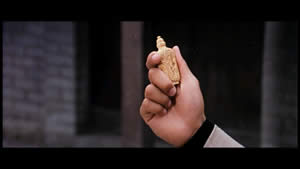 Film:
SBC moves along at a pedestrian pace for the first third of the movie. You get to see a bunch of Russians beating up some lackeys down the gambling den and then watch the annoying kid do some kung fu. It's all very clunky and predictable. Once John Liu opens up his legs and starts laying out some henchmen, you begin to take notice. John Liu is an excellent kicker who had already showcased his skills in Secret Rivals. The opening fight sequences involving John Liu make you feel a bit like you are watching a Bruce Lee movie. The intensity of his facial expressions also seem to mirror Bruce's trademark antics. The end fight displays a new form of intensity and sophistication. John Liu and Hwang Jang Lee attempt to put together lengthy choreographed exchanges, rather than purely trading blows. It was this that became the trademark for Yuen Woo Ping in his later works.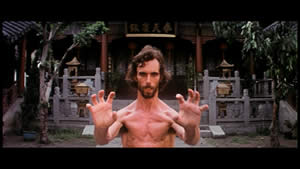 It is easy to see how Yuen Woo Ping was only a year away from smashing the box office with Snake in the Eagle's Shadow and Drunken Master. Many of the themes that made those film famous were present here. There are the obvious elements such as similar cast and crew members (Hwang Jang Lee, Roy Horan, Hsu 'King of Sticks' Hsia, Corey Yuen, Sunny Yuen) and the idea of combining martial arts styles. Similarly, we have the attempt at slapstick humour, but not particularly effectively in this instance. However, the missing ingredients that made SITES and Drunken Master famous were a charismatic lead, the master / pupil relationship and a great end fight. Unfortunately, neither Yip Fei Yang or John Liu have enough charisma to pull this movie off. They struggle to engage the audience with any emotion. There is also a missing element for either lead fighter to master their skills, with some textbook training sequences or learning a new technique. However, the most significant issue is the end fight. John Liu looks great when he is dealing with five henchmen, but he and Hwang Jang Lee struggle to gel on screen together in SBC. Hwang looks quite uncomfortable having to focus on upper half fighting using a fan. It was the lack of chemistry here that makes both fighters look wooden and a touch over choreographed.

Disc:
Like many of the titles coming out on the Soulblade label, the disc is a mixed bag. It is great that the movie has been released on DVD to a wider audience and to their credit there is both a Mandarian and English audio track with decent English subtitles. However, this disc is marketed as 'digitally remastered and restored' which is not entirely accurate. The colours have been much improved, resulting in a stronger image, but the print still remains scratchy and severely damaged in places. Do not expect a disc in line with the HKL or Celestial remastering work, this is ok but there is still room for improvement. The extras include a few more trailers and a reasonably engaging old interview between Toby Russell and Roy Horan (which sheds some light on the Hwang Jang Lee knife-fighter rumours).
Overall:
Snuff Bottle Connection is a strong film in many ways but also has some major flaws. It helps show the emergence of Yuen Woo Ping's choreography and a new faster pace that would set the standard for many years to come. John Liu is entertaining to watch as a kicker, but his short film career is most probably linked to his lack of charisma, which is quite evident here. It is a shame that the final fight never really peaks, but it is important to remember that at the time Snuff Bottle Connection was leading the way for independent action cinema.
Paul