Michelle Yeoh has never really worked out what she is for movies. Is she a sex symbol? Is she an action star? Is she an actress? Silver Hawk gets us somewhat closer to understanding what Michelle Yeoh thinks she is. Yeoh produces and casts herself as the titular lead in 2004's Silver Hawk. After storming to Oscar success with Crounching Tiger, Hidden Dragon (2000), Yeoh became an internationally recognised Asian actress. However, disappointment was soon to follow in The Touch, an ill-fated and poorly received work in 2002. Silver Hawk also performed weakly at the box office taking HK $2m in 2004 (House of Flying Daggers took HK $14m and Kung Fu Hustle took HK $61m!)
Silver Hawk also tries to cast Yeoh as a lead heroine in a career that has been spent playing second fiddle to better known male leads. Examples include Tai Chi Master (Jet Li), Police Story 3 (Jackie Chan), Crouching Tiger (Chow Yun Fat), Wing Chun (Donnie Yen) and a forgetful role as a Bond girl in Tomorrow Never Dies. Jingle Ma takes up the reins as both director and scriptwriter for this comic-book caper. One of Jingle's earliest involvements in the movie industry was as cinematographer in the seminal Drunken Master 2, with his directorial debut coming in 1998 with Hot War. Jingle has always surrounded himself by a regular stable of actors such as Ekin Cheng (Hot War, Tokyo Raiders, Goodbye Mr Cool) and Richie Ren (Fly Me to Polaris, Summer Holidays, Siver Hawk, Seoul Raiders). Silver Hawk therefore provides a departure for Jingle by taking on an internationally recognised star in Michelle Yeoh.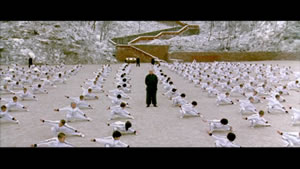 Plot:
The Silver Hawk character began as a comic book in the forties before hitting the Hong Kong screens in the sixties. Silver Hawk is a masked / caped crusader who is always one step ahead of the bumbling police in apprehending criminals. Silver Hawk is also a high flying business-person by day and is named after an animal linked to their childhood. I could go on about the 'similarities' to Batman but that should be suffice for now. Silver Hawk also has a Batmobile, erm.. I mean. Hawk bike, which made Yeoh an obvious candidate for the lead after the mind-blowing motorbike stunt she performed in Police Story 3.
In this tale we are shown the tribulations of the Silver Hawk trying to remain incognito whilst saving the futuristic Polaris city from being brain-washed by an evil doctor (Luke Goss). Alongside Silver Hawk is the flirtatious Rich Man (Richie Ren), head of the police and also Silver Hawk's long lost friend from their childhood at a martial arts monastery. Luke Goss plays the megalomaniac Alexander Wolfe with bionic arms, who has Li Bing-Bing and Michael Jai White as his deadly henchmen. Although it is important not to forget Wolfe's bungee henchmen (must be seen to be believed)!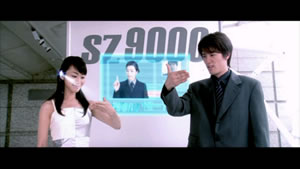 Film:
Jingle Ma is stretched as both director and cinematographer to present Hong Kong as a futuristic Polaris city. The use of buildings is particularly selective, to provide that hi-tec edge. Beyond that, the costumes and gadgets seem to be challenged by the modest budget. The whole film is shot with a very light and delicate filter, which helps everything seem shiny and new, including Michelle Yeoh's 42 year old face! Plus, if you are thinking of buying a BMW in the near future, this is the film to watch, there are plenty of them 'placed' throughout the movie.
Beyond the characters and costumes, the plot is particularly flimsy. There is the tiresome guessing game on the superhero's identity plus a complete lack of chemistry between Yeoh and Richie Ren. Luke Goss struggles as Alexander Wolfe, after a commendable role in Blade 2. Goss has a poor script to work with but his shaven headed mad man ends up looking like the bastard child of Robocop, Jack from Tekken and Jean Lu Picard when he became a Borg!
If anything was going to salvage this movie it would be the action, there is no doubt that Michelle Yeoh can absolutely kick butt. Fortunately there is some redemption here, but not enough to stand out in a crowded genre (see also Elektra, Daredevil, Underworld etc). The movie kicks off with Michelle Yeoh jumping the Great Wall of China with her bike, but this never feels as exhilarating as her previous death-defying stunts in the nineties. The bulk of decent action occurs between Yeoh and Michael Jai White, Li Bing-bing. There are some cringe worthy moments when Wolfe's henchmen start using bungee ropes and rollerblades, but it does give Silver Hawk some good cannon-fodder!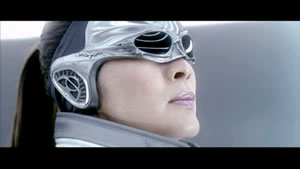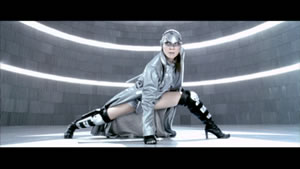 Disc:
The Momentum Asia disc includes a DTS and DD5.1 audio track to complement the crisp 1.85:1 anamorphic print. Unfortunately, the dubbing is pretty terrible for this movie, which was shot without sound and then added in the studio later. The disc has little in the way of extras but a handful of trailers and screenshots. The jury is still out on Momentum Asia, but after several shrewd Thai purchases (The Bodyguard, Born to Fight) perhaps there is reason for optimism.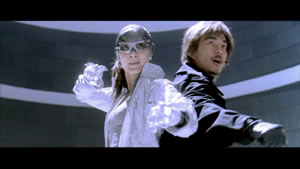 Overall:
Having never rated Michelle Yeoh as a film lead, I was hoping to be pleasantly surprised by Silver Hawk. Sadly, Silver Hawk confirmed most of my reservations. Jingle Ma has performed creditably capturing Polaris city on film, but unfortunately, as good as it looked, I wasn't that interested in what was going on. There is plenty of similarity between Silver Hawk and Batman in terms of concept, but in terms of film this is more like Batman Forever than Batman Begins.
Paul