After a successful run on UK and US screens this year, Ong-Bak: Muay Thai Warrior, is now getting the deluxe treatment on DVD from Hong Kong Legends. This is arguably the biggest martial arts films of the last ten years outside the current Zhang Yimou, Jackie Chan and Jet Li triumvirate. It is certainly Thailand's most successful import in recent memory. Ong-Bak managed to get a general release in many Western countries and grossed over US $14m. It marks the directorial debut for Prachya Pinkaew, a director who will no doubt become a more familiar name in years to come. The success of Ong-Bak has already ensured that his subsequent films are getting decent international exposure (Tom Yum Goong and Born to Fight).
The lead is played by Tony Jaa, who could become the new king of martial arts on this evidence. The throne has been kept warm in recent years by Jackie Chan and Jet Li in the absence of any genuine competition (what happened to the Scorpion King's Won Jin!) However, the competition has warmed up with Dong-kun Yang (Fighter in the Wind) and Jacky Wu both throwing their hats into the ring.

Plot:
In a gigantic departure from most martial arts movie plots, this one takes the ingenious direction of having a hero trying to reclaim a stolen statue for his village! (See most recent Jackie Chan movies such as 80 Days Around the World and Shanghai Knights!) To ensure that Ting (Tony Jaa) gets involved in plenty of fights, chases and stunts they make sure that he has to descend into the grimy Thai pit-fighting underworld in search of the Buddha statue. He has a few buddies to help him on the way (very similar to Rumble in the Bronx) plus some hilarious underworld crime lords to deal with. Once the basic story has been developed in the first thirty minutes, you can sit back and watch action take over with only a smattering of dialogue and character development getting in the way!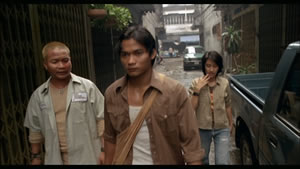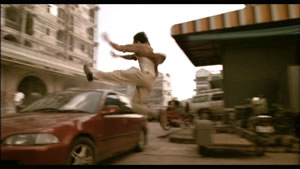 Film:
Ong-Bak comes with the following tagline; "No stunt doubles, no computer images, no strings attached". The ultra-real style is a massive departure from the current enhanced action sequences pioneered by the likes of Yuen Woo Ping and Donnie Yen. It works splendidly well owing to a mix of excellent choreography Phanna Rithikrai and the unbelievable martial arts skills of Tony Jaa. The preparation and execution for this movie took over four years but the end result certainly justifies the means. The stuntwork raises the bar and is not that far away from the crazy days of Jackie, Sammo and Yuen Biao in the mid-eighties. It is way ahead of anything that has been done in the last few years.
There are some great chases through the streets of Thailand, with some inventive and entertaining prop based action. I know I have already mentioned Jackie Chan about ten times in this review, but you will see plenty of familiar tricks and jumps. What makes Ong-Bak succeed is that they are superbly executed. They feel raw and dangerous, whilst being captured brilliantly on film. The 'hand-held' camera effect makes you feel like a real onlooker to the action. On some of the more impressive stunts they show the same clip about three times just to emphasise how amazing it is, but this does lessen the momentum in some sequences.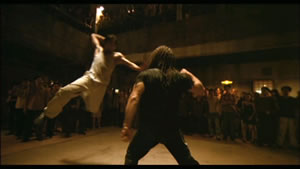 The Muay Thai fight scenes are an outstanding display of how fighting should be captured on film. The choreography is absolutely brutal, with plenty of broken bones and elbows to the head. Chang Cheh's Duel of Fists (1971) also focused on Muay Thai, but it was a much more sedate affair than this! You can wince and gasp along with the action in Ong-Bak, but it also manages to looks supremely graceful in the hands of Tony Jaa. There is a combination of hand combat and weapons combat as Ting closes in on his Buddha statue. We even see a traditional Muay Thai boxing fight between Ting and the main henchman, Sming.
The biggest criticism about the action is not the quality, but the quantity. By the end of the film you start to feel a bit fight jaded. I experience this condition very rarely, but sometimes there can be too much action! Ting's Thai boxing match is set up as the film's finale, but there is another thirty minutes of pure action to follow. Each sequence is well executed, but you start to question whether the end needed to be dragged out so much! There are only so many hits and breaks you can witness before it all becomes a bit gratuitous. The ending will start to marginalise parts of the audience who require more than just a god brawl to end a movie. This being said, Ong-Bak has plenty of charm and character as well. There are plenty of laughs and much of the action is conducted with a playful air.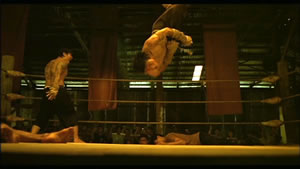 DVD:
Hong Kong Legends have served up a real treat here with a breath-taking double disc edition. As would be expected, we have the digitally restored anamorphic widescreen print (16:9) with DD5.1 and DTS audio options in English and Thai. The host of extras include a Bey Logan commentary, 8-part 'making of' feature, documentary on Muay Thai, interviews with Tony Jaa, Don Ferguson, David Ismalone, Erik Markus Sheutz, deleted scenes, alternate endings, trailers and more! Hong Kong Legends continue to set the benchmark in DVD release across the whole industry
Overall:
This is new, exciting, brave and brutal. Ong-Bak has given martial arts a new verve after its recent return to wuxia stories. Tony Jaa will undoubtedly draw comparisons to every former legend in the field, but he has also brought a new style and direction to the genre. We will be seeing a lot more in the future from the cast and crew involved in this movie, this film just oozes potential.
I will try not to dwell on Ong-Bak's shortcomings, but the action will seem gratuitous to many, and the plot is awkwardly strung together in places. However, it is easy to forget that similar flaws befell our favourites of yester year, and in most cases plot, dialogue and character development do suffer when trying to wow the audience with action. This is one of the best titles to come out of Asia in the last decade and Hong Kong Legends have once again put together an excellent disc.