King of Beggars was delivered during Stephen Chow's unassailable reign as king of Hong Kong cinema from the late eighties to early nineties. As big as Jackie Chan, Chow Yun-Fat and Jet Li have become, their big releases were wiped out by this larger than life comedy actor. King of Beggars was number four in the box office in 1992, taking HK $37.4m (he had all of the top five slots in that year!). King of Beggars features many of Stephen's familiar cast including Ng Man-tat as his father and Sharla Cheung. The stellar cast behind the camera includes director Gordon Chan (Fist of Legend) and action choreography by Yuen Cheung Yan (look out for cameos by him and his brother, Yuen Woo Ping)!

Plot:
In a classic prince-turned-pauper yarn, we see the lavishly rich Governor (Ng Man-tat) and his son Dozy Mother (Stephen Chow) living it up in period China. After one of Dozy Mother's many visits to the whorehouse, he falls in love with Yu Shang (Sharla Cheung). Little does he know that Yu Shang is actually a martial arts assassin trying to kill a rival clan member (Norman Chu). In order to prove his masculine prowess to Yu Shang, he enters a martial arts tournament, but after being exposed as a cheat, both he and his father are stripped of all their wealth and possessions. It is only in this state of decrepitude that Dozy Mother can realise his ultimate destiny as King of Beggars.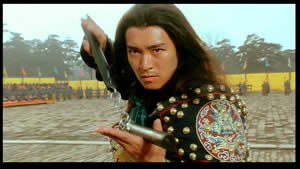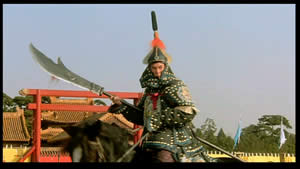 Film:
With every Stephen Chow you can expect a certain level of performance. His charisma and energy explodes on the screen as the troublesome rogue with a rich daddy. However, it is Ng Man-tat who steals the show as his free-spirited father. When he wants travel, he takes his whole house with him, including the walls and the trees!
I was actually quite surprised by the slow paced comedy in King of Beggars. Stephen Chow likes to work at a rate of five jokes a minute, yet here there is a definite attempt to add some depth to story and character. I am not convinced this is particularly successful. The characters are padded out by their charisma rather than their acting skills. However, when the jokes do arrive they are still hilarious, with a brilliant sequence at the martial arts tournament being the highlight. Further mention must also go to the general scale and size of the production in terms of costume, scenery and extras. This is first rate for Hong Kong production, displaying just how confident the producers were in getting a decent return from this film.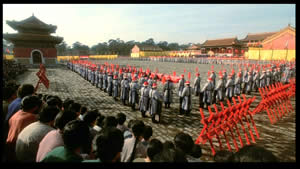 Disc:
King of Beggars is another stellar piece of work by Hong Kong Legends, a lovely 16:9 anamorphic transfer with DD5.1 and DTS options for the English and Cantonese audio tracks. The extras include a worthwhile interview with Gordon Chan, an interactive Stephen Chow biography (sounds more exciting than it actually is) and the normal trailers etc. (There is no Bey Logan audio commentary after his 'alleged' split from Hong Kong Legends).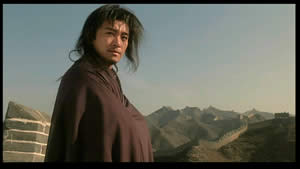 Overall:
It is great that Hong Kong Legends have grasped the opportunity to give Stephen Chow's pre-Shaolin Soccer work the A-star treatment. There is a treasure trove of thirty plus movies that will no doubt amuse and delight western audiences. King of Beggars is a solid example, but it is not Chow at the peak of his powers. This is light, enjoyable and a pleasant distraction rather than a must have Chow classic!
Paul