Kiki's Delivery Service - Studio Ghibli will always be synonymous with anime productions and Kiki's Delivery Service is one of their prime examples. Released in 1989, five years after Studio Ghibli's opened its doors, Kiki's Delivery Service was Miyazaki's fourth film at Ghibli (previous films were Nausicaä of the Valley of Wind, Laputa: The Castle in the Sky, My Neighbor Totoro). Whilst Isao Takahata had just released the stirring Grave of Fireflies, Miyazaki was focusing on more light-hearted productions. Whilst lacking the gravitas of Fireflies or the futuristic verve of Akira, Kiki's was a hugely popular release in both Japan and Hong Kong, clocking up over 100 screening days between them.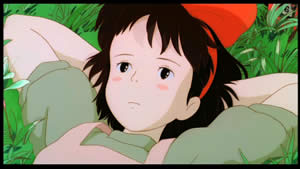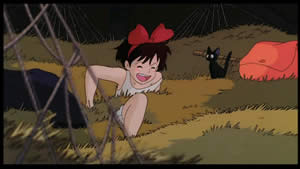 Plot:
Kiki's Delivery Service is a simple tale of innocence and witchcraft. At the age of 13, Kiki is required to leave home and find a town where she can become a resident witch. Along with her broomstick and black cat companion (Jiji) she arrives in Koriko. During her stay, she learns the hardship of being a stranger in a new place. Fortunately, she manages to carve out a niche for herself as a delivery girl, but bad luck befalls her as she starts to lose her magical powers. With her power fading she faces her toughest challenge yet - to fully establish herself as a witch.

Film:
Kiki's journey of self-discovery is one of the more modest productions from Studio Ghibli. There are no pyrotechnics or great crescendo. It runs along at a steady and amiable pace. The focus is on Kiki's relations with herself, Jiji and the outside world. Through experiencing a spectrum of emotions she starts to understand the responsibility that replaces the novelty of witchcraft. Some have tried to muddy the waters by noting the continual obsession with Kiki's underwear as she floats off on her broomstick, but rather than see this as a symbol of innocence it has been lazily linked with more sinister ideas.
The context of Kiki's is particularly interesting. As with many Studio Ghibli productions this is set in the West. According to Miyazaki, Koriko is "a mishmash of various locales, like Napoli, Lisbon, Stockholm, Paris, and even San Francisco. Therefore, one side is like the shores of the Mediterranean sea, but another side seems to border on the Baltic sea." It is an enthralling image of 1950's Europe without a World War 2. Kiki's also features the Ghibli running theme of the all-powerful Airship (see Howl's Moving Castle, Grave of Fireflies). This deferential iconography plays a central part in contrasting the antiquated art of Kiki's against the irrestible drive of technology and modernity.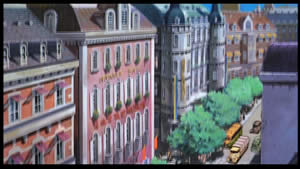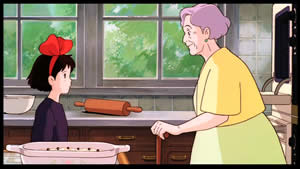 Disc:
This disc forms part of the Optimum Asia Studio Ghibli series that has recently culminated in the high profile theatrical run and DVD release of Howl's Moving Castle. This movie is a virtually identical product to the American Disney disc from April 2003. It has a decent 16:9 anamorphic print with dual language options in DD 2.0. However, the subtitles are actually dubtitles (i.e. taken from the dubbed version rather than directly translated) and the dubbed version has some issues noted below. The extras are nothing special with complete feature length storyboards, Ursula's Painting featurette, Original Japanese trailers and a Studio Ghibli trailer reel.
The disc is a reasonably strong offering, but there are some grumblings over the lamentable Disney treatment. Although, Kirsten Dunst and Phil Hartman do a decent job with the dub, there is some 'ad-lib' dialogue which fills the deliberate pauses in the original. Some also find Phil Hartman's irritating, but I'm quite comfortable him using some artistic licence on Jiji. It was also one of his last performances before being murdered by his wife. (Phil Hatman is most famous work as the voices of Lionel Hutz and Troy McClure on The Simpsons).
What is very 'Disney' are the small and condescending tweaks to the story. Firstly, Kiki is changed from asking for a coffee to asking for a hot chocolate, as coffee is an 'adult drink' in Disney's eyes. As with many other Disney titles, they also f*ck up the ending but letting Jiji speak again once Kiki regains her powers. This DOES NOT HAPPEN in the Japanese original and was completely unnecessary (see also Fist of Legend for similar scandal)!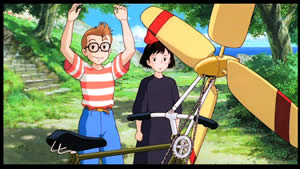 Overall:
Viewers of Kiki's Delivery Service will either tend to be charmed or under-whelmed. This will not appeal to the anime fan looking for extreme action or something that stretches the boundaries of animation. It is much more focused on telling Kiki's tale. It is a coming of age story set in a mystical interpretation of Europe without the ugly face of war and technology. Delicately told and beautifully crafted, this is an immensely subtle affair.
Paul