Full Contact - Considered by many to be Ringo Lam's finest hour, Full Contact (1992) arrives in the UK on the ever impressive Hong Kong Legends label. Mixing hardcore action with erm. more hardcore action, this was at the very edge of uncompromising 'bullet ballets' to emerge during the Hong Kong golden era of action of the late eighties / early nineties. Full Contact failed to set the box office on fire taking HK $16.7m during its release. This can be explained by the single-handed dominance of Stephen Chow in 1992. He occupied the top five box office films during the year (see Justice my Foot, Alls Well that ends well, Royal Tramp 1 & 2, King of Beggars!). Many other notable classics suffered, including Police Story 3, Once Upon a Time in China 2 and Hard Boiled.
Director Ringo Lam has always been regarded as a darker John Woo, known in film critic circles for the 1987 classic City of Fire (seen as a direct influence on Tarantino's Reservoir Dogs). City on Fire had also featured Chow Yun Fat as the lead, but Ringo also worked on a regular basis with Hong Kong's action / thriller stalwart Lau Ching-Wan (Full Alert, Victim) and more recently by the rapidly declining Jean-Claude Van Damme (Replicant).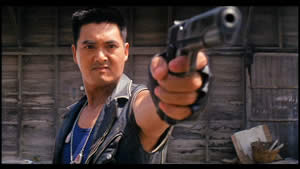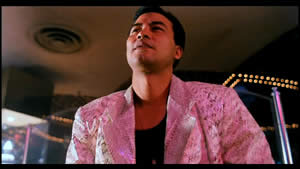 Plot:
The film's literal translation is the Chivalrous Thief Gao Fei. Chow Yun Fat plays Gao Fei (or Jeff), a tough-nosed bouncer in a Thailand 'dancing' club. He is friends with Sam (Anthony Wong), who manages to piss off the local crimelord. They are forced to flee, but fall right into the clutches of the double-crossing super stylish homosexual maniac, Judge (Simon Yam). As part of the treachery a local family is butchered in the shootout and Jeff is presumed dead in the explosion.
What follows next is a classic montage of the injured hero returning to health through the help of some local monks. It is action cliché at its very best. Observant viewers will note the obvious undertones from A Fistful of Dollars. Just like Clint Eastwood's stranger with no name, he has to learn how to shoot left-handed after injuring his pistol hand. As Jeff recovers, he returns to reap a violent revenge on those who have crossed him, slowly working his way through Judge's henchmen before the climactic showdown
Upon release, Hong Kong audiences were less than delighted with Chow's unforgiving Mr Vengeance performance. It is a hard trick to pull off. Chow's popular roles have always portrayed him as an honourable fighter, regardless of whether he is good / bad. Similar to Mel Gibson in Payback, there is no mercy once he begins his revenge (apparently both films came from the same book).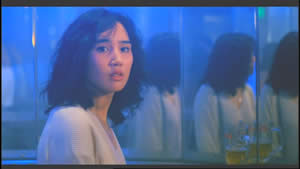 Film:
Full Contact has achieved significant notoriety through its ultra violent approach to action. Full Contact boasts the innovative 'bullet cam', which follows the bullet in trajectory. It has also become notorious for the scenes that never made the final cut. When Sam is asked to go inside a house and kill Jeff he is ordered to return with his eyes. When Sam returns, you can briefly see him holding something bloody in his hands. Legend has it that Judge goes on to pop Jeff's eyeballs in his mouth! Truth or fiction, it is not that important, but it does help explain Judge's homo-erotic comments during the movie about Jeff's eyes.
Anthony Wong performs with a verve that has left his more composed recent works, but the film does not allow much room for character development. Judge's camp madman is an original twist that was poorly revived in Drunken Master 3. His henchmen are similarly bizarre, a nymphomaniac whore and a muscle-bound oaf! Some viewers will be enthralled by this comic book approach to plot and character, but others will struggle to develop any empathy.

Disc:
The Hong Kong Legends disc boasts a superb anamorphic widescreen 16:9 print, with DD5.1 in both Cantonese and English. The audio commentary is provided by Bey Logan and Gary Daniels (Fist of the North Star). There are interviews with Simon Yam and Frankie Chin, plus the normal host of trailers and animated menus. The highlight for the disc is an expose of gunplay action called Ballistic Kiss. It shows how bullet scenes are created to look on film. You get to see how blood capsules are wired up to mini-explosives on the actors and the explosives are also built into the surrounding walls. It is great to see how the scene is built up and another real value-adding extra from Hong Kong Legends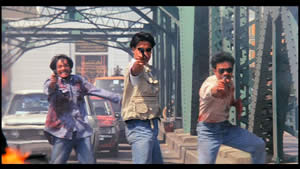 Overall:
Full Contact was quite a departure for Ringo Lam from his more understated and dramatic action films such as City on Fire. However, he will probably be remembered for this over-the-top offering more than any other. It is the ultimate showcase of how to deliver ninety minutes of adrenalin filled action. The results are impressive, but you have to look beyond the absence of dialogue and character depth. Full Contact deserves its international recognition, it may not be Hong Kong's most polished export, but in an industry renown for pushing back the barriers, this completely breaks them down!
Paul