Crying Fist - Boxing has a long history in cinema, stretching back to the silent shorts of Keaton and Chaplin, thanks to the dramatic qualities of struggle and conflict and no doubt the possibility for simple sets and a small cast. Writer / director Ryu Seung-wan, who previously filmed Arahan, brings a tale of two real-life fighters to the screen as part of the continuing rise of Korean cinema. Alongside recent releases such as Champion, Million Dollar Baby and Cinderella Man, Crying Fist again brings boxing to the screen and joins a long tradition of tales about the square ring.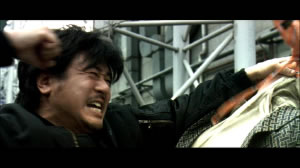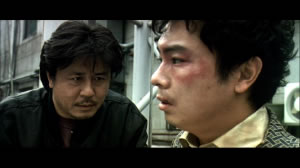 Plot:
Set against a backdrop of the run-down and decaying back streets of Seoul, Crying Fist focuses on two characters. There is the washed-up former Asian Games silver medallist Gang Tae-shik (Choi Min-sik) and street thug Yoo Sang-hwan (Ryu Seung-beom). Gang has made one too many bad investments, losing his home and family and ending up living in a shack and desperately trying to earn a crust by offering passers-by his body as a human punchbag to release all their stress at 10,000 won (not much more than a fiver) a go. Living in a cramped hovel with his family, Yoo drifts into petty crime and ends up in prison where his violent temper gets him into worse trouble. Both men find a possible way forward through boxing. With Gang desperate to gain some self-worth, he starts training for the Super Lightweight Championships to pay back his debts and face his son. In prison, one of the guards sees potential in Yoo and persuades him to join the prison gym, training as a boxer and eventually working up to the same championship match as Gang.

Film:
In many ways this plays like a traditional boxing film. Our pugilists are in some way failures at the bottom rung of society and it is at least partly their own fault for getting there. Through boxing, they find a focus and a goal to work towards, proving to themselves with hard work that they can make something of their lives. As with many boxing films it is about redemption. They grow as people when they grow as boxers and of course we get the obligatory training montage and climactic bout at the end of the film.
What drives the story along is the fantastic acting, not just from the main duo but also from all the supporting cast who provide wonderful performances and help create the believable world that these characters inhabit. Both of the main players are losers with bad attitudes so it is to their credit that Choi and Ryu have you caring for their characters despite all their failings. As ever, Choi delivers a top-notch performance, whilst Ryu may surprise those that know him from Arahan.

And this is where Crying Fist makes a departure from boxing film tradition. By simply having two leads who you want to win you are left unable to guess the outcome (no matter how bad it starts, Rocky will probably end up on top) and somehow hoping neither man will lose.
The visual style creates a great atmosphere; with a slightly washed-out colour palette the gritty sets look that much grimmer and add to the hopelessness of the situation. Crucially to the film, the action rings true, with the boxing devoid of a lot of the usual over-use of slo-mo, quick editing and other camera trickery and instead relying on the training and choreography poured into the production. This results in something that looks very realistic thanks to the efforts of action choreographer Jeong Doo-hong who you get to see beating up the actors in the special features.

Disc:
The people behind Premier Asia and Hong Kong Legends are rightly known for providing comprehensive DVD packages and Crying Fist is no exception. The 2 discs are packed with features and cover just about everything you would care to know about the production. Disc 1 features the ubiquitous Bey logan commentary, this time sharing the honours with Mike Leeder and humbling most sane people with their extensive knowledge of Asian cinema, providing background and insight into the film, actors and plot origins. Well worth listening to. Along with this are trailers for other Premier Asia discs, but the main meat of the extras is on Disc 2. Promo trailers and artwork, 20 minutes of deleted scenes with commentary by director Ryu Seung-wan, interviews with the main cast and crew and over an hour of featurettes and documentaries on everything related to the production, Hong Kong Legends once again prove their mastery of DVD, with no overlap in interviews and documentaries all the extras are relevant and interesting, creating a greater appreciation for the end result.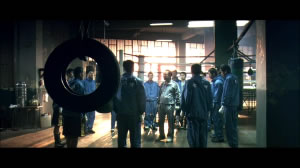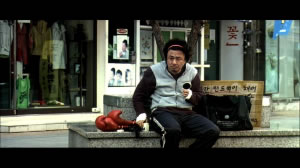 Overall:
A great boxing picture and just a damn good film, Crying Fist is another showpiece for the quality that has been pouring out of South Korea for the past decade. Personally I'm a big fan of Choi Min-sik and this is worth seeing for him alone, but Ryu Seung-wan has created a solid picture packed with detail that brings it to life. A success.
Ross