What do you get if you cross a story about brotherly love and strife with a backdrop of one of the most ferocious wars in human history? Well the answer is Brotherhood, the most successful movie ever to come out of Korea. Taking a whopping US $69m internationally, this is a massive result for an industry whose annual export industry is normally estimated at US $30m! It has also been sweeping up on the international circuit taking awards for choreography, editing and sound effects (Grand Bell, Blue Dragon, Daejong and MBC Awards). This also gives you an idea of the impressive scale of this movie, Brotherhood is not just about performances and story, it has a visual and audio impact that can stand shoulder to shoulder with the likes of Saving Private Ryan.
Directed by Korean director Kang Je-gyu, this is a large departure from his respected 1999 hit, Shiri. His cast include Jang Dong-Kun (Nowhere to Hide) and Won Bin (Guns and Talks) as the two brothers plus several well respected Korean actors in support ( Lee Eun-Joo and Jeong Du-Hong). Jeong Du-Hong also works as action director (see also Fighter in the Wind, Arahan, Champion) and Hong Gyeong-Pyo is the all important cinematographer. The performance of the Korean beauty, Lee Eun-Joo, is all the more significant as it was her last before committing suicide in February 2005.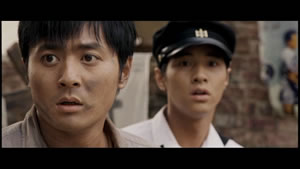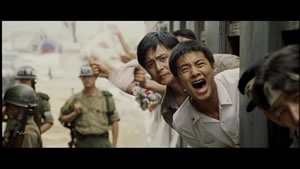 Plot:
The year is 1950, which marks the beginning for the forgotten war of the twentieth century. A proxy war during the early years of the Cold War, this war was too tightly sandwiched between WW2 and Vietnam to receive the focus it deserved. This war was notable for the terrifying civilian death toll during the conflict. Brotherhood does not hide from the pain and misery that war can inflict on a nation. After being shown the happy circumstances of the lead family, real terror emerges when brothers Jin-Tae and Jin-Seok are separated from their family and forced into the army. The relationship between the two brothers during the conflict replicates their family roles back home. Jin-Tae got a job to pay for Jin-Seok's education and brotherly sacrifice is a continuing theme as Jin-Tae tries to win a congressional medal to ensure that Jin-Seok receives a discharge from the army.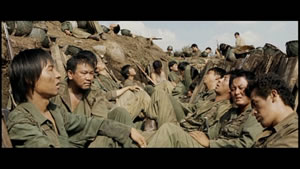 As you get drawn into Brotherhood these intentions begin to blur with the harsh realities of war. Jin-Tae continues with such fervour that it seems he is fighting for more than just a medal, whereas Jin-Seok resents Jin-Tae's proposed sacrifice. The tension reaches breaking point when Jin-Tae's wife is executed for being a communist party member. Jin-Seok sees the senselessness of everything, but Jin-Tae continues in his quest, regardless of what it makes him. The climax has no heroes, no winners and no judgement, just the pain of loss on the battlefield.

Film:
Comparisons have been regularly made between Brotherhood and Saving Private Ryan. There is no doubt that without the Spielberg war epic, this film would not exist. However, rather than merely imitating the WW2 action scenes, Brotherhood carefully lifts the required elements and supplants them in the Korean context. The explosions are haunting, with plenty of loose mud and red spray being thrown on and around the camera. Kang Je-gyu prefers to show the wretched terror of conscription and mass conflict instead of a triumphalist romp home for the victorious troops.
The Korean battlefield is captured brilliantly in both day and night which creates a real sense of battle. This is supported by the stunning sets that are used for this movie. There has been a painstaking attempt to bring this film to life, with an abundance of uniformed extras and an array of battle scenes. They are filmed over a variety of seasons which gives greater emphasis to the drawn out attritional nature of the war. Brotherhood goes one step beyond its peers by making the conflict real for both soldier and civilian.

If Brotherhood does have a failing, it is when it occasionally plunges into sentiment. Much like Saving Private Ryan they have the classic moral dilemma of whether to kill or release captured North Korean soldiers. This becomes even more contrived when one of the POWs is an old friend. Similarly, both brothers have a spell-binding ability to run across battlefields and skirmishes with little more than the odd scratch. Even if they run out of ammo, they always have their bayonets! However, this minor grumble does not detract significantly from the central relationship between the two brothers. We are taken on a gripping journey that seems much more real than most war films.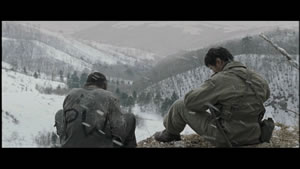 Disc:
Hong Kong Legends have served up another treat with this double disc Platinum edition DVD. As expected we are given the excellent anamorphic 16:9 transfer with both Korean and English language options (DTS / DD5.1). On the first disc there is also an audio commentary from Mike Leeder and Bey Logan. Second disc features include interviews with action director Jeong Du-Hong, several 'making of' featurettes, a Korean War documentary, a storyboard gallery and trailers. A mind-blowing package, full marks for Hong Kong Legends!
Overall:
As with most genres, there are a handful of films that define the genre rather than just exist within in. Brotherhood is certainly an example of the former. It dares to tell a war story that is less worried about the outcome and more concerned about its impact. Brotherhood masterfully avoids the Spielberg moralism that besets his epic features. It manages to do this without drowning in melancholy and profundity. Brotherhood is a superb film complemented by another superb disc.