Born to Fight has been acquired by Momentum Asia for one simple reason; Panna Rittikrai. He is far from being a household name, but he was involved in one of the most explosive and refreshing martial arts films of the last twenty years, Ong-Bak. Panna was co-writer and choreographer for Ong-Bak, but in Born to Fight takes the director's helm to tell a tale of wartime patriotism (and how jump through flaming buildings without dying!) The cast are an assembly of professional sportsmen, martial artists and stunt performers, which should already give some indication for the underlying ambition of this movie.

Plot:
Born to Fight has a very simple plot. In fact, it has a very very very simple plot. I use this term a lot for Asian action movies. Most plots seem to revolve around a quest for revenge, a cop who is at breaking point or a young upstart who has to grow up very quickly. Born to Fight seems to take an even dimmer view than normal about the idea of having a coherent narrative thrust throughout a movie. Once the initial plot is revealed about 'some terrorists with a nuke holding some villagers hostage' you learn very little more before the non-stop stunt show kicks off. I was just trying to think of another film that really stood out for having an especially thin plot and the first one that popped into my head was Ong-Bak - surely no coincidence!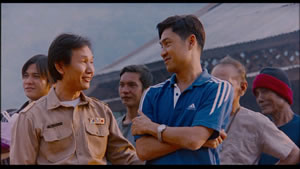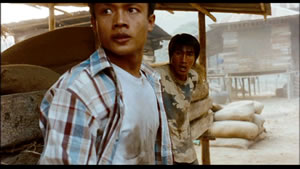 Film:
There are two 'spectacular' elements to this movie, there is the slaughter perpetrated by the terrorists and then the explosive riposte by the stunt team. Both are contrived and overcooked in their own separate ways. The opening bloodshed is quite tasteless and crude. The killing is used as a blunt plot device to justify the uprising by the hostages.
The second half is equally crude, but in a much more entertaining way. Similar to the Jackie Chan, Yuen Biao movies of the eighties, there are few things more satisfying than seeing people performing ridiculous stunts. The action is of a similar style to Ong-Bak. There is little in the way of aesthetics and much more in terms of bone-crunching blows. It does not reach the heights of Ong-Bak, but it does continue to show the same innovation and intensity that made Ong-Bak a success. This is punctuated by a pumping soundtrack, however it does sometimes start to feel like a lengthy trailer or video game as opposed to a film.
There are also some silly moments, as each performer tries to use their individual skill (footballer kicks things at people, gymnasts do triple sommersaults!). However, some of the stunts are fantastic and the film is superbly rounded off by a series of bloopers at the end of the movie.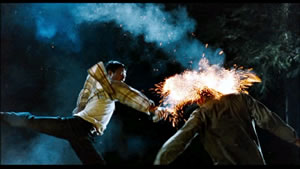 Disc:
The Momentum Asia disc is another moderate offering, rather than anything exceptional. Disappointingly, there is only Thai audio track with removable subtitles in both DD5.1 and DTS, but no English dub is available. The extras include interviews, 'on the set' footage, articles on Thai cinema and intros to the cast behind the movie. Not great disc, probably needed a bit more TLC from Momentum.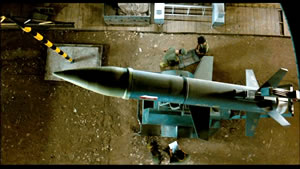 Overall:
A paper thin plot and characters do not prevent Born to Fight for being an engaging movie. It is easy to cast an over-critical eye on these works and forget how flawed original 'genre classics' are. It is difficult to argue that films like Operation Condor and Police Story are much more than vehicles for some exceptional action sequences. Born to Fight definitely falls into this category. You will be blown away by the action, but also distracted by the abundance of characters and sheer volume of stunts. I would also argue that it is not as strong as Ong-Bak, but that does not prevent it from being entertaining in its own right.
Paul