Masamune Shirow's Appleseed (Appurushîdo) joins a prestigious and relatively exclusive club of Japanese animations to receive cinematic release in the UK. Starting as a comic book series in 1985, Shinji Aramaki (Bubblegum Crisis) directed this CGI infused action-epic twenty years later. He was given the helm by producer, Fumihiko Sori, who became involved in this project soon after directing the exceptional Ping Pong. Appleseed forms part of an increasingly impressive list of anime titles that are being distributed by the Optimum Asia label, such as Spirited Away, Grave of Fireflies and Howl's Moving Castle.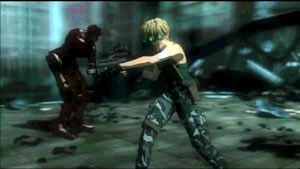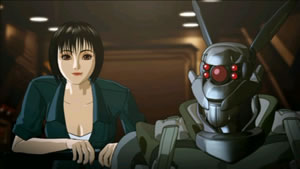 Plot:
Set in 2131 AD, the Appleseed plot revolves around the fate of super-soldier Deunan Knute. After being transported out of a post-apocalyptic wasteland, Deunan finds herself in Olympus, a city of balance and perfection. She is also reunited with her former lover, Briareos - who is now a Darth Vaderesque cyborg after being wounded in battle. As Deunan learns more about Olympus she realises that all is not well in paradise. Half of the population are Bioroids - genetically engineered humans - who are much more stable and balanced than humans.
However, under the surface, Olympus is plagued by conflicting factions. Some believe that Bioroids are a threat to the essence of mankind, whilst others believe that humans are a threat to the future of Olympus. The ultimate question is over everyone's right to life - who deserves life more? What future is worth fighting for? At the centre of this battle is Appleseed, the data that is able to extend Bioroid life.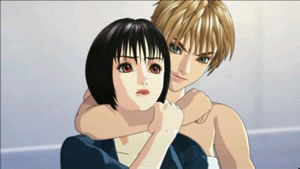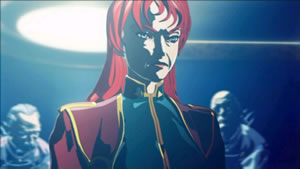 Film:
The first and most obvious thing about Appleseed is its stunning visuals. The opening gun-battle is a breath-taking affair, combining swirling CGI camerawork and the vivid shapes of the anime-style characters. The fact that Shirow kept the 'anime look' ensures that this is more real and life-like than pure CGI affairs, such as Final Fantasy. When you try and replicate humans, the shortcomings are obvious and it can create a distance between film and viewer. Appleseed overcomes this by having the animation bring the character to life, rather than being enslaved to pure realism.
The pacing of Appleseed is ensures that the movie remains engaging. Once you get beyond the basic premise of Appleseed, there is little else to really sink you teeth into. Appleseed spends too much time on fringe characters and unnecessary plot twists. It would like to think it has the gravitas of perhaps Ghost in a Shell or even Brave New World, but this is simply not the case. Appleseed primarily succeeds during the action sequences and visuals, which are excellently supported by the pumping sound track (Paul Oakenfold, Basement Jaxx et al)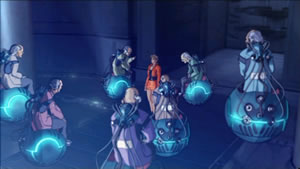 Disc:
Appleseed is another superb disc from Optimum Asia. The print is excellent with a 16:9 anamorphic widescreen presentation. The UK two disc DVD box set includes DD5.1 and DTS in both Japanese and English audio, plus audio commentaries from the director and producer. The second disc also features a making of featurette, image archives, staff profiles and trailers.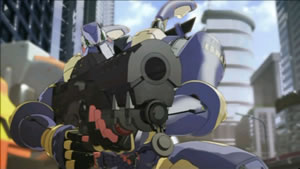 Overall:
Watch this movie to see how to take anime to the next level in terms of visuals and exhilaration. You will feel short changed if you are looking for something particularly profound. The story has nothing new to add to the 'intelligent sci-fi' genre (which began with Aldous Huxley and Ray Bradbury - not Keanu Reeves!). Great title and great work from Optimum, we can only hope for more of the same.
Paul