Typhoon (Taepung) – Korean cinema has been at the forefront of Asian cinema for the past half-decade and it was with much anticipation that Typhoon was released, an international thriller backed by the biggest budget in Korean cinema history (it topped the Korean box office and outperformed international hits such as Harry Potter and King Kong. Director and writer Kwak Kyung Taek brought together the excellent Jang Dong-Gun (Brotherhood and Nowhere to Hide) and the Lee Jeong-Jae as his lead protagonists.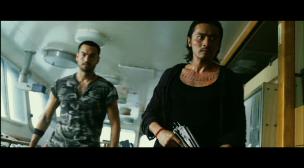 Plot:
When you strip away the melodrama and filler the essence of Typhoon revolves around a man named 'Sin' (Jang Dong-Gun) who has a grudge against pretty much everyone Korean and wants to unleash a nuclear Typhoon on the populace. Lee Jeong-Jae plays the straight laced 'Navy-Seal' style cop who is determined to prevent the slaughter.
After Sin manages to steal a shipment of nuclear waste, Kang (Lee Jeong-Jae) embarks off in pursuit of this modern day pirate across Asia. He also encounters Sin's long lost sister (Lee Mi-Youn), who is the only other survivor from when North Korean soldiers killed their family. The question is whether Kang can use Sin's sister as leverage to prevent a massacre!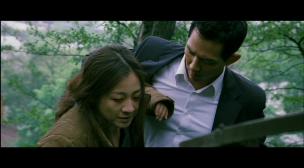 Film:
As I alluded to earlier, this film tries to be more than just a breezy chase yarn by including plenty of melodrama and a fair serving of North / South Korea politics. By showing episodes from Sin's past and his betrayal at the hands of both the North and South regimes, Typhoon attempts to tug on the viewers emotional strings by asking us to relate to the 'bad guy' rather than see him as some dishevelled lunatic. Typhoon then tries to take this one stage further by suggesting a kinship between hunter and hunted as Kang gets emotionally involved in the story.
My main problem with Typhoon is not its ambition or intent, but rather that the aspects of the work do not form a very satisfying whole. If anything, it tries to be too much and fails to deliver on any front. The action is regularly interspersed throughout the movie but I was expecting a much higher calibre of gunplay and realism. It felt like they hired an action choreographer who did all those lame Ekin Cheng movies in the mid-nineties and had then been locked in a cupboard until he was needed for this project.
Not only is the action dated, but the emotional thread seems largely contrived and lacks any real resonance. The combination of a bad guy with a terminally ill sister being chased by a cop with sympathetic leanings towards they man he is pursuing makes the story feel a bit like it has been lifted from a melting pot of clichés. Ultimately, this would have worked if Kwak Kyung Taek could have made us care about the characters, but the over dramatised sequences and hammy dialogue prevent the viewer from giving a damn about any of the leads.

Disc:
Another impressive two disc set from Premier Asia features trailers on the first disc and the second disc features a 'Making Of' featurette, cast interviews and production diaries. You can also expect a crisp anamorphic 2.35:1 widescreen print with both DD5.1 and DTS options. However, the option is only for subtitles, with Korean language, there is no dubbed track.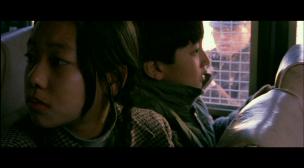 Overall:
I am always one of the first to point out how much Korea's star is rising in the competitive world of Asian cinema. Many of their films are pushing on new boundaries with a fresh and original feel, with other more established nations being left in their wake. However, Typhoon fails to impress because everything it does is tried and tested, both in terms of action and drama, which is a concerning development for one of Korea's highest profile movies to date. I'm prepared to accept that some of the North / South divide significance may be lost on the international viewer who is not acutely in tune with Korean politics, but that does not fully excuse the Typhoon's lacklustre feel.
Paul