Made: 1976
Aka: Shaolin Chamber of Death, Young Tiger's Revenge
Box Office: HK $476,951 (# 53 rating)
Format: DVD (Ultrabit Edition)
Region: PAL Region 2
Release Date: 23 Apr 07
Company: Hong Kong Legends
Length: 103 mins
Picture: Anamorphic 2.35:1 widescreen
Sound: DD5.1, DTS
Language: Cantonese w / English subs, Dubbed
Extras: Chapter Select, Trailers
Classification: 15
Director:

Lo Wei

Cast:

Jackie Chan, Kam Chiang, Her Du Wei, Kong Kim, Yuen Lung, Tien Miao, Yuen Biao, Man Man,

Action Choreographer:

Tommy Lee Gam Ming, Jackie Chan
Shaolin Wooden Men – Hong Kong Legend's Ultra-bit special editions feature superb remasters of some of the lesser-known greats of seventies Hong Kong cinema. A number of these features have been available through other companies in the past, but invariably have been hampered with a badly degraded picture and a crackly, mono dub, so it's great to be able to now watch these films in a better condition than they would have been for their initial theatrical release. Shaolin Wooden Men is the latest release deserving of the spit-and-polish treatment.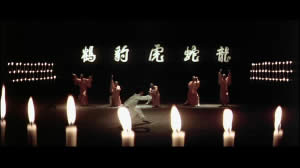 Plot:
Jackie plays a mute Shaolin disciple who, as we learn through flashbacks, is seeking to learn kung fu for revenge against his father's murderer. Finding the training punishing and slow, Jackie starts learning properly after finding an old man chained beneath the temple. The bad-tempered prisoner trains him in return for buns and wine, and Jackie also gains some moves from a nun who admire his spirit, and also enjoys watching him fall over. After a lot of training, Jackie is able to face the Alley of the Wooden Men, dozens of automatic combatants who test those who learn the ways of Shaolin before they are allowed to leave. Once outside, Jackie finds the local village is being terrorised by the Green Dragon and White Tiger gangs, and discovers a nasty secret about their leader as he starts to kill off his rivals.

Film:
Wooden Men is not as light-hearted as Jackie's later films, arguably because he had less say over the content of this Lo Wei produced and directed feature. Nevertheless, Wooden Men is still not actually a 'dark' film and it contains a number of comedic and slapstick sequences. For the first hour it's fairly run-of-the-mill, with nothing exciting about Jackie's arduous training sequences, and doesn't pick up until he leaves the Shaolin temple and ends up fighting the typical arrogant gang picking on a girl in a restaurant, which seemingly happens so often that it's a wonder these restaurateurs don't hire bouncers.
The wooden men sequence of the title, a rite of passage that the Shaolin disciples must endure to become monks, is a little anti-climatic, so it's just as well that the final half hour features a number of decent fights as Jackie becomes the one person capable of stopping the man who trained him. These later scenes are all that save Wooden Men from being dull but the fluid and exciting fights come too late in the movie to balance out the larger, boring chunk. Shaolin Wooden Men is the last film Jackie made before plastic surgery on his eyelids, it also features Yuen Biao in a cameo and it was the inspiration for the Tekken video game character, Mokujin (http://en.wikipedia.org/wiki/Mokujin).

Disc:
Another in Hong Kong Legend's remastered seventies pictures, Shaolin Wood Men doesn't seem to have the same degree of polish as the first 'Ultra-bit' offerings. The print is still of a high quality, but HKL have set themselves a tough benchmark and the picture shows noticeable wear, occasional skips in frames and an unfortunate five-minute sequence that opens the movie with Jackie facing off against the masters of five styles. The scene only features the actors against an empty, black set, which highlights the age of the source print. The 5.1 Chinese audio track is decent, especially compared to the original mono which is also included here, but the English dub is the same old cheesy nonsense and as this isn't an out-and-out comedy, it just seems out of place against the film.
As seems to be the norm for these Ultra-bit releases, there are no extras besides trailers for other HKL films. Considering the stellar work that HKL have always provided with the sound and picture quality of their releases, it seems odd that they would choose to champion this at the expense of extra features. Having said that, these films have previously only been available in shoddy transfers and it may well have been a harder task to restore them to the level they now enjoy.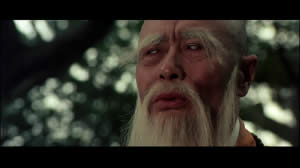 Overall:
Against the high standard of many of Jackie's films, Shaolin Wooden Men is a deeply average offering with only a few scenes that spark the interest. The scenes are worth watching for Jackie Chan completists, and serve as an indicator of the skills he would develop as his star ascended, but those seeking some vintage Chan after watching the likes of Drunken Master would be better off seeking out Fearless Hyena from HKL's same Ultra-bit range.
Ross