Sha Po Lang - Donnie Yen was apparently concerned that the likes of Korea and Thailand were leading the way in action cinema, with the success of films such as Old Boy and Ong Bak. He was certainly right. You can count the number of 'great' Hong Kong action movies in the last ten years on one hand! Jet Li, Jackie and Sammo had all crossed the pond with limited success. Donnie Yen had also flirted with the US scene but spent a lot more time behind the camera. Of most concern, was the lack of any credible successors to these legends. Action movies were dominated by canto-pop robots with plenty of CGI, wires and doubles. It was popcorn fun, but nothing to excite the hardened martial arts enthusiast. In response to all this, Donnie decided it was time to show who was the boss. Not only did Sha Po Lang perform well at the Hong Kong box office in 2005 staying at number 1 for eight consecutive weeks, it also restored faith in the Hong Kong action scene after years of decay.
Sha Po Lang features a range of new and old, in a line-up that certainly raises a few eyebrows. Donnie Yen has always threatened to be the new king of kung fu, but never really managed to step beyond Jet Li's shadow. He is a man with undoubted talent, but with a career still needing a few more 'great movies'. Sammo Hung returning to Hong Kong in an action role merits a lukewarm response these days. He is a fading star whose recent work on Martial Law and Avenging Fist were ordinary at best. The boy faced Wu Jing features after ill-fated casting in Lau Kar Leung's Drunken Monkey and Simon Yam brings his gritty modern action style to complement the martial artists on display. Director and writer Wilson Yip is a promising talent on the HK scene at the moment, and there are no surprises in Donnie Yen becoming choreographer!

Plot:
Inspector Ma (Donnie Yen) is to become the replacement for the terminally ill Senior Inspector Chan (Simon Yam). The latter is still driven by a boiling rage to take down king-pin Po (Sammo Hung), who killed his wife and a key witness three years earlier. He has only three days before his retirement and he and his team are even more desperate to catch Po . Inspector Ma starts to realise that everyone is starting to take the law into their own hands as time runs out!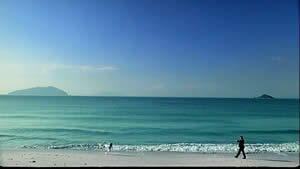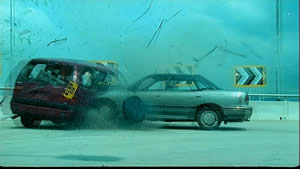 Film:
Sha Po Lang comfortably exceeds its peers in almost every regard. Hong Kong has always remained fertile ground for a good cops and robbers yarn, but rarely has it been successfully fused with modern kung fu. The drama is decent without being exceptional. It is strong enough to hold the film together. Sammo is exceptional as the overblown crime-lord, whilst Donnie plays his moral crusader character with plenty of verve. Simon Yam's character credibly portrays the copper who has forgotten about right or wrong, being solely driven by his thirst for revenge. Wu Jing plays a virtual mute and I have nothing to say about his acting. His fighting is another matter.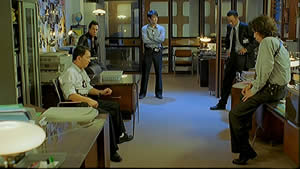 If you can sift through the hype surrounding SPL, it is a sound martial arts flick. It certainly is not the best action ever committed to screen, and there are many heroes who I have cared about more, but this is a decent stab at modern action. The highlight arrives in the latter stages when Donnie Yen goes all out for Po and his henchmen. The alley fight between Wu Jing and Donnie Yen is the best sequence, as their knife - baton fight is largely improvised. You can sense the intensity as the two fighters attack, block and weave with each other. It is also a gift-wrapped bonus to see a quality fight between Donnie and Sammo at the end. I had no idea that Sammo could still mix it up at a decent level. The end fight is good fun and full of surprises, perhaps lacking some of the finesse of earlier sequences.
Director Wilson Yip, has managed to combine a number of threads which hold the film together. As with most action movies, all plot development and dialogue disappears in the last half hour, but the important thing is that you are still interested by the time Sha Po Lang really kicks off.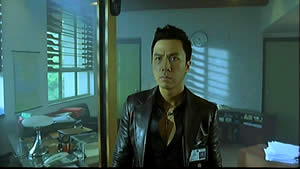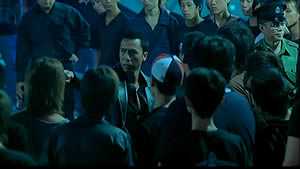 Disc:
We await a cinematic release / disc from a UK distributor for Sha Po Lang - SOMEONE SORT IT OUT (preferably Hong Kong Legends!). The region 3 disc is a decent print with DD5.1 / DTS Cantonese / Mandarin audio and perfectly acceptable removable subtitles. The extras in the 43 minute two disc edition are probably superb if you are Cantonese, not much use for UK / US based fans!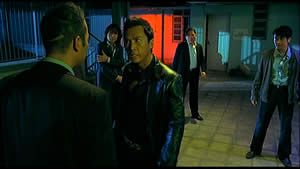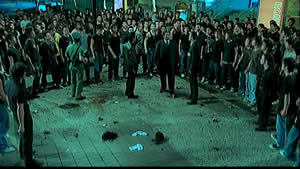 Overall:
Take a bow Donnie Yen, this really was some of Hong Kong's best action in recent years. This ranks right up there with the strongest offerings from Hong Kong in the last decade. There is only one problem. The best coming out of Hong Kong these days, is no longer the best coming out of Asia. Rather than being the top movie from Asia in 2005, it managed to hold its own against the increasingly impressive offerings from Thailand, Korea and Japan. Let's just keep our fingers crossed and hope this was more than just a slick and stylish flash in the pan!
Paul