Made: 2005
Format: DVD (2 disc)
Region: PAL Reg 2
Release Date: 29 May 2006
Company: Contender / HKL
Length: 135 mins
Picture: Anamorphic 16:9 widescreen
Sound: DD5.1/ DTS
Language: Mandarin, Cantonese, Korean language with English subtitles
Extras: Interviews, featurettes, trailers, deleted scenes
Classification: 15
Director:

Tsui Hark

Cast:

Leon Lai, Lau Kar Leung, Donnie Yen, Charlie Yeung, Sun Hong-lei, Liu Yi, Lim So-yeun, Zhang Jingchu, Tai Liwu, Duncan Chow
The international circuit has seen a recent rejuvenation of wuxia movies from China. It all began with Ang Lee's Crouching Tiger, Hidden Dragon and was subsequently bettered by Zhang Yimou's Hero and House of Flying Daggers. Tsui Hark's Seven Swords follows this tradition but is being trumped as having a more authentic feel than its predecessors. To support this, Tsui enlisted the help of living legend Lau Kar Leung (Liu Chia Liang) to both star and choreograph the movie. This was a brave departure for Tsui who normally captures the fantastical and elaborate side of martial arts (Zu: Warriors from the Magic Mountain, New Dragon Inn) as opposed to the traditional approach offered by Lau Kar Leung. Then again, Tsui has done little of note in the way of martial arts since the exceptional Once Upon a Time in China (1991), including an awkward stint in Hollywood in the nineties. The other big names in the cast include Donnie Yen, Charlie Yeung, Liu Yi and Leon Lai.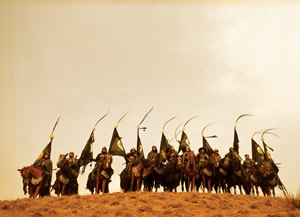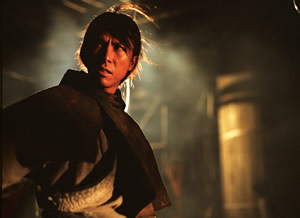 Plot:
Based on the novel by Liang Yu-sheng this is the first of several instalments from the Seven Swords of Mount Tien. The themes echo the great 'Seven' movies of the past, the Seven Samurai and the Magnificent Seven, featuring the troupe of wandering outlaws fighting for justice against the established might. Lau Kar Leung features as the displaced executioner who brings together the 'Seven Swords' to save a martial village from slaughter at the hands of Fire Wind's mercenaries (played by Sun Hong-lei). The plot unravels with thrust and counter thrust as each try to exploit the weakness of the other. The situation is complicated as the 'Swords' soon discover a traitor in their midst.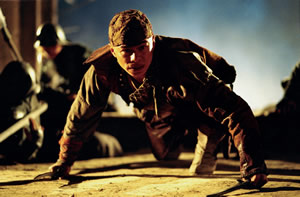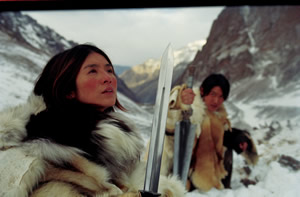 Film:
As can be expected by any modern Tsui Hark movie, there is a concerted effort to show you something you have never seen before. After the sumptuous visual displays in Hero and House of Flying Daggers (Christopher Doyle - take a bow), Tsui Hark aims for a plainer and grittier feel. Rather than lavish costumes, the camera looks to nature for inspiration. The opening scenes at Mount Tien evoke similar feelings of epic proportions to that of Lord of the Rings. We are introduced to the Swordsmen, and more importantly their swords. Each sword is uniquely styled and intimately linked to the character of the wielder. The Seven Swords are a distinguished band of heroes, but that is not enough to save this film.
The original cut of Seven Swords ran in at over four hours in length, whereas the theatrical release comes in at 140 mins. The movie lacks any continuity or pace as we flick between fights and some meandering sub-plots. Some of the 'Swords' remain entirely anonymous during the film as it decides to focus on just a handful (Donnie, Leon Lai and Charlie Yeung). Lau Kar Leung goes completely AWOL in the last hour! Unfortunately, there is no real empathy or engagement with the characters as Tsui Hark characteristically fumbles over the dialogue and love interest.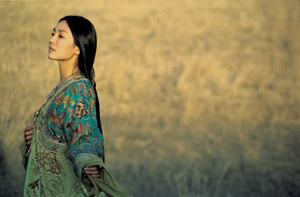 I did not have a lot of hope for the action when I went to see Seven Swords. Plagued with a bunch of rookies and canto-pop stars, it needed something special from Donnie and Lau Kar Leung. This was not to be, the action is well below par and choppily edited. Donnie tries his best, but he has little to work with. His only decent fight is at the end against Fire-Wind. Their narrow corridor fight is quite interesting, but too much is 'borrowed' from the end fight in Once Upon a Time in China 2 and the corridor fight in Return to the 36 th Chamber of Shaolin.
On top of this, I have some particular grumbles with Seven Swords. The kids are really annoying and are given a 'save-the-day' role at the end. I can only guess that Tsui Hark learnt this tiresome plot-device when he was over in the US. Seven Swords also makes a big deal of out its authentic martial arts, yet there are some blatantly visible wires on display in Seven Swords. Lau Kar Leung made a similar false claim for the promotion of Drunken Monkey a few years ago. Lastly, I will not accept any arguments that the failings in this movie will be expertly addressed in the proposed sequels. I do not care if this is a standalone movie or the first of seven (as touted), this film does not manage to stand up on its own regardless of whether characters or plot will become better developed in later instalments.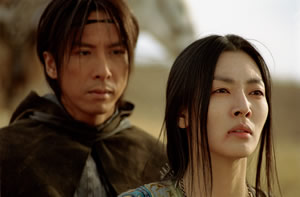 Disc:
The Contender / Hong Kong Legends disc is a double-disc set containing the UK feature length version of Seven Swords. This runs at 135mins compared to the Hong Kong release at 153 mins. This helps explain the additional deleted scenes for the UK disc. This is packed with extras including three interviews, featurettes, trailers and deleted scenes. This is a superb package, which will especially please Tsui Hark's fanatical fan base. However, some will be disappointed by the lack of an English dubbed track.
Interview Galleries:
Gallery 1: Interviews with director Tsui Hark and stars Donnie Yen, Lau Kar-Leung and Leon Lai
Gallery 2: Interviews with stars Duncan Chow, Charlie Young, Tai Liwu and Lu Yi
Gallery 3: Interviews with stars Kim So Yuen, Zhang Jingchu and Sun Honglei
Forging The Sword - The Making Of Seven Swords featurette including shooting diaries and production sketches
UK Version Deleted Scenes (x6 including Original Ending)
Original Version Deleted Scenes (x4)
Promotional Gallery
UK Teaser, Trailer and TV Spot
Hong Kong Trailers
International Press
Overall:
A great double-disc release does not prevent Seven Swords from being a big disappointment. I know this will deeply upset Tsui Hark's ferociously loyal band of supporters, but this is not up to scratch. The story and characters are unevenly and clumsily handled. The martial arts are poorly constructed, with little to engage or excite the audience. I can only hope that the below-par box office takings for Seven Swords will convince Tsui Hark to ditch this lame duck and move onto something else. He is undoubtedly talented, but much like Lau Kar Leung, it is many years since his last work of significance. If I was looking for a comparison to another movie it would not be a Kurosawa epic or a classic Chang Cheh, it would probably be something more like Drunken Master 3. Some occasional dashes of brilliance, but overall the Seven Swords prove a rather blunt affair.
Paul