Ran - The legendary Akira Kurosawa has been showered with every form of praise and accolade imaginable, so I will not waste anyone's time by lingering on his achievements. His work Ran (1985) reaches the UK courtesy Optimum Asia and comes complete with a collector's two-disc edition.

Plot:
Ran, like several of his works, is a Shakespeare inspired work. Ran takes the family feuding conflict of King Lear into the world of Japanese warlords. The Ichimonji family is torn apart when a noble and successful father, Lord Hidetora, divides his kingdom between his three sons. His sons have all have been brought up as jealous, spoilt and short-tempered fools. Cue plenty of treachery, bloodletting and obviously feuding. That's right, rarely has so much feuding been captured in one movie.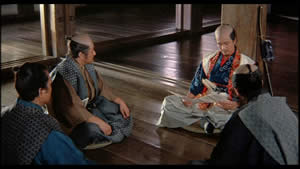 Film:
Kurosawa has always moved seamlessly between the spectacular epic and the understated drama. Ran most certainly exists in the former with a fully fledged cast of thousands and plenty of colour and costume to bring the landscape to life. At the time its $12m budget was the biggest ever for a Japanese production. Using nearly 1500 costumed extras and several spectacular castles. As a production there is little to fault in the magnitude or ambition of Ran. Kurosawa manages to create an entire universe for his characters to erm. feud in.
Ran's impressive scale is also its greatest drawback. The characters fail to ignite and feel like distant chess pieces rather than protagonists that drive the story. Perhaps Kurosawa deliberately wanted the main characters to be little more than victims of their situation, but for many this will not be entirely satisfying.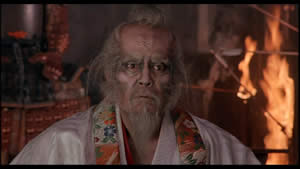 Disc:
The disc includes a superb 16:9 anamorphic transfer and a DD5.1 Japanese audio track with removable English subs. The general reception online is that this picture is an improvement on the over-saturated Criterion disc. It includes a significant extra in the form of Chris Marker's fabulous A.K, The Making of RAN (71 minutes) and also some trailers. However, for a double disc edition this is a bit light on extras and the Criterion R1 disc offers a lot more - 'Making of' Doc, Audio Commentary, interviews, booklets etc.

Overall:
Ran provides a stark message on the corrupting but inescapable consequences of power that is as relevant today as it was then. The production is absolutely first rate which serves as a wonderful tonic for CGI battles that seem to plague today's cinematic landscape (The New Star Wars, Lord of the Rings, Alexander etc). There is a real vibrancy to the action that keeps you glued to the screen.
However, I have tried to hold back as long as possible before mentioning that this is simply not as good as his work during his golden era in the 1950's. I failed to connect with the story or characters and instead was an entertained spectator on the battlefield. It is to Kurosawa's credit that he has managed to deliver top notch productions over several decades but it still falls marginally short of his earlier output. It was still way ahead of his contemporaries, just not his own exceptionally high standards.
Paul