Jackie Chan's New Police Story - Several films have already been made as unofficial sequels to the stupendously entertaining and life-endangering Police Story series. The original in 1985 was a box office hit with HK $26m box office (number two behind My Lucky Stars). It involved the simple formula of taking his sociopathic hero into the modern era (previously seen in Dragon Lord, Project A etc). As a cop, he unleashed a series of spectacular stunt and street brawling sequences that rejuvenated his fortunes after the waning popularity of period martial arts movies. The series also saw him form his own stunt troupe, which he still uses today, after he was refused insurance for his movies after some of the set pieces undertaken in the original Police Story.
Police Story 2 followed soon after and it was a decent follow-up with a literally explosive finale. There was then a significant gap until Police Story 3, which in 1990 marked the re-emergence of Michelle Yeoh as an action movie star. However, several characters from the first series were absent and this failed to perform at the box office even though it contained some remarkable stunts. Since then there have been a couple of unofficial 'Police Story 4' films, including a Michelle Yeoh vehicle (Project S) which featured a terrible cross-dressing Jackie Chan cameo, and First Strike (1997), which was hugely popular but really had nothing to do with the original series. To avoid controversy the latest instalment was titled New Police Story, rather than determine whether it was number four, five or even six! This will cause problems if they decide to do another after this one, as it will have to be called 'Even Newer Police Story' or 'Most Recent Police Story'!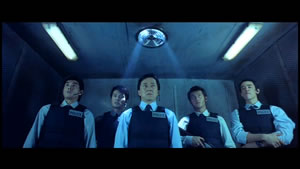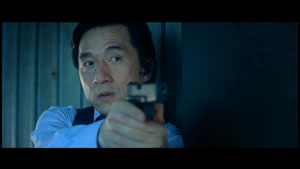 Anyway, that's my short and vaguely accurate history of the Police Story series. To put this in context of Jackie's recent career, New Police Story came after a period of Hollywood disillusionment for him. Not only was he frustrated with the constraints of Hollywood productions, but his box office performances began to slide. After the success of the Rush Hour and Shanghai Noon series, there was a significant downturn in his box office takings climaxing with the box office disaster that was Around the World in Eighty Days. Since then Jackie has returned to focus on Chinese productions with New Police Story, Twins Effect and The Myth signalling a renewed period of activity in the East. New Police Story also fared well at the box office taking HK $21.1m in 2004, finishing at number 3 in the charts. This needs to be taken with a pinch of salt as Kung Fu Hustle destroyed the whole HK box office in 2004, taking over HK $60m (25% of total box office for the year!!!). It also received plenty of nominations at various award events and won Best Supporting Actor (Daniel Wu), Best Choreography (Nicky Lee) and Best Visuals at the Golden Horse awards.
To deliver this film, Jackie recruited Benny Chan as director who had co-directed with him on Who Am I? and also handled the Gen X Cops series. The largely inexperienced Nicky Lee had also choreographed the Gen X Cops and the later Young and Dangerous series. Daniel Wu excelled in this movie, which showed considerable maturity from his one-dimensional bad guy in Gen X Cops. It was a good year for Daniel who finally removed any lingering questions over his ability to act with strong performances here and in One Night in Mongkok. Virtually all of the remaining cast are somehow linked to post-1999 Jackie Chan productions; Nicholas Tse, Terence Yin (Gen X Cops), Charlene Choi (Twins Effect), Philip Ng (Enter the Phoenix), Yu Rong-Guang (Shanghai Noon) apart from Charlie Young (Ashes of Time) who was returning after a seven years sabbatical. Andy On provides the bad-guy muscle (Black Mask 2).

Plot:
New Police Story kicks off with a broken and drunk cop, Chan Kwok-Wing, lying in the gutter. As the story unravels we learn of the burden that weighs too heavily on his shoulders. After leading his whole team to their bloody death at the hands of cyber-junkie-sons-of rich-men-cop-killers (bear with me), he is convinced by a young aspiring cop (Nicholas Tse) that he should return to finish the job. These two end up forming a team with Nicholas Tse providing light-hearted comedy a la Chris Tucker / Owen Wilson. Fortunately this is only detracting element that Jackie imported from the States. The cop killers (Daniel Wu, Terence Yin, Andy On, Hayama Go, and Coco Chiang) then give Chan plenty to think about as his begins his relentless pursuit. In the meantime he is trying to manage an increasingly strained relationship with Charlie Young after his fall from grace.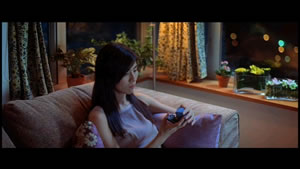 Film:
Once you move beyond the melodrama of the fallen hero at the beginning of the movie, the action starts to hot up. You will notice several references to previous Jackie Chan outings. There is an extended bus sequence which makes a deferential nod to the first two entries in the series. Jackie is also filmed fleeing an exploding warehouse which reminds you of Police Story 2 and the corridor sequence in City Hunter. The finale takes Jackie to a massive corporate centre similar to the one in Rush Hour. The action is also typical of his modern Hong Kong style. If I was to liken it to an earlier film it would be Gorgeous. The fighting is reasonably well choreographed with the now expected level of wire-work and editing to ensure Jackie can still look half decent. Andy On provides an impressive adversary for a couple of fights during the movie.
However, for all the similarities to previous Jackie Chan outings, there are distinctive elements that surround New Police Story. As I mentioned he has an annoying light-comedy sidekick. Nicholas Tse does one of those performances that will either make you mildly chuckle or it will irritate you. I think it depends on what mood you are in. This sticks out because the rest of the movie is a serious and solemn affair. You see a broken Jackie, a struggling relationship and a bunch of cold cop killers. In all the other Police Story entries there was a comedic tone between the action sequences, normally provided by the girlfriend (Maggie Cheung in first two), but here that is largely absent. The film is deliberately attempting to show a grittier and more real world where cops die and bad guys can win. This thread is hardly a surprise considering the flack he has taken over his 'family-friendly' Hollywood action. The only let down is when his partner (Charlie Young) is strapped to a bomb (see Rush Hour). This melodramatic scene takes away some of the realism, it starts to feel a bit like Canto-pop action. Fortunately, the film manages to regroup for the ending and a good amount of butt-kicking by Jackie.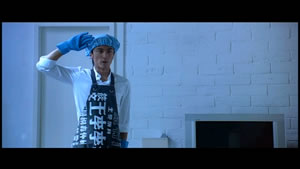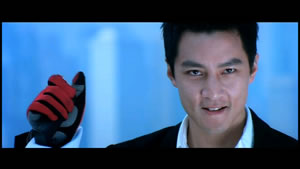 Disc:
Being a Jackie Chan title, this is a high profile release from Hong Kong Legends. The two disc edition features the now expected crisp widescreen presentation with DD5.1 / DTS audio in both Cantonses and English. The second disc is packed with extras including a trailers gallery, interviews with Benny Chan and an exclusive UK cast and crew interview. There are also fascinating 'behind the scenes' and 'making of' features that elevate this disc beyond the usual bonus disc material. After a recent spate of limited single disc releases this proves once again the Hong Kong Legends can lead the DVD presentation market.
Overall:
As an overall spectacle New Police Story is a decent movie without ever reaching the dizzy heights of its predecessors. When compared to Police Story this will always fall short. When compared to The Medallion, The Tuxedo and Shanghai Knights this is a marked improvement both in tone and pedigree of action. We should be heartened by movies such as this and Sha Po Lang and remain optimistic that Jackie and Sammo find a decent vehicle for one finale hurrah as they both still have enough speed and skill in those creaking bones to keep us humble acolytes entertained for at least a few more years!
Paul