Martial Club - Lau Kar Leung (Liu Chia Liang) delivered Martial Club at the end of the Shaw Brothers kung fu boom. By 1981 the market was beginning to decline for the period martial arts film in favour of modern comedy and action. Chang Cheh was struggling to remain a force at the box office, but Lau Kar Leung was enjoying better fortunes due to his burgeoning relationship with Gordon Liu. Their director / lead actor partnership had begun in the mid seventies with Gordon being given his debut lead in Challenge of the Masters. Several classics were to follow including Executioners from Shaolin, The 36th Chamber of Shaolin, Dirty Ho and Heroes of the East. Martial Club continued their rich vein of form at the box office taking HK $5.1m in 1981, coming in at number ten. Following this film Gordon's career was patchy at best, with mediocre independents (Warrior from Shaolin, Shaolin Drunken Monk) interspersing a few more Shaw Brothers classics, Legendary Weapons of China and Eight Diagram Pole Fighter.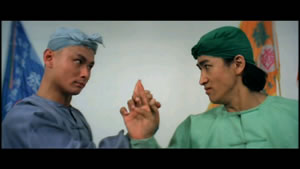 Plot:
Martial Club can be loosely seen as a sequel to Challenge of the Masters as Gordon Liu revives the legendary character Wong Fei Hung. Once again we are given the 'rival kung fu school' storyline and the evil school bringing in an outside fighter to aid their treachery. He is also aided by his lady-friend, the consistently excellent, Kara Hui Ying-hung. The film is a blend of the schools feuding and trying to save face with Gordon Liu doing the slapstick routine with playing chum Robert Mak before the final showdown.

Film:
Lau Kar Leung demonstrates his best and worst form in Martial Club. Once again we get to see his pioneering side as he continues to allow room for Kara Hui to be more than pretty wall-paper and he supports his story with a pseudo-educational thread on Southern and Northern Hung Gar techniques. The opening Lion dance provides a spectacular opening, with an eye-catching set and hundreds of extras. The closing 'corridor' fight between Gordon Liu and Wang Lung-Wei is innovative and exciting, acting as an illustration as to why Lau Kar Leung was one of the great directors / choreographers. What makes the film most remarkable is his courage to make the conclusion one of reconciliation and mutual respect opposed to the normally required finale blood-letting. He did this before in Heroes of the East and this is an equally successful venture into virtually unchartered waters.
However, this does not ensure that Martial Club is an unmitigated success. You have to endure the dire slapstick moments that plague many Lau Kar Leung features. Sometimes it does work; Dirty Ho and Mad Monkey Kung Fu, but these are exceptions to the norm. Once again, a strong opening and ending sandwich a largely unexceptional mid-section.

Disc:
Celestial deliver another superb anamorphic 2.35:1 widescreen picture with a DD5.1 Cantonese / Mandarin audio tracks and English subs. The limited Celestial extras include trailers, stills, film notes and cast / crew profiles.

Overall:
Martial Club is one of those films always cited as a film of influence and importance as opposed to the most exhilarating martial arts movie ever. Fan favourites such as Five Venoms, 36th Chamber and Eight Diagram Pole Fighter have destined Martial Club to be an interesting footnote rather than a cause célèbre in the martial arts canon. The end fight is really worth viewing, but you will be watching this as a fan of martial art action, rather than being particularly engaged with the characters and story.
Paul