Made: 2007
Box Office: HK $10.7m
Format: Theatrical Release
Region: PAL Region 2
Release Date: 18 July 2008 (Cinema), 3rd Nov 08 (DVD)
Company: Masters of Cinema
Length: 89 mins
Picture: 2.35:1 widescreen
Sound: DD5.1
Language: Cantonese with English Subtitles
Extras: Q&A with Johnnie To, Cast / Crew interviews / Trailers, 16 page booklet
Classification: 15
Director:

Johnny To & Wai Ka-fai

Cast:

Lau Ching-Wan, Andy On, Lam Ka-Tung, Lam Suet, Jo Koo, Kelly Lin, Flora Chan, Cheung Siu-Fai, Lau Gam-Ling
Mad Detective - Masters of Cinema, as the name would suggest, are better known in the UK for releasing old classics such as Metropolis, Nosferatu and Faust to DVD, with most releases being for films that are decades-old. Mad Detective stands as a departure from this pattern, as a new release of a new film that is also backed by a limited theatrical run in the UK during July and August 2008.

Plot
During a night time stakeout, two cops chase a suspected thief into a forest but lose him. Only one of them finds his way out, but months later bullets used at a number of armed robberies are found to have been fired from a police-issued sidearm. Ho is on the case of the missing cop, Wong, and naturally suspects foul play by the remaining cop, Chi-Wai, but faced with a lack of evidence or any leads he turns to an ex-detective known for his unconventional methods. Bun is the mad detective.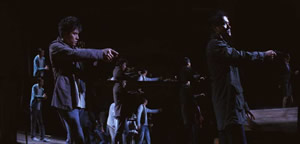 Film:
Hong Kong cinema is not often noted for its subtlety, but To and Wai Ka-fai manage to rein in the more tempting methods of depicting the insane on film. Not above finding the comedy in the actions of Bun from the perspective of normal society, there is also respect for his unorthodox methods and for the integrity of his character as he strives to do the right thing that alleviate any feelings that the film might descend into simply poking fun of the mentally ill. It might be a cliché, but by the end of the film it can be said that Bun is the sanest character in it. Whilst Mad detective is more of a character piece, focusing on the inner workings of Bun and his investigation, this makes the few scenes of violence stand out and hold more resonance than in the more action-heavy Hong Kong crime stories.
As with many of To's films he brings back a number of players, with Lam Ka Tung and Lam Suet most prominent, but there are some surprises among the smaller parts, particularly Cheung Siu Fai who last appeared as Jeff in To's Exiled, but undergoes an amazing transformation here as the most violent personality of Chi-Wai. To's cinematographer Cheng Siu Keung returns, keeping Mad Detective recognisable as a To creation without repeating the colour-filter choices of Exiled, instead concentrating on the more urban setting and making the most of a number of dark scenes. It's not too much of a spoiler to say that the film ends in a slightly clichéd Mexican Stand Off, but in Mad Detective it's made fresh by the central plot device of the missing police pistol, which culminates in a wonderful closing shot which is a good example of how cinema can show rather than tell.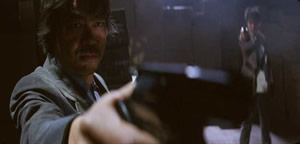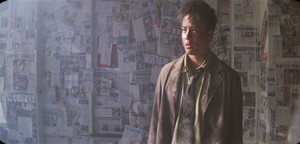 Disc:
Masters of Cinema are due to release Mad Detective on DVD and Blu Ray on November 3rd 2008. Extras are said to include: Q&A with Johnnie To at the Cinémathèque Française Johnnie To retrospective (Paris, France, March 2008) – 35 minutes; Exclusive cast interviews shot during the Far East Film Festival featuring Lau Ching Wan and Lam Suet (Udine, Italy, April 2008) – 14 minutes; Interview with Johnnie To for the French theatrical release of Mad Detective (France, 4th March 2008) – 21 minutes; Original UK Theatrical Trailer; 16-page booklet containing specially commissioned essay by David Bordwell (Jacques Ledoux Professor of Film Studies, University of Wisconsin-Madison). It looks like a decent package to rival the releases of Hong Kong Legends / Premier Asia, so hopefully Master of Cinema will take on more East Asian releases in future.
Overall:
Not To's best but still a great film and another example of why Johnny To is one of the most interesting directors working in Hong Kong genre cinema.
Ross