Initial D: Driftracer - Every now and then, there is a film that absolutely demolishes the Hong Kong Box Office. Recent examples include Shaolin Soccer, Infernal Affairs and Kung Fu Hustle. Initial D arrived amidst great hype and it went on top the HK box office for four weeks during its release in 2005. Fortunately, Initial D is now about to get a UK cinematic and DVD release, which in my opinion is richly deserved.
The cast and crew are enough to get any Hong Kong aficionado drooling, with Andrew Lau and Alan Mak behind the camera (the team who were behind Infernal Affairs). The cast features Chapman To and Jordan Chan, who had sparked together well in Escape to Hong Kong Island. The lead is played by Jay Chou (who won Best Newcomer at 42 nd HK Film Awards), with pretty boy Edison Chen playing second fiddle. The two senior roles are taken by the ever-dependable Anthony Wong and Kenny Bee. Anne Suzuki plays the love interest.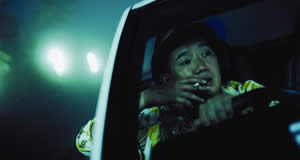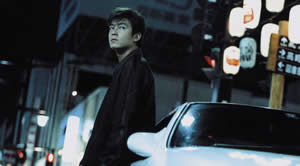 Plot:
Mt Akina plays host to a bunch of wild boys who revel in the thrill of racing along bendy roads at night. They achieve maximum speed by drifting round the corners in order to maintain velocity (hence the title Driftracer). Among the racing circles there is also the legend of the Racing God of Mt Akina. After a while, we learn that Takumi Fujiwara (Jay Chou) is the Racing God. He has learnt his mastery of the corners whilst delivering his father's tofu at night. He drives with one hand on the wheel and half-asleep in a clapped out Toyota Trueno AE86, but this laid-back pretence soon leaves opponents reeling in defeat. His father (Anthony Wong) is a fomer racing god who chose to settle for marriage over professional racing. He has now become a divorced alcoholic with nothing to live for. Takumi soon learns that he will also have to decide between his heart and his wheels.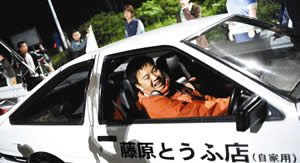 Film:
There is a surfeit of manga adaptations being produced at the moment, with normally decent results (see Ping Pong, Blue Spring). Initial D is a great example on how to translate the excitement of manga onto the big screen. This is achieved through some stunning direction, a brilliant soundtrack and plenty of noteworthy performances. Chapman To does his best to steal the film, playing a junior car-racer fifteen years younger than his actual age. His performance is reminiscent of the golden years of Eric Tsang. Anthony Wong similarly excels as Bunta, the alcoholic father of Takumi. He manages to play an absolute arsehole of a character yet still manages to generate some compassion with the viewer (and deservedly won best supporting actor at 42 nd HK Film Awards). Jordan Chan and Edison Chen deliver capably in their support roles, but neither have a lot to work with. Jay Chou delivers a perfect lead and his deliberately understated performance is the platform for everything else.

The performances are strong, but they are topped by the stylish production. The driving effects are delightful, the best way I can describe them is a cinematic version of Gran Turismo - Deep Forest track! The camera work is innovative, with the odd-twist of CGI to enhance rather than exaggerate the action. The soundtrack for Initial D is the icing on the cake for the production. Done by 'Fuel' it captures the urban electro scene that will appeal to fans of driving games and also petrol-heads. What I like most about Initial D, is similar to my praise of Ping Pong. They have taken an everyday affair and launched it into the world of fantasy. The drivers have extra-ordinary powers and in common with a kung fu movie, the reluctant hero is thrust toward his destiny. He only achieves victory through complete mastery of his powers and by learning from his dad (a drunken master)!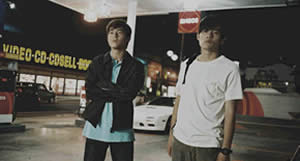 Disc:
Tbc - Great picture and sound on the cinematic release. We can only hope for that and a lot more from the DVD!
Overall:
This is a great ride from Andy Lau and Alan Mak. Recent Hong Kong hits have delivered exceptional value and this follows in similar fashion. It lacks the charisma of Kung Fu Hustle, or the gravitas of Infernal Affairs, but it remains a worthy title. Without being an all-time classic, it will entertain and enthral those looking for a high-octane movie. I will definitely keep an eye out for the soundtrack to Initial D, it rounds of an excellent production for an otherwise depressed year for the Hong Kong film industry.
Paul