Heroes Shed No Tears - John Woo had an erratic start to his directing career. He started under the wings of Chang Cheh at Shaw Brothers as assistant director on films including Blood Brothers, Water Margin and Boxer from Shantung. He then directed a number of titles which remain of little interest to anything but the collector with the exception of Hand of Death and Last Hurrah for Chivalry. Hand of Death was a half decent kung fu flick that featured four of the Seven Fortunes (Jackie, Sammo, Biao and Wah) and Golden Harvest's Last Hurrah for Chivalry was a top notch swordplay title starring the Venom Wei Pei and Shaw Brothers veteran Lee Hoi San.
Heroes Shed No Tears was originally shelved by his studio after completion (under the working title of Sunset Warriors). It was only released after the runaway success of A Better Tomorrow in 1986 when they tried to cash-in on his name - very similar to Lo Wei releasing Jackie Chan's back catalogue after the success of Snake in the Eagle's Shadow and Drunken Master in the late seventies. The film features kung fu veteran Eddy Ko and Golden Harvest legend Lam Ching-Ying. The action director was none other than Chin Yuet Sang (had worked previously with Eddy Ko on Hitman in the Hand of the Buddha).

Plot:
Heroes Shed No Tears shares some structural similarities to the Lone Wolf and Cub series, the hugely popular Japanese series. It involves a relationship between a 'soldier of fortune' and his son as they try to successfully navigate the treacherous 'Golden Triangle' with a kidnapped crime lord. As the film progresses, so does the body count. Chan Chung (Eddy Ko) and his team are pursued by soldiers, mercenaries and even some tribal warriors - all in a day's work!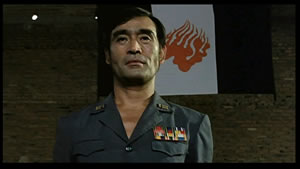 Film:
With this being a pre-fame John Woo movie, there are some glimpses of his trademark style rather than it dominating proceedings. There is the fascination with pistols, including very shiny Lugers and plenty of gun play. Like his later wartime film Bullet in the Head, there are also numerous explosions and pyrotechnics to liven up the action. Lam Ching-Ying's clichéd bad guy also shares the familiar trademark of being a crippled bad guy after being shot in the eye by Eddy Ko (see most John Woo bad guys).
However, Heroes contains some surprises as well. There is a drugs and sex scene involving a troupe of Asian beauties and a gwailo that hits the otherwise breezy tempo like a brick wall. The action is a touch more violent than later works; there is a brutal impaling and some mutilation and torture at the end which provides edginess normally associated with Ringo Lam. Woo also includes an ineffectual comedy sequence at a jungle gambling den which makes you grateful he soon distanced himself from such folly!
The other question mark is over the action, which is a constant throughout but lacks any real class. Lam Ching-Ying fans will be disappointed to see him labour in this role only a few years after delivering such classics as Prodigal Son and Encounters of a Spooky Kind. Eddy Ko is solid as the lead, but as fans of the old school will know, he struggles to go beyond three facial expressions (vengeful, shocked and serene for those who are interested).

Disc:
Muchos credit to Hong Kong Legends for delivering one of their most stylish packages in recent memory. The disc cover is bold, eye-catching and innovative for the label - more of the same please. (We can only dream of a day when Hong Kong Legends release A Better Tomorrow, after Optimum's rather poor recent effort) The disc content is less remarkable. It still contains a decent 1.85:1 remastered anamorphic print with Cantonese and English DD5.1 audio options. There is a reused John Woo interview (22 mins) and a Lam Ching-Ying tribute essay, plus some trailers. Ok package, but not anything particularly exciting and no audio commentary since Bey Logan's departure.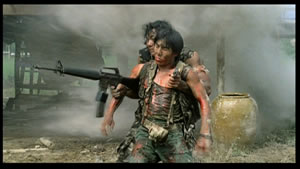 Overall:
An interesting rather than exhilarating journey. This is not classic Woo, it is an early indication of a talent that was soon to blossom. After watching Heroes Shed No Tears it is understandable why studio bosses got cold feet over the production, it is unevenly paced and fails to get the best out of the film leads. As with most early John Woo productions, you are not left completely short-changed. But, you may be wishing that you'd gone for a later film with plenty more doves with some cheesy sax / keyboard playing over blazing twin revolvers!
Paul