Hand of Death (aka Countdown in Kung Fu) - John Woo learnt his trade in the early seventies at the Shaw Studios working with amongst others, the legendary Chang Cheh. He began forge his own career as director and scriptwriter in 1975 with a series of Golden Harvest productions (Dragon Tamers, Young Dragons). It was in 1976 that he delivered Hand of Death, a film that featured many faces that would go on to dominate the action cinema landscape for decades to come.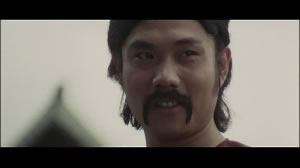 Plot:
Hand of Death is the typical period martial arts tale of revenge. The Qing dynasty wishes to rule all of China, and need to destroy the Shaolin Temple, which opposes them. Shih Shao-feng is a Shaolin disciple turned traitor who sets about bringing down the temple, scattering the surviving disciples throughout the country. Yun Fei is sent to protect Zhang Yi who is key to the popular uprising against the Qing, and whose journey passes through the territory of Shao-feng. Yun Fei recruits a number of allies in his mission and together they take on Shao-feng and his deadly bodyguards, the Eight Tigers.

Film:
Despite featuring some of the cream of martial arts cinema and John Woo at the helm, there is little to make Hand of Death stand out from the usual period revenge flick. With the film only as good as its fight scenes, it's a shame that they only pick up in the final reel, with earlier scraps suffering from dodgy editing and unremarkable choreography. Jackie Chan stands out in one of his first co-starring roles with a charismatic presence and bags of skill, and James Tien is suitably menacing as the evil nemesis, but whilst the lead Dorian Tan does have the fighting chops to pull off the action scenes he doesn't really have that indefinable something that would allow him to carry the film.

Sammo brings a lot to his fights as Tien's right-hand-man, but with his ridiculous teeth and scenery-chewing evil acting, he seems a little out of place in a film which takes itself quite seriously, and Yuen Biao's involvement is solely as a stunt man (though he does keep popping up all over the place).
Whilst John Woo may not have had the best material to work with, he did take the opportunity to use some beautiful scenery throughout the film, which not only frees fights up from the confines of the usual tea houses and temples but helps to anchor the film in its period and deflect from some of the impact of the bad wigs. Besides this there is little evidence to show the promise that Woo would develop a decade later as he helped kick-start the 'Heroic Bloodshed' genre.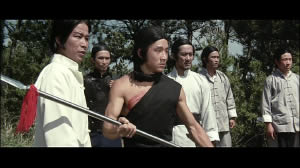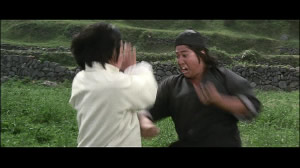 Disc:
Along with Fearless Hyena, Hand of Death is one of HKL's first "Ultra-bit" presentations, offering a remarkable quality of picture and sound for decades-old films from an industry that had notoriously little use for archiving. Whilst this disc doesn't quite offer the same level of picture quality as Fearless Hyena and shows its age a little more with noticeable instances of missing frames, this is still a remarkable transfer for a thirty-year old film.
As with Fearless Hyena, this disc offers 5.1 Mandarin and English tracks along with the original Mandarin mono, but the only extras are HKL trailers and an audio commentary - on this film from Bey Logan. As ever, Bey's commentary is completely rammed full of an unbelievable amount of information, encompassing the actors, locations, martial arts styles used and historical background to the period that the film is set in, and is worth owning the disc for on its own.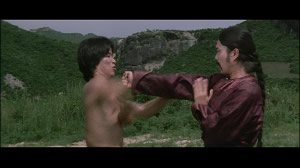 Overall:
Hand of Death is quite good for another "Revenge the Master" period pic, but it doesn't live up to the potential of this director and those stars. Still, it's interesting as an example of so many careers taking off - worth a look.
Ross