Getting Any? - Takeshi Kitano has no real equivalent in the Western world. A stand-up comic; a TV staple with rarely a Kitano-less evening on Japanese television; novelist; columnist; painter; actor and director, Kitano is a ubiquitous figure in Japan with fingers in numerous cultural pies. Most famous in the West for his violent and poetic yakuza pictures, Getting Any? is more of a return to Kitano's populist, stand-up roots.

Plot:
Getting Any? is made up of a series of sketches strung together, all revolving around the hare-brained schemes of a hapless loser Asao trying to get laid, so there really is no plot as such. From buying a car, to robbing banks, becoming an actor and selling drugs, we get to see our luckless hero mess everything up.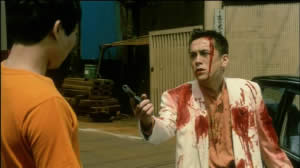 Film:
Getting Any? Is delivered in total deadpan, making the ridiculous schemes of Asao to try and get women interested in him even more bizarre. There is a lot of slapstick and film references, but mostly the humour comes from the plainly barmy world that the characters inhabit. It's all topped by an appearance by Kitano himself as a mad scientist, trying to help the lead become invisible so he can spy in women's baths. Therefore expect a number of shots of women in states of undress, seemingly there just in case you weren't sure what Asao thinks he's missing out on, as they usually appear in the daydreams he has (in his head a first class ticket on a plane means the stewardess strips for you).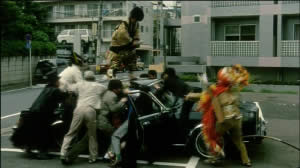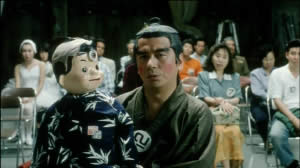 Getting Any? does fit in with Kitano's other work, despite the genre - the washed out palette and the deadpan delivery laced with hysterical outbursts, with the violence replaced by comedy in this case, will be familiar touches for any Kitano fan. You also get to look out for some cameos by Kitano regulars, best being the eternally dying yakuza played by Susumu Terajima. Whilst it certainly isn't the funniest comedy you will ever see, and I disagree with the director about it being his best film, there are moments of genius lunacy throughout.

Disc:
Picture quality is adequate, with a little blur and no real sign of any clean up for the transfer, plus the subtitles are a little crude. The sound is also fine if unexceptional. Alongside the trailer and behind the scenes photos are an extensive filmography and a decent biography for Kitano, but the best extra on this disc is a fifteen-minute interview with the director (shot around the time he was filming Zatoichi, judging by his hair), explaining his reasons for making the film and why it is his favourite.
Overall
Getting Any? is a solid sketch film - one for Kitano fans curious to see his funny side.
Ross