Made: 1979
Box Office: HK $5.4m (# 1 in 1979)
Format: DVD (Ultra-Bit)
Region: PAL Reg 2
Release Date: 29 Jan 07
Company: Hong Kong Legends
Length: 93 mins
Picture: 16:9 anamorphic widescreen
Sound: DD5.1, DD 2.0 stereo
Language: Cantonese w/ English subtitles, English dub
Extras: Audio commentary, trailers
Classification: 15
Director:

Jackie Chan

Cast:

Jackie Chan, James Tien Chun, Yen Shi-Kwan, Lee Kwan, Ricky Cheng Tien-Chi, Dean Shek Tin

Action Choreographer:

Jackie Chan
Fearless Hyena - Jackie Chan is famous for being the ultimate masochist, forging an internationally successful film career almost by accident as he spent decades seeking ever more extravagant ways of breaking every bone in his body, and filming it for later. Fearless Hyena marked a directorial debut for Jackie Chan straight after his runaway success on Snakes in the Eagle's Shadow and Drunken Master. This film was the end of Jackie's relationship with producer Lo Wei, as he walked out on him when filming Fearless Hyena 2. This didn't perturb Lo Wei who just cobbled together some footage from the original, a few scenes that Jackie did shoot and some scenes with a double in order to release a sequel anyway!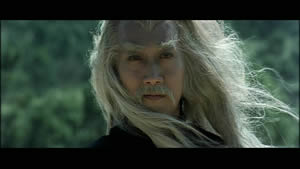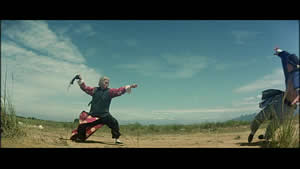 Plot:
The evil Yen scours the land; hunting and killing the practitioners of Xinyi Quan style kung fu. The leader of the Xinyi clan, Cheng Peng-Fei, is old and ailing, and lives a quiet life with his grandson Sheng whom he teaches the ways of Xinyi Quan. Cheng warns Sheng not to use his kung fu, but Sheng's nature is bound to get him into trouble, and after fighting off three gamblers he winds up fronting a dojo for an opportunistic businessman. As every other martial arts master in the area comes to face off against the new 'master', they get palmed off to his 'cleaner' Sheng and are soundly beaten, but the display of Xinyi Quan style leads Yen to come calling and results in Cheng's death at Yen's hands. Thus, Sheng's desire for revenge and training by a crippled Xinyi master so that he might defeat Yen.

Film:
If you thought that most of Jackie's films where light-hearted, Fearless Hyena isn't about to change your mind. Filled with the kind of slapstick, knockabout humour recurring in most of Chan's period films, he stars as the usual cheeky layabout who happens to be a dab hand at kung fu. Jackie takes every opportunity to play the fool with plenty of butt-thrusting, dressing in drag and pretending to be the village idiot before beating up arrogant martial arts masters. Also present and correct is the set of hardcore training exercises that a cantankerous old master forces upon the young rascal. Topping it all off, the English dub is like an outtake session from A Hong Kong Carry On, so depending on your views on the standard of 70s martial arts dubs this will either be a dream or a nightmare, but at least in this case it fits the tone of the movie.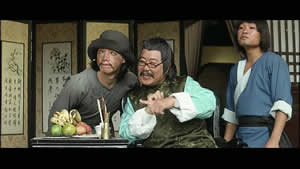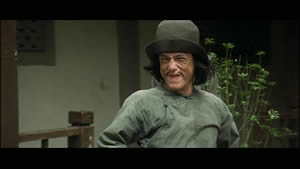 But don't let the comedy fool you; this is packed with fight sequence after fight sequence, each building on the last as virtuoso displays of acrobatic skill and comedic invention. Every scene manages to provide something new and never sacrifices skill for the sake of a laugh, instead striking a seemingly effortless but hard-earned balance by the infamous perfectionist Chan in his directorial debut. Fearless Hyena really is a delight; it features the best way to kill an evil master, the Pink Panther theme, a wonderful performance from James Tien as the old master and it even manages a Babycart reference. The final fight using 'emo kung fu' is worth watching for alone, but ultimately Fearless Hyena shows that the success of Snake in the Eagle Shadow and Drunken Master wasn't a fluke.

Prime Jackie Chan.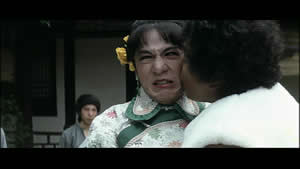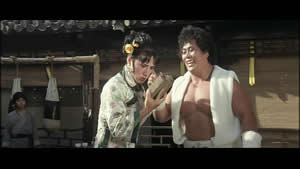 Disc:
Fearless Hyena seems a little light on extras for an HKL release, but in this case the film has been offered in "Ultra-bit". Quite what the hell it's supposed to mean is anyone's guess, but the result is a beautifully restored film that, aside from a tiny smattering of fleeting blips in the picture, almost looks like it was filmed last week with the latest in digital technology. Coupled with the choice of remastered 5.1 Cantonese and English tracks alongside the original mono, the disc can't get much better without going HD. Besides the beautiful transfer, the disc offers some HKL Jackie Chan trailers and an audio commentary from Andrew Staton and Arnie Hayirlioglu. They offer bags of background info and related asides, but they do sound a little sleepy. Worth a listen.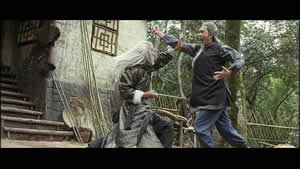 Overall:
Fearless Hyena is a fantastic Jackie offering and well deserves this excellent transfer, allowing it to be properly appreciated as the classic it is. An essential choice for every Chan fan, it's worth buying this version even if you own one of the previous releases.
Ross