Election is Johnnie To's best known international work, gaining widespread distribution and securing funding for a well regarded sequel. This film came a couple of years after his last thriller of note (PTU) and brought him together with a regular set of cast and crew (including Simon Yam, Lam Suet and Nick Cheung).
In 2005, this took HK $15.8m during its cinematic run, which was very respectable falling only behind the smash-hit Initial D, Wait Til Your Older, Jackie Chan's The Myth and Dragon Reloaded. Critically, it was received well with Tony Leung Ka-Fai winning best actor, To winning best director and also scooping best film and screenplay at the 25th Hong Kong Film Awards, along with a host of other nominations.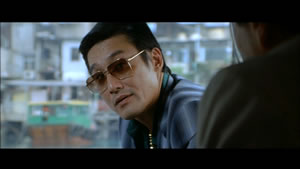 Plot:
The oldest Triad in Hong Kong are the Wo Shing Society and they have to elect their leader every two years. Two candidates are up for consideration by the elders; the level headed Lok (Simon Yam) and the precocious Big D (Tony Leung Ka-Fai). Once the elders select Lok, Big D decides to go against centuries of tradition and tries to bully and bribe his way to the top. This leads to a frantic chase by the two factions in search of the Dragon's Head Baton. Loyalties are tested as the triads are torn in two by the internal conflict – however there are a few twists on the way to their reconciliation.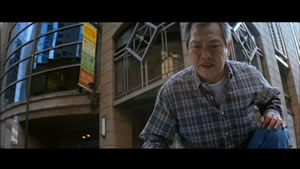 Film:
What made this stand out from his previous works of note (The Mission, Fulltime Killer, PTU) is that this moved away from the classic cops / robbers arena and instead into the murky politics of triad society. It is a David and Goliath, Tortoise vs Hare, Beauty and the Beast affair. The flash and temperamental Big D swaggers across the screen looking every bit the modern triad, whereas Lok is more of a 'Steady Eddy', Mr Dependable type of guy.
This simple contrast provides enough ammunition to keep the film rolling as the hunt ensues for the Dragon's Head Baton. As with most Johnnie To movies, it is not peppered with violence or excessive gun play, but rather plenty of posturing and tension. The support cast provide plenty of gravitas, with a range of characters to provide a backdrop to the triad world, but most impressive is Tony Leung (ps. This is not the 'Short' Tony Leung Chiu Wai from Hero, Infernal Affairs, but rather 'Big' Tony Leung Ka Fai from Prison on Fire and God of the Gamblers' Return). He is absolutely excellent as the ambitious impatient mobster who wants to get somewhere fast. I was a touch disappointed with Simon Yam who seemed diminished playing the reliable down-to-earth guy. I have always preferred him as the borderline insane cop / bad guy.
Some will love the ending, some will hate it! It's a bit like marmite.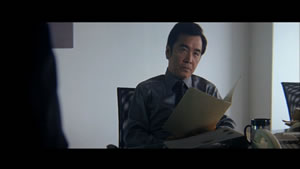 Disc:
The Panorama 2-Disc DVD comes with a crisp anamorphic widescreen picture and DTS / DD5.1. The language options are Cantonese / Mandarin, with decent English subtitles available. The second disc has an impressive range of extras, all with English subtitles; an interview with Johnnie To, Wang Tian-Lin and Tony Leung Ka Fai. The other extras include a 'Making of', Cannes special, plus some trailers, photos and TV spots.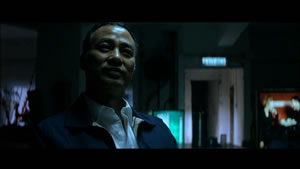 Overall:
When I first heard about this movie I was thinking "why would a Hong Kong movie about some sort of political election be interesting? Hong Kong doesn't do Politics!". However, Johnnie To's exploration into the murky world of Triad politics is a worthy title, further extending his credibility as one of Hong Kong's lead directors. Tony Leung Ka Fai provides plenty of zeal and edge but beyond his excellent lead I felt Election failed to fully deliver its potential. Johnnie To's direction attempts to give Election more gravitas, but I really found myself missing his Milky-way flashes of style and brilliance. What Election becomes is a half-way house between style and content, without really winning in either. However, if you are really into modern Hong Kong cinema, it still has to be must watch, if nothing else, so you can enjoy the excellent sequel!
Paul