Duelist - Lee Myung-se first attained international recognition with the release of his sixth film, Nowhere to Hide (1999), the dazzlingly stylish chase movie following a detective on the hunt for a murderer. Lee's audacious visual inventiveness is expanded for his latest film, Duelist (2005).
Plot:
Minister Piljoon Song has flooded Korea with counterfeit currency, using the ensuing chaos resulting from massive inflation as a springboard for demolishing the confidence of the Emperor's reign, aiming to take power in the aftermath. He is aided by the skilled swordsman, Sad Eyes, who comes up against the police force investigating the funny money, with detective Namsoon and her grizzled partner detective Ahn proving his most formidable adversaries. On her mission to gather evidence against Piljoon, Namsoon clashes with Sad Eyes again and again, but their heated duels result in much more than just admiration.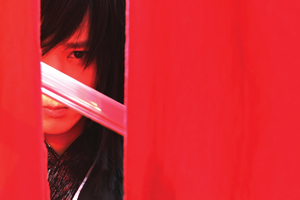 Film:
Duelist's plot takes second place to a riot of colour and sound, opening with a busy marketplace resplendent with bright and varied costumes as traders try and sell their wares and entertainers (including Sad Eyes, disguised as a dancer in a goblin mask) cavort to a soundtrack of diverse music that runs the course of the film, ranging from traditional Korean songs to pop, techno and throbbing metal and underpinning the onscreen action.
Duelist is practically a dictionary entry for the definition of style over substance. With the plot threadbare and minimal dialogue there is little scope for characterisation, Sad Eyes in particular giving little for Kang Dong-wun to do but dance about and look handsome, whereas Ha Ji-won's Namsoo ricochets from the hunch-shouldered sneering swagger of a woman holding her own in the male-dominated police force, to doubt, confusion and disbelief as she falls for the pretty-boy swordsman. At one point she even tells him that he looks like a woman, turning the gender tables.
As the term style over substance usually comes with negative connotations, it is only fair to bask in Duelist's many good points. Practically every shot is artfully composed and beautiful, with Hwang Ki-seok's cinematography serving as the main star of the film. The camera trickery in the slow mo, high speed, still shots and screen wipes does not come across as flash for the sake of it - Duelist emerges as a relative of Lee Myung-se's earlier film, Nowhere To Hide, itself a visual tour de force, but even amongst such fearsome competition some scenes manage to stand out. In particular an awe-inspiring sequence of a fight in a shadowy alley, truly beautiful and mesmeric, and the finest example of the fact that the fights are not like dances, they are dances, with the conflicts between Sad Eyes and Namsoon in particular like foreplay as their relationship develops.
Alongside the feast for the eyes are other plus points including the flashes of humour in the grizzled cop Ahn and a brief sped-up chase scene echoing Benny Hill, as well as a refreshing approach to the bad guy. Song Young-chang's Minister Piljoon is a villain not given to stereotype, not sadistic or boorish in his actions and with a strange relationship to Sad Eyes where it seems that he has brought him up to be a swordsman but also as something of a son. Having said all that, Duelist will certainly not be to everyone's tastes, mixing a little comedy, tragedy, action and romance whilst fitting into none of these genres, and pacing becomes crucial without a strong narrative to hold the attention but the Duelist does just about outstay its welcome.
Disc:
The two disc collecotor's edition is packed with over two hours of extras which is an encouraging package. The film is well presented with decent audio options, pretty much everything you would expect from a modern movie. Unlike most Premier Asia / HKL releases, this is done without dual language options - but perhaps this film is considered less likely to attract the 'dubbed crowd'. The extras are an impressive lot, including various interviews, docs and featurettes. Basically, if you're an extras person, you will feast well on this offering.
Overall:
Duelist is strange in that what it attempts it gets so right, but at the expense of what most people would deem essential parts of a film. Your opinion will almost certainly come down to the importance that you place on visuals versus content, but it is well worth taking the time to see it and make up your own mind.
A must for the art house crowd.
Ross