Made: 2005
Box Office: HK $6.3m (#18)
Aka: Three Forked Road
Format: DVD
Region: PAL Region 2
Release Date: 20 Feb 2006
Company: Momentum Pictures
Length: 100 mins
Picture: 2.35:1 widescreen
Sound: DTS, DD5.1
Language: Cantonese w/ English Subtitles
Extras: Making of, Premiere footage, trailer, biographies, photo gallery
Classification: 15
Director:

Benny Chan

Cast:

Aaron Kwok, Daniel Wu, Ekin Cheng, Lo Ka Leung, Angelica Lee Sinjie, Ning Jing, Eric Tsang
Divergence - Benny Chan is famous for a decade of Jackie Chan family friendly actions movies, including New Police Story, Rob-B-Hood and Who Am I? During this time he worked with many of the 'new faces' of Hong Kong cinema. In Divergence he has a full ensemble of photogenic canto-stars on show featuring a triple team of Aaron Kwok, Daniel Wu and Ekin Cheng.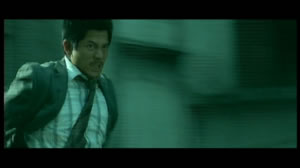 Plot
After Suen has escorted a key witness in a big money laundering case back to Hong Kong from Canada, an assassin snipes the witness once they are en route to headquarters. The case is being built around Mr. Yiu, whose son has become a famous celebrity, and whose attorney, To, is involved in solving any problems, and Suen quickly comes to suspect that the murder of the witness and the disappearance of Yiu's son are connected.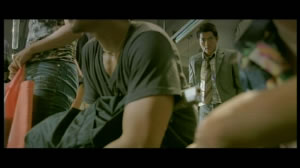 Film:
Officer Suen used to be the star of a TV show, Police Voice. He also used to have a girlfriend, Amy, but she went missing ten years ago and he has been haunted ever since. It is likely to haunt the viewer too, as his reminisces are accompanied by criminally cheesy music.
What we have here is a cop with a troubled past, who argues with his boss, gets suspended and pursues the case on his own. It's a familiar story, but in this case it's fair to say that our cop has actually cracked fairly early on. A good proportion of the film is spent with Suen go crazy, rather than focussing on the investigation or on action scenes. This would be all well and good if the drama was strong enough to support it, but unfortunately some of the choices made in terms of acting, flashbacks and that bloody music all work together to create an atmosphere of mild humour rather than empathy.
Aaron Kwok as Suen actually gives a pretty good performance, but the problem is in the script with the character of Suen losing at as if his girlfriend has just gone missing, rather than coming across as someone who has tried to cope with it for ten years. It's all well and good to take the focus away from action and onto the drama, but the story here just isn't strong enough. The character of To (played by Ekin Cheung) is meant to be hugely conflicted in his job of defending the guilty, but we barely get to know him, and assassin seems to have no motivation or agenda at all, besides grinning and sometimes killing people.In amongst the so-so drama and the cloying sentimentalism, there is a cracking on-foot chase scene culminating in a fight in an indoor market. It is almost worth seeing the film for alone, but unfortunately the few other action scenes don't live up to the potential here.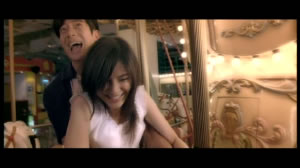 Disc:
The fifteen-minute making of featurette is almost as cheesy as some of the music in the film, consisting of interviews with the actors and director interspersed with interrogation scenes shot on video with the actors in character. Not an idea I hope to see repeated. The premier footage is a couple of minutes of the cast and director lining up to be photographed, followed by some fans saying how much they enjoyed the movie, and to round of the extras there are biographies, the trailer and a collection of stills from the film.

Overall:
With the best moments few and far between, Divergence suffers from comparison to the wealth of cops 'n' robbers films that Hong Kong has had to offer over the last few decades. The attempt to focus on character rather than gunplay is a wise manoeuvre, but unfortunately the material can't support this aim.
Ross