District 13 - Banlieue 13 / District 13 is another film dreamed up by French visionary Luc Besson, the man behind Nikita, Fifth Element and some of Jet Li's more successful European works. Loosely based on Escape from New York, District 13 combines the increasingly popular exploits of Le Parkour (Free Running) with some hard-hitting action. It proved hugely popular in native France, grossing over $7m in November 2004, but never topped the charts due to the even more popular A Very Long Engagement
Directed by Pierre Morel, this was a debut for Luc Besson's former cinematographer. The two lead protagonists are relative unknowns to the big screen. Leito is played by David Belle, who is better known as the man behind Le Parkour. His co-star, Damien, is played by Cyril Raffaelli, a regular choreographer or stuntman in films such as Double Team and Kiss of the Dragon. The remainder of the cast include co-writer Bibi Naceri, Tony D'Amario and Dany Verissimo.

Plot:
As mentioned, District 13 is loosely based on Escape from New York , the idea that part of futuristic cities become so unlawful that they are cut off from the rest of civilisation. Leito is an honourable resident of District 13, which is dominated by drug king-pin Taha. Leito is permanently on the run but manages to keep one step ahead through his incredible free running skills. Things come to a head when his girlfriend is captured by Taha and in his rage he kills an officer. After several years in a high security jail he is given the chance to team up with undercover officer Damien in search of a nuclear bomb that has fallen into Taha's hands. The question is whether they have been sent in to disarm or detonate the bomb in District 13!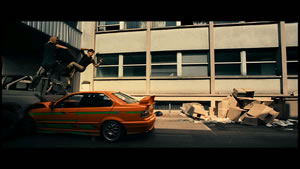 Film:
You will find ideas from Escape to New York, The Dirty Dozen, Bond movies and Ong-Bak in District 13. Everything is here from jaw-dropping street chases to futuristic omens of an alienated underclass. The focus is definitely on the former. The chase sequences and the casino shoot-out in the first thirty minutes are exceptional scenes. Leito's 'free-running' pursuit is sublime, combining Jackie Chan style action with mind-blowing jumps between buildings. The following casino fight with Damien is equally impressive, involving a mix of combat and gun-play to keep any adrenalin-seeker happy. Original and raw, these set a new benchmark in action cinema. If anything, the rest of the film plateaus in terms of pure exhilaration.
Unfortunately, District 13 struggles to maintain the frenetic opening pace. The remainder of the film tries to include some dialogue and intrigue, but this feels more like filler than content. The end fight is well executed as Damien and Leito take each other on, but the action is over edited. There is also a giant fighting gimp who fights Damien and Leito but he seems like a lazy plot device. Considering the limited budget for District 13, the overall impact is quite pleasing. It certainly plays to its strengths, but the recycled B-movie plot does lose momentum towards the end.

Disc:
Momentum discs never warrant any particular excitement after a hit-and-miss track record over the last 18 months. The District 13 disc manages to get some of the basics right. It has both audio options, French and English stereo with a decent widescreen presentation. There are worthwhile 'bonus' features including outtakes, some documentaries and an extended casino fight sequence. This is one of the best Momentum efforts in recent memory and hopefully they can maintain this over a consistent period.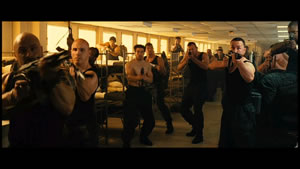 Overall:
District 13 is a mixture of innovative action and a slightly tired plot holding things together. However, the action is enough to ensure it is a memorable experience. David Belle and Cyril Raffaelli perform superbly as fighters and credibly as actors. Director Pierre Morel's futuristic creation manages well with a limited budget to create another noteworthy entry in European action cinema.
Paul