Detective Dee: Mystery of the Phantom Flame
It was a case of when rather than if, that I would return to my reviewing days. It has been more than three years since I have reviewed a movie for this website, but I knew at some point I would watch a movie which demanded me to write a review. In this case it is Detective Dee and the Mystery of the Phantom Flame. Why this film? Well some of this is captured below, but the main reason is because it is worth shouting about a Tsui Hark movie which actually delivers on its potential. For my money he is the true enigma of Hong Kong / Chinese cinema, capable of some of the best and some of the most disappointing productions of the last three decades.
Detective Dee was released in 2010 and was a commercial and critical success, with several awards being won at the 30th Hong Kong Film Awards (Tsui Hark – Best Director, Carina Lau – Best Actress, Best Costume Design, Best Production Design, Best Sound and Best Visual Effects). It came in at 30th in the Hong Kong box office, but by my reckoning was the 5th most successful domestic movie. Takings at $1.5m were well below the bigger martial arts release of the year; Ip Man 2 at $5.5m. It also performed particularly well at the Chinese box office, taking $44m and became one of the top 20 releases over the last few years.
Detective Dee may be familiar to some Western viewers as he was popularised by the Dutch author Robert van Gulik, who translated the original novel and then wrote a series of 17 spin offs during 1946 – 1967 as part of the Judge Dee series. However, this is based on the original stories about a judicious and wise official during the Tang dynasty.
The cast includes many familiar faces in the cannon of Eastern cinema, starring the ever dependable Andy Lau and "Big Tony", aka Tony Leung Ka-Fai best known as Big D from Election (not to be confused with the better known Tony Leung Chiu-Wai). It also marks a return to the big screen for Carina Lau after four years (incidentally the wife of Tony Leung Chiu-Wai). The veteran actress is still best known for her performances in Days of Being Wild (with Andy Lau 1991) and the latter stages of the Infernal Affairs series. The love interest is played by Li Bingbing, who is a Chinese actress best known for her TV work in the early 2000s.
Plot:
Detective Dee (Di Renjie) is played by Andy Lau, who is a disgraced official during the reign of Wu Zetian (Carina Lau) in 689 AD. However just before the coronation of the first ever female Empress a number of officials are burnt alive whilst inspecting the huge Buddha statue built in her honour. The Empress has no choice than to pardon Detective Dee, but also put him under the watchful eye of her beautiful attendant Shangguan Jing'er (Li Bingbing). As they investigate the case, they are joined by another official Pei (Deng Chao), and they follow a number of leads to understand who is trying to disrupt the coronation or uncover an even greater conspiracy. Needless to say, it calls for several big action set pieces and a grand finale to determine the fate of the Tang Dynasty.
Film:
One of the reasons I was compelled to review this film was due to it being one of the best looking films I have seen in recent years. There are plenty of stunning sets which are then used for little more than a 10 second shot. It feels like Tsui and his production team are just showing off, but the effect is very impressive, particularly the cave shots and those inside the Buddha statue (suggested production costs of HKD $12m). The only bum note is some of the CGI, particularly around the Imperial Palace which shows hundreds of galleons at sea. This is neither convincing nor impressive and feels a good decade behind some of the CGI being used in Hollywood. This is not enough to detract from the overall visual impact of Detective Dee, which is a real plus for the movie.
Another major plus is the action choreography, which is done by the increasingly reliable Sammo Hung. After becoming a legend in the 1970s and 1980s, Sammo lost his way for the best part of a decade. However, since delivering films such as Sha Po Lang (2005) and Ip Man, he has become one of the most consistent performers in Eastern cinema (both as actor and choreographer). Watching Detective Dee was a nerve-wracking experience after watching the dire Flying Swords of Dragon Gate, I was very concerned this would be another over-edited wuxia film with virtually no real action. I was delighted to see that this was a real martial arts movie from an early stage and there is plenty of creditable action delivered by the cast. It needs to be remembered that the cast is largely non-action by background, but the choreography and inventiveness of the action more than compensates.
The storyline is a solid and well considered suspense plot and looking back on my years of Hong Kong cinema, there are not many martial arts / wuxia movies which have successfully maintained suspense throughout a movie. Most involve a very clear good guy and bad guy (see Wong Fei Hung, Ip Man, Fong Sai Yuk), and few have really convinced as a mystery yarn. This has the courage and conviction to deliver on this front and Andy Lau in particular succeeds as Detective Dee. He is somewhere near Jet Li's Wong Fei Hung (Once Upon a Time in China), but does more than that, making the role of Dee as memorable as any folk hero. He also has a trusty mace as his signature weapon (in the grand theme of good guys must always have non-deadly weapons!).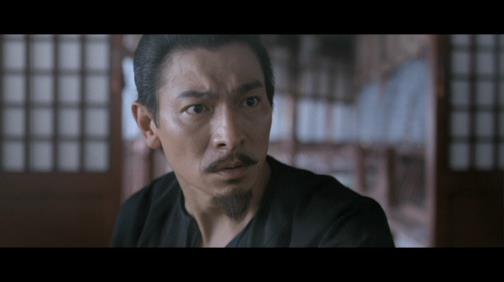 Disc:
The UK Cineasia disc is another excellent release from this commendable distribution team. The two disc edition features the main film in crisp widescreen and both DD 2.0 and 5.1 options. The main film comes with English subtitles and a set of trailers. The second disc includes a Bey Logan audio commentary, interview galleries, behind the scenes footage and a poster gallery. Those who know my review will know I care little for extras, so I haven't even put the second disc in my player, but the standard from Cineasia is typically high and there's no doubting Bey is a true authority on his subject matter.
Overall:
It was a pleasant surprise to see a Tsui Hark film with a relatively coherent plot which is not over-complicated with needless twists and intrigue (this is another criticism of Flying Swords). For those not familiar with Tsui Hark, he is still heralded for bringing Hong Kong special effects into the 20th Century with Zu Warriors from the Magic Mountain (1983), but whilst he has a cult following I tend to approach his movies with a high degree of scepticism as many disappoint. Detective Dee is certainly not a let-down and all the cast deliver rock solid performances. Tsui manages to successfully blend a good looking movie, with convincing action and also an enjoyable mystery story. Well done Tsui, and we look forward to the forthcoming prequel!
Paul