City of Violence – Director, Producer, Writer, Actor, Stuntman (etc!) Ryoo Seung-hwan has already built a decent international reputation following the release of Arahan, Crying Fist and No Blood, No Tears to the Western markets. It comes as no surprise that his 2006 hit, City of Violence, has been snapped up for cinematic release in the UK. Fellow co-star and action director Jung Doo-hong previously worked with him on several films and also did a good turn in Fighter in the Wind. The other main lead, Lee Beom-soo is better known for light-hearted productions but excels in this more serious role.
Released in Korea in May 2006, it opened at number 3 (behind Da Vinci Code and Mi3) and took over US $6m during its release. Lee Beom-soo won best supporting actor at the Korean film awards for his performance and their were also nominations for best editing, music and sound.
Plot:
Seoul Policeman Tae Soo (Jung Doo Hong) returns home for a good friend's funeral. His deceased friend, Wang Jae (An Kil-kang), was an ex-gangster who was killed by some street thugs. Whilst back in Onsung he meets another two friends from his youth, Pil Ho (Lee Beom-soo) and Suk-hwan (director Ryoo Seung-hwan). However, as Tae Soo looks a bit deeper into his friend's murder more confusing elements emerge and they all point towards childhood friend Pil Ho. Cue plenty of action in the City of Violence.

Film:
The first thing that hits you about City of Violence is its refreshing lack of pretentiousness. It has zero aspirations to be a multi-layered absorbing work with big dollops of gravitas. Director Ryoo Seung-hwan plays this one free and easy. It is a triumph of style over substance. If you can forgive the light-touch of his characters and breeziness of the story, there is a great deal of adrenaline fuelled fun and a decent serving of self-indulgent action.
Moving on to the raison d'être of this film, and inspiration for the title, there is plenty of violence which is delivered in a satisfying and innovative manner. There have been several Korean films to promise much and under-deliver on action, I personally thought My Wife is a Gangster fell into this category. Similarly, Arahan fell into the trap of over-doing wires and CGI in favour of good old action. Ryoo clearly wanted something grittier and more real. He took this into his own role, doing all of his own stunts during the arduous 54 day shoot.
City of Violence crams as many beatings, scuffles, gang fights and showdowns as possible into its brisk ninety minutes. Rather than being a draining experience, the digestible pace can be credited to its energetic choreography, stylish production and engaging soundtrack. By the final climax, much akin to the showdown in Kill Bill 1, City of Violence launches into a melting pot of homage to Westerns, manga, grindhouse action and old skool martial arts (particularly gang based classics such as Boxer from Shantung).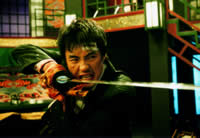 Overall:
This is a very satisfying movie. It will certainly not receive any acclaim for emotional content or scriptwriting, but this is to completely miss the point. This aims to be a thrilling, stylish martial arts movie and there can be no question of its emphatic success. The familiarity of cast and crew ensure this is a creditable and classy entry into the emerging Korean hall of fame.
Paul