The Big Boss - Bruce Lee needs no introduction, having become an enduring cultural icon despite starring in only a handful of films in a very short time period before his untimely death.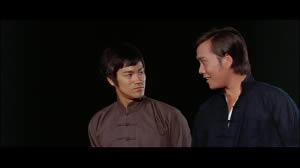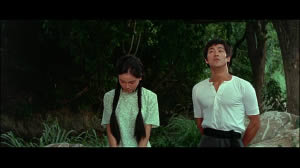 Plot:
Bruce Lee stars as Cheng, newly arrived in Thailand to search for work in an ice factory with some fellow Chinese immigrants. All is not well after some of the workers mysteriously disappear, but Chen cannot get involved in the conflict between his adopted family and the factory goons due to a promise he made back home. His abstinence doesn't last long however, and Cheng soon plunges headlong against the gang running the ice factory as a cover for drug running and murder.
Fighting doth ensue...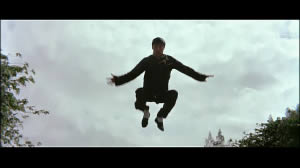 Film:
For Bruce Lee's first starring role, the Big Boss seems a fairly run-of-the-mill Hong Kong actioner. For its time, however, the film was a bold new movement away from the standard period swordplay fare by introducing a contemporary setting and as a vehicle for the American-born Lee, who brought a new standard of on-screen fighting to cinema as well as an undeniably charismatic presence. The difference in style can be seen within the film itself between the scenes including Lee and those without, showcasing Lee's tremendous martial arts prowess and indeed his ability for tailoring his skills for the camera.
Besides the fight sequences, the Big Boss retains interest thanks to the more ghoulish elements influenced by director Lo Wei - scenes shot in darkness, the gorier effects work and the addition of sex scenes all set the film apart from the Hong Kong cinema traditions of the late 60s, so while fairly tame by today's standards these elements of the film were groundbreaking in '71. Even more remarkable is that for a film where action takes centre stage, Lee doesn't actually begin to fight for nearly half the film. This emphasises Cheng's fighting prowess and allows Lee to demonstrate his ability in a skill less lauded in martial arts pictures - that of acting. Throughout the film he is able to convey his thoughts and feeling without words or resort to cliché, and again this marked a departure from the traditional Hong Kong action films of the time.
Aside the similarly themed Way of the Dragon, the more traditional rival-schools tale of Fist of Fury, the sub-Bond shenanigans of Enter the Dragon and the unfinished Game of Death, the Big Boss remains one of Bruce Lee's most satisfying films and it is hard to imagine how jaw-dropping it must have seemed upon release. An absolute must for every Hong Kong cinema fan.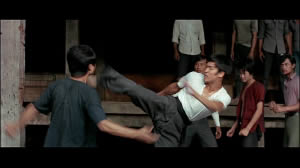 Disc:
The Big Boss was one of Hong Kong Legends first releases, coming out on November 3rd 2000 and helping cement HKL's status as a premier DVD label. The picture had been given an impressive anamorphic restoration, the Cantonese dub was provided along with the cheesy English one and extras included the staple Bey Logan commentary and an assembly of ancient trailers featuring deleted footage, impressive for a film that at the time was nearly 30 years old. Topping it all off was a lengthy and exhaustive narrated biography of Bruce Lee, which helped create a package that was pretty impressive for the then burgeoning DVD market.
This time around HKL present us with a 2 disc Platinum Edition:
Disc 1 has a re-remastered 16:9 anamorphic transfer and this time offers a Cantonese stereo track along with the same mono tracks as the 2000 release. The stereo track is noticeably beefed up, gaining more of an atmosphere on the soundtrack. The print does seem a lot cleaner than the already impressive 2000 version and has improved contrast in the darker scenes giving the picture an almost unreasonably high quality for a film now over 35 years old, especially for a film made in an industry with no regard for archiving material.
Extras here have been saved for the second disc, besides trailers for other HKL Bruce Lee releases and the commentary. This time around Andrew Staton and Will Johnston provide the commentary, providing a lot of information similar to Bey Logan's offering six years ago, but there are enough choice new morsels offered to prove that this is no copy, as Staton and Johnston obviously know their stuff. It is a shame that HKL haven't included both commentaries this time but it could be a rights problem related to Logan's move to the Weinstein Company, and Bey does get a mention in the new commentary.

The extras on disc 2 are separated into sub-sections:
Promotional Extras consists of five trailers (including those from the first release), two alternative title sequences and lobby card pictures that are animated and set to music (rather than offered as a selectable gallery). A collection called Dragon Uncovered offers a number of featurettes: The History of the Big Boss consists of narration over a photo gallery clocking in at nearly 15 minutes. Deleted Scenes Examined explains the content of missing sequences and attempts reconstruction where possible using original footage and still photos. Lastly there is a twenty-two minute biography using the same script but different narrator to the first version, and this time using a photo gallery as a background rather than scrolling text.
The final collection; The Story Continued, features three interviews. Each is with someone who worked for Warner Brothers around the time that Enter the Dragon was produced and Bruce was trying to land the role for The Warrior movie (later to become the Kung Fu TV series). Adding up to a total of approximately 40 minutes, these interviews give further insight into how Bruce was thought of in Hollywood at the time. For a two-disc release the extras don't feel that bountiful, but considering this is for a decades-old film for which much extra material just doesn't exist, it's a mark of HKL's commitment to their licenses (and admittedly, to their marketing opportunities) that they go to such lengths to provide content for the fans.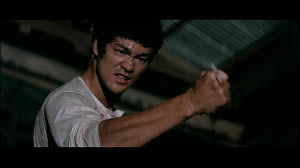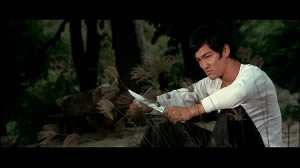 Overall:
A worthy repeat edition for a landmark martial arts movie, the Platinum Edition provides improved sound, vision and supporting material that makes this an advisable purchase even for owners of the 2000 edition. Even without all the bells and whistles the Big Boss deserves a place in every Hong Kong cinema collection. A treat.
Ross