Avenging Eagle - arrived on the Hong Kong movie scene during the golden year of 1978. In this year, box office was blessed with many defining entries in the kung fu genre, including Drunken Master, Five Venoms and 36th Chamber of Shaolin. Avenging Eagle was another distinguished film to reach audiences in 1978, coming from Shaw Brothers director Sun Chung. Many regard this as Chung's finest hour, his other memorable titles include Kung Fu Instructor and Human Lanterns. However, he never managed to emerge from the shadows of Shaw Brother stalwarts such as Chang Cheh, Lau Kar Leung and Chor Yuen.
The film features veteran actor Ti Lung and golden boy Alexander Fu-Sheng. The lead bad guy is taken by the prolific Ku Feng, who is still acting today in his mid-seventies. Ku Feng worked with every major director during his days at Shaw Brothers, right back to King Hu's Come Drink with Me. Other notable roles include his role in Killer Clans (Chor Yuen), Have Sword, Will Travel and The Heroic Ones (Chang Cheh).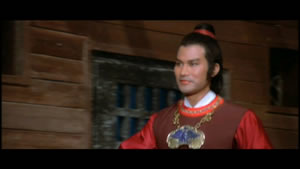 Plot:
The Eagle clan are a bunch of thirteen cold-hearted killers called the Iron Boat Gang run by evil warlord Yoh Xi-hung (Ku Feng). Ti Lung plays Chi Ming-sing, the classic 'man trying to escape his past' by leaving the gang after one brutal killing too many. He is then befriended by happy-go-lucky Cheuk Yi-fan (Alexander Fu-Sheng) who helps him knock off the remaining eagles as they pursue him across country. Throw in a healthy dose of flashback sequences, plenty of fights and a few twists and turns at the end and ta-da! There you have The Avenging Eagle.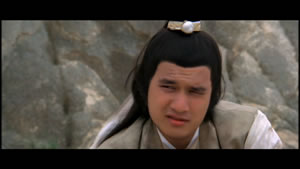 Film:
As with all the recent Celestial releases, this film becomes a visual feast with the rich widescreen presentation. It manages to capture the array of interior sets, including a fantastic hall for the finale, and there are more exterior shots than the average Shaw Brothers productions. The costumes are particularly elaborate for the remaining dozen Eagles, who each have their trademark weapon and carry the gang's emblem on their neck. The continual flashback sequences start to meander in places but the performances by the likes of Ti Lung and the irrepressible Fu-Sheng ensure you will be engaged until the end. The twist in the finale is decidedly obvious but at least they avoid the trap of over-complicating the story by rather focusing on a solid base for the action.
Tong Gaai and Wong Pau-gei should take a bow for the choreography here. Tong Gaai in particular was being challenged by the likes of Robert Tai, Lau Kar Leung and Yuen Woo Ping as late seventies action became more ambitious. What would cut the mustard in the early seventies now needed to be quicker, more intricate and more daring. I'm glad to report that The Avenging Eagle does just this. There is plenty of quality action well dispersed throughout the movie. Although Ti Lung and Fu-Sheng are not the most naturally gifted martial artists, both put in displays well above par to ensure they keep up with the talented bunch of Eagles (including Wang Lung Wei, Eddy Ko and Dick Wei). Of particular note is Ti Lung's work with the three-section staff. He never reaches the dizzy heights of the Shaolin Master Killer, but who does?! There is plenty of weapon-fighting on display but without the gut-spilling excess of Chang Cheh or the technical finesse of Lau Kar Leung. This will probably appeal most to those who like the fantastical nature of Chor Yuen's Magic Blade or Killer Clans.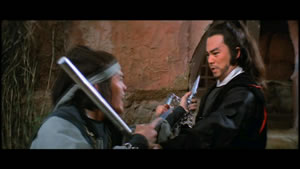 Disc:
The Avenging Eagle is another superb presentation from Celestial, with a jaw-dropping anamorphic 2.35:1 widescreen presentation and DD5.1 audio for both Cantonese and Mandarin. The English subs are well presented and removable. The extras include trailers, info on cast and crew, animated features of Ti Lung and Fu-Sheng and also some production notes and artwork.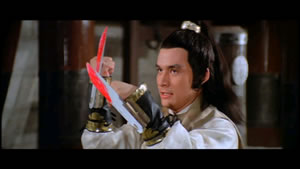 Overall:
Lazy reviewers sometimes describe a film as being a 'solid martial arts movie' or a 'decent entry in the genre'. Well, there's no point in re-inventing the wheel, The Avenging Eagle is capably described by either term. A simple, well structured story with above par production values and enjoyable martial arts action makes it a worthwhile way to spend ninety minutes. I'm not convinced that Ti Lung and Fu-Sheng make a great pairing, but all considered it is easy to see why many regard this as Sun Chung's magnum opus.
Paul