A Better Tomorrow - It would help if this film had a subtitle declaring 'The film that made John Woo' to reveal the significance of this mid-eighties action flick. In fact it was the film that made John Woo and Chow Yun Fat, spawning a partnership that lasted a decade with the highlights being The Killer, Hard Boiled and Once a Thief. A Better Tomorrow was an overnight success at the box office, topping the HK box office in 1986, taking HK $34.7m and convincing producers to release his previously shelved title Heroes Shed No Tears (Sunset Warriors), to cash-in on his now tradable name. It also won best film and actor (Chow Yun Fat) at the HK Film Awards and best picture and director at the Golden Horse Awards.
Before this movie, Chow Yun Fat had done a handful of less-than-remarkable titles including a number of drab kung fu offerings (e.g. Postman Strikes Back). This is in stark contrast to his co-star Ti Lung, who had been a legend since the early seventies, forming the 'Iron Triangle' with Chang Cheh and David Chiang in a number of Shaw Brothers classics (see Blood Brothers, Vengeance, Duel of Fists). Support was provided by the exuberant Leslie Cheung, who was reunited with Chow and Woo in Once a Thief a few years later. John Woo had also previously flirted with martial arts, with Hand of Death in 1976 (early outing for Sammo and Jackie) and the excellent Last Hurrah for Chivalry. In the latter, many of the themes began to emerge that went on to shape his career in action movies (the use of chivalry is a big clue!)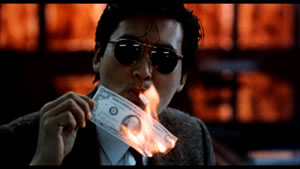 Plot:
Two friends, Ho (Ti Lung) and Mark (Chow Yun Fat), are triads in a counterfeiting operation who end up doing 'one more job' and what do you know, this one more job gets messier than they had hoped. Mark returns as a cripple and Ho ends up doing some porridge. This is further complicated as Ho's younger brother Kit (Leslie Cheung) is an aspiring young police officer. As the violence escalates, the lines between lawful and otherwise start to blur if favour of heroic loyalty between brothers.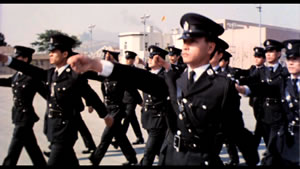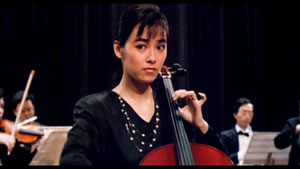 Film:
If I was doing a course in film studies I would start talking about the heroic honour-bound redemption of Ho and Mark plus the homo-erotic undertones between the two characters. However, I have the fortune of being able to write whatever the frickin' hell I want and will attempt to avoid the unnecessary pretensions that linger around A Better Tomorrow like flies around shit. Instead I will pass a few comments on why this is an exceptional action movie which went on to define the direction of Hong Kong cinema for the following decade.
By the beginning of the eighties cinema audiences in Hong Kong were starting to show fatigue towards the world of martial arts. From the lavish epics of the Shaw Brothers, to the energy sapping acrobatics of Jackie Chan, the peak had been reached (around 1978) and the studios were replicating rather than innovating on their success. Further disillusionment followed Jackie Chan's ill-fated foray into American movies (Cannonball Run, Battle Creek Brawl, The Protector). Hong Kong needed a hero, and they found one in Mark. Although, Jackie had played the zero-to-hero role in many of his movies, his characters went on to attain a level of skill and agility that was clearly unattainable for the average Joe. Mark's crippled hero harks back to the original hero, Jimmy Wang Yu's One Armed Swordsman. John Woo's gritty and violent depiction of a modern day One Armed Swordsman gave a new aspirational figure who was much more relevant and attainable than the Drunken Master. His heroic status was not down to his excellent fighting skills, but rather his honour bound actions.
Putting that to the side, A Better Tomorrow was supported by a strong cast, some memorable action sequences and a cold, hard story. As they mention in the story, being a God is not about surviving, it is about being a master of your own destiny. Whilst the average action flick was focusing on the cop eventually catching the bad guy, Woo began elevating his story above the classic cop n' robber, sheriff n' outlaw divide. Call it what you want, there are plenty of names to choose from; heroic bloodshed, bullet ballet or Hong Kong blood opera, either way it started here.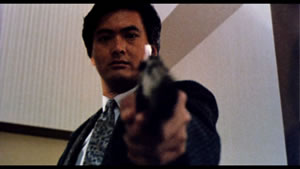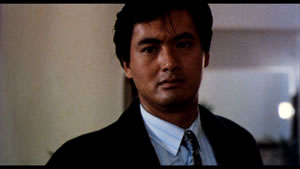 Disc:
The Ultimate Edition from Optimum Asia contains a moderate anamorphic 1.85:1 transfer without any significant remastering work. This print is significantly poorer than the IVL region 3 disc, which has had some level of remastering. In fact, this is probably the worst print that I have ever seen on an 'Ultimate Edition' release - pretty shocking. The actual transfer is cropped to nearer 1.74:1, which is evident in the opening credits.
There is a Cantonese and English audio in a DD2.0 Stereo. There is no DD5.1 option, but at least there is a dual language option. Bey Logan provides an audio commentary and the first disc also has some trailers. Disc 2 is interesting, but not exactly rammed with extras. There is a new 47min John Woo documentary "Crossings", and some interviews with Chow Yun Fat and John Woo (I'm guessing around 1993). A stylish package with worthwhile extras, but the actual transfer is a major letdown. This is a long way from being an 'Ultimate Edition'.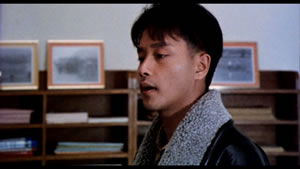 Overall:
Raw, gripping cinema, this is Hong Kong cinema at its best. A Better Tomorrow created a new hero in films, dragging the crippled warrior into the modern era. Swords were replaced with twin revolvers and evil masters were replaced with triad crime lords. I would argue that several later offerings by John Woo and Ring Lam exceed A Better Tomorrow, but who cares? This is where it all started. In the same way that Spaghetti Westerns cannot be mentioned without A Fistful of Dollars, or modern Japanese horror without mentioning The Ring, the same applies to John Woo's A Better Tomorrow. Great action, great acting and a mediocre disc!
Paul