Ong Bak 2: The Beginning:
Was Ong Bak 2 (OB2) the most anticipated martial arts movie in the last decade? – almost certainly YES!
The original Ong Bak was a genre defining launch-pad for martial artist Tony Jaa and the Thai action-movie scene. It gained worldwide distribution and remains a hugely successful DVD release. OB2 was an even more ambitious project both in terms of scale and for Tony Jaa in particular, who took on the directing reins in this period epic. Before OB2 reached the studio there had been several years of delay, confusion, breakdowns on TV (by Tony) and rumours of triad meddling; so it came as a relief to everyone when it eventually hit the screens in the latter part of 2009.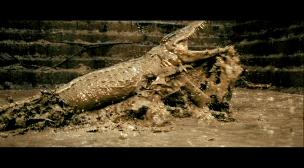 Plot:
The original Ong Bak was set in modern Thailand, but OB2 has instead taken a trip over five hundred years into history. This makes the link between the two films very easy to manage (i.e. there is no link!) You could argue it is more about Tony Jaa having the "spirit" of Ong Bak in both films, but for the avoidance of doubt, there is nothing material that means this needed to be billed as a sequel other than the obvious marketing advantage it would confer.
Once again the opening part of the film surrounds a familiar "boy becomes man" story as Tony Jaa grows to be an expert martial artist after being taken in by a gang of martial arts vigilantes (think Robin Hood meets Muay Thai). His quest is to avenge the death of his family who were murdered by Royal insurgents when he was young. In the flight from his persecutors he was also separated from his childhood sweetheart and questions remain as to her fate since they were parted.

Film:
I'm torn how to really assess this movie. Do I start by praising the quality of the martial arts or by grumbling about the production / storytelling? Given that I'm in a good mood we can begin with the martial arts!
As would be hoped, there is plenty of action in this film which gives Tony Jaa and his stunt team licence to really cut loose in the main fights. My favourite moments were actually earlier in the movie when Tony is passing his 'exams' with the outlaws. He takes on a number of styles of fighting and also includes some well timed visual humour blended into the action. It was interesting to see how there was a good deal of MMA style grappling moves being used, which reflects the popularity of cage fighting at the moment (also similar to Donnie Yen's Flashpoint). Also look out for his incredible elephant hopping, which has to be seen to be believed.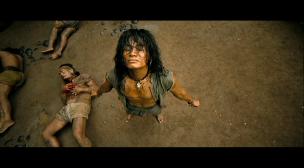 The latter fights have Tony doing what he does best, dishing out vengeance to a horde of evil henchmen. The time and the choreography required for this makes it exhausting to watch as he battles through his foes using a variety of weapons including several of my favourites (three-section-staff and rope dart). However, I was not fully satisfied by the end action. There is a saying that a boxer can only become great after that career defining fight, and the end lacks that exceptional encounter to finish the movie.
However, I would have left the cinema a happy man if this movie had been held together by a coherent and consistent structure. As with most movies from Tony Jaa / Panna Rittikrai this remains their Achilles heel. Characters move in and out of the plot for significant periods and the ending feels as if it was written only a few minutes before it was filmed. I am sure this is a consequence of the troubled filming and multiple directors but as you will have seen above, the plot is blindingly simple, there is nothing complex to handle yet it fails to come together.

Disc:
A simple and straight-forward DVD from Sony Pictures. There is a decent 2.35:1 anamorphic print and DD5.1, but only subtitles are available. Nothing in the way of extras to get excited about.
Overall:
Ong Bak 2 will still provide excitement for many film viewers around the world and some of the more hardened fans will be clamouring for a third instalment. I personally hope Tony gets back into his next project sooner rather than later. This time he needs to stay in front of the camera and not let himself get distracted. The film suffers as a result of this confusion, and whilst this is still one of the best action movies in the last few years, it does not match the dizzy heights of Ong Bak or Tom Yum Goong (aka Warrior King / The Protector).
Paul