Chocolate - Director Prachya Pinkaew and fight choreographer Panna Rittikrai were the duo behind the internationally successful Tony Jaa vehicles; Ong-Bak and Tom Yum Goong (aka Warrior King / The Protector). After Tony Jaa decided to direct himself in Ong-Bak 2 (with well publicised problems) Prachya and Panna cast a femme fatale in their latest martial arts action-fest and turned their attention to 24 year old Taekwondo expert, Yanin "Jeeja" Vismistananda.
Plot:
Zen (Jeeja) is the love-child of a relationship between Zin (Ammara Siripong) and Yakuza boss Masashi (Hiroshi Abe). However, Zin and Masashi's relationship enrages her previous flame, who is a Thai crime lord (Pongpat Wachirabunjong). In order to stop the killing and bitter feuding between the two males, Zin sends Masahi back to Japan and brings up alone her daughter Zen, who has severe autism. Helped by local youth Moom, they managed to carve out a relatively peaceful existence. However, this is shattered once her enraged boss discovers Zin is still contacting Masahi in Japan. You think things cannot get any worse, but they do when Zin realises she has cancer!
During this time, the young autistic girl Zen has been developing her impressive martial arts skills through living next door to a Muay Thai training school and watching plenty of Bruce Lee and Tony Jaa videos! For the remaining sixty minutes of the movie you then sit back and watch Zen go about beating up people who have long-standing debts with her mother Zin in order to buy expensive cancer medicines.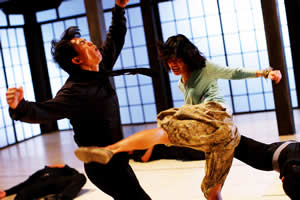 Film:
Something really tears me in two when I try and assess Chocolate. On the positive side I have to give credit to Prachya and Panna for experimenting with the lead through casting the untested Jeeja. Perhaps she is not the most compelling screen presence I've ever seen, but she is convincing enough as the troubled heroine. Prachya makes a genuine attempt to build character and story into this film, rather than just use the plot to work around the fight scenes. Well, until about half way through, where Prachya slips back into old habits and the movie simply jumps from one fight scene to the next.
The martial arts on show also deserve credit. I was particularly impressed how Jeeja's fighting skills develop during the film, progressing from basic Bruce Lee street fighting to more elaborate Muay Thai (a la Tony Jaa) by the climax. Just to manage your expectation, the action is good but without doing any discredit to Jeeja, this is ultimately a step down from Tony Jaa – there is no way of avoiding this. The action highlight is the final sequence where Jeeja takes on a considerable number of henchmen on the side of a building, with multiple levels for the fighters to jump up and down. It ends up feeling a bit like a platform PC game, with plenty of eye-watering stunt work.
However, for Chocolate's many strengths I feel obliged to provide a rounded view of my experience. One thing I cannot accept are the continuing issues with Prachya's directing. I appreciate that Chocolate's raison d'être is to be an action film, but the dramatic content earlier in the story feels half-hearted after thirty minutes as the film descends into a continuous reel of action sequences with little character development or meaningful dialogue. Ong-Bak and Tom Yum Goong were spectacular action films, but both were dreadful productions on many other levels. Chocolate falls into the same category. Although, I can accept some minor issues, this film shows little improvement from Prachya's earlier directing and I am surprised more progress is not evident here.
For a martial arts junkie such as myself I have a number of grumbles surrounding lazy and inconsistent editing during the action sequences. In many instances the henchmen in combat change between cuts, it feels as if they tried to use virtually all the footage they made even if it does not perfectly hang together. I am also getting a bit concerned with the quality of stuntwork being performed in these movies. What I always loved about Jackie Chan and Yuen Biao was their fierce determination to be 'the stunt show', whereas Chocolate's stunt involves a number of scenes with henchmen being thrown three stories to the ground with no protection. The outtake reel glamorises the subsequent injuries that occur. However, it feels like the stuntmen are just dragged onto the set to do something stupid for a pittance and then stretchered off. Although this was the same during the Hong Kong movie scene in the 1980's, when watching a 2007 movie I struggled to find this tasteful. A stunt should be an activity performed by a trained expert that would be extremely dangerous to do in normal circumstances, however some of the action in Chocolate is just plain dangerous.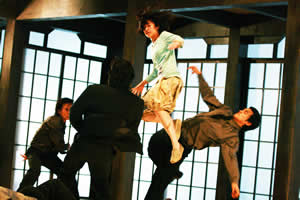 Disc:
The disc comes from Showbox Entertainment, a company set up by the directors of Medusa Communications after the Contender Group basically demolished their Asian film labels (Premier Asia and Hong Kong Legends). Along with a number of high profile releases (Flashpoint, Dragon Tiger Gate), their Cine-Asia brand is now a growing name in the UK. Chocolate comes with an approvable set of extras, but as with the other releases, does not have the dual language options (it is subtitles only). The extensive extras include; Breaking the Mould, Step by Step, A Star is Born, Fighting Talent, The Stars of Chocolate, Real Fighters, Deleted Scenes, Outtakes & Highlights, Training Workshop, Power Moves (Easter Eggs), TV spots, Trailer Gallery.
Overall:
A mixed bag, I have some very positive things to say about Chocolate and believe it is a very worthy effort. It is hard to review this film without being drawn back to the major point though – Tony Jaa is not in it, and that means there is a ceiling as to how good this film can be. I look forward to seeing more of Jeeja in the future, but I hope both she and the production team can take a step up in terms of delivery for their next work.
Paul